Recap 'Crazy Ex-Girlfriend' Season 2 Before Rebecca Bunch Launches Her Revenge Scheme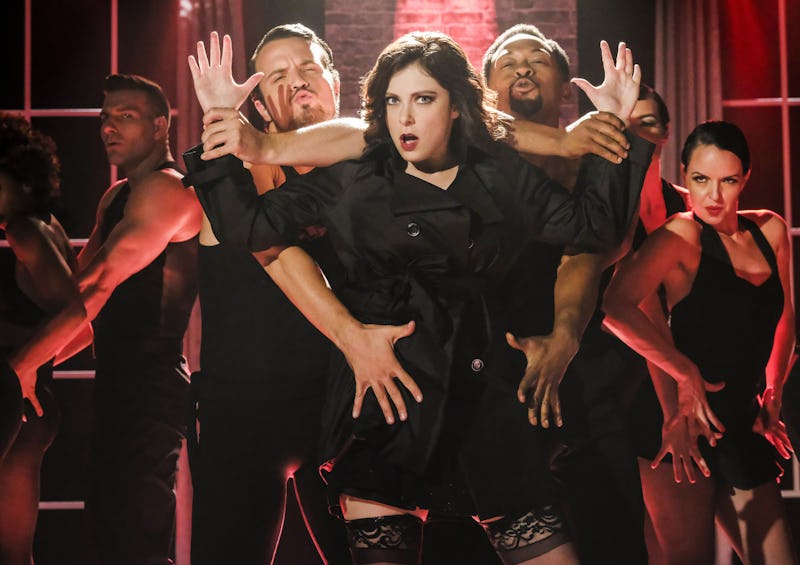 Scott Everett White/The CW
Crazy Ex-Girlfriend's second season ended months ago, so you may find it hard to remember Rebecca's big backstory reveal, how Josh found his heavenly passion, and where the heck Greg went. But have no fear, this Crazy Ex-Girlfriend Season 2 recap will help explain all of those details so when you sit down to watch the Oct. 13 Season 3 premiere, you will be totally prepared for what's surely going to be an epic revenge scheme. Before jumping into the second season recap, though, here's a little bit of background on the show in case your memory is really failing you. Thankfully, the show's original theme song makes explaining the series' premise very easy.
Crazy Ex-Girlfriend is about Rebecca Bunch, a successful NYC lawyer who had a bitt of a breakdown about her city life and decided to move to West Covina, California on a whim. She got brand new friends (like Paula, a coworker, and Heather, a neighbor) and new career (working in a small local law firm). It happens to be where Josh (her ex-boyfriend from a childhood theater camp) lives, but that's not why she's there (except it totally is). Rebecca might come across as a "crazy ex-girlfriend," but the show is aware that that's a sexist term and stigmatizes Rebecca's very real mental illness, which she avoids treating in part because she believes that her love of Josh can cure her.
Rebecca's childhood was spent with a highly intense, scrutinizing mother and a totally absent father, who left her family when Rebecca was a vulnerable middle schooler. After a season-long pursuit of Josh, and an unlikely (but kind of perfect) attempt at a relationship with his best friend Greg, Rebecca finally has sex with Josh in the Season 1 finale, confessing that she moved to California to pursue him.
Season 2 built on all of the deep psychological trauma and delightful musical comedy of the first, but upped the stakes considerably. Here's what you missed, what matters, each episode's standout musical performance, and some hints dropped in throughout the season, which might come back into play this year:
"Where Is Josh's Friend?"
Josh moves in with Rebecca unintentionally after breaking up with Valencia, his longtime girlfriend, but isn't really interested in forming a new relationship with her. After ghosting Rebecca at Jayma's wedding, Greg has been MIA because he's attending Alcoholics Anonymous meetings. Like everyone in 2016, CEG was deeply inspired by Beyoncé's Lemonade, which explains the style of the very, very expensive "Love Kernels."
"When Will Josh See How Cool I Am?"
Rebecca tries to force her way into Josh's friend group, which is now missing Greg, once he discovers Josh and Rebecca's fling. Meanwhile, Paula is relying on Rebecca to help her apply to law school, but she's too preoccupied with romantic drama.
"All Signs Point to Josh... Or Is It Josh's Friend?"
Rebecca is secetly thrilled by the idea of choosing between Josh and Greg (and being the center of a love triangle), a pregnancy scare winds up scaring away Josh, and Greg chooses to go to Emory University and finish his degree.
"When Will Josh and His Friend Leave Me Alone?"
Paula gets an abortion so her law school plans aren't derailed, but Rebecca isn't there for emotional support because she's too busy embarrassing herself on YouTube after she nearly burns down her apartment in hopes of exorcising Josh and Greg from her memories.
"Why Is Josh's Ex-Girlfriend Eating Carbs?"
Rebecca begins to bond with Heather and Valencia in order to move on from her breakup(s), while Paula finds another later-in-life law student to befriend. And honestly? This episode was light on great songs. If only that production budget hadn't been used up in the premiere!
Who Needs Josh When You Have a Girl Group?
The powerful new triad of Rebecca, Heather, and Valencia don't have room for Paula, who officially cuts off Rebecca in order to focus on herself. The same theme extends to some of the show's recurring characters: Darryl bonds with Maya, and Trent attempts to hang out with Josh's friends because he's still pining for Rebecca.
"Who's the Cool Girl Josh Is Dating? "
Josh has a new girlfriend, Anna. Valencia and Rebecca realize that she's a successful eyebrow mogul and over the course of a day researching her, wind up getting embroiled in a wild coverup.
"Who Is Josh's Soup Fairy?"
Rebecca tries to make up with Paula with a very unsuccessful babysitting offer, but they wind up bonding again when Paula confesses that her marriage is on the rocks. After Josh and Anna break up, he realizes that Rebecca's obsession with him makes her more attuned to his needs than anyone else, and the two get back together.
"When Do I Get To Spend Time With Josh?"
Darryl sells the law firm, bringing in Nathaniel, a new boss that Rebecca immediately dislikes. But as a Yale and Harvard-educated lawyer, she has to snap out of her new relationship fog, channel her old skills, and saves her coworkers' jobs.
"Will Scarsdale Like Josh's Shayna Punim?"
Josh goes home with Rebecca to New York to meet her family — and against all odds, her mother loves him, and he fits right in. Patti LuPone guest stars as a rabbi.
"Josh Is The Man Of My Dreams, Right?"
While Rebecca should be happy about her new relationship, the devilish Santa Ana winds conspire to make her hook up with Nathaniel (seriously). Rebecca decides marrying Josh will solve her newfound doubts and her surprising attraction to Nathaniel.
"Is Josh Free In Two Weeks?"
In a whirlwind of deflection, bad choices, and coverups, Rebecca decides to plan a wedding for two weeks away, while also dealing with her severe abandonment issues stemming from both her father leaving the family and, it's revealed, a relationship with one of her professors. Josh, dealing with his own doubts, passively lets Rebecca take over the planning.
"Can Josh Take A Leap Of Faith?"
In the season finale, Rebecca is left at the altar by both Josh and her father, who only attended to ask for money. Turns out, Josh can't take a leap, and decides that he'd actually prefer to be a priest. Rebecca's past professorial fling ended in violence, and with a stay in a mental hospital. While her mother was able to protect her at the time, excusing that "she's just a girl in love," now, Rebecca has to fend for herself.
Given Rebecca's unaddressed issues, her reaction to this news is to vow revenge on Josh, swearing that "Josh Chan must be destroyed" to Paula. This show has always taken pains to show that Rebecca's childhood insecurities and her pathological need to be loved will lead her down dark paths, so accepting an empowered but a little more evil version of the character might be Crazy Ex-Girlfriend fans' biggest challenge in Season 3.