The Johnsons Square Up For A Game Night Feud In This Exclusive 'black-ish' Clip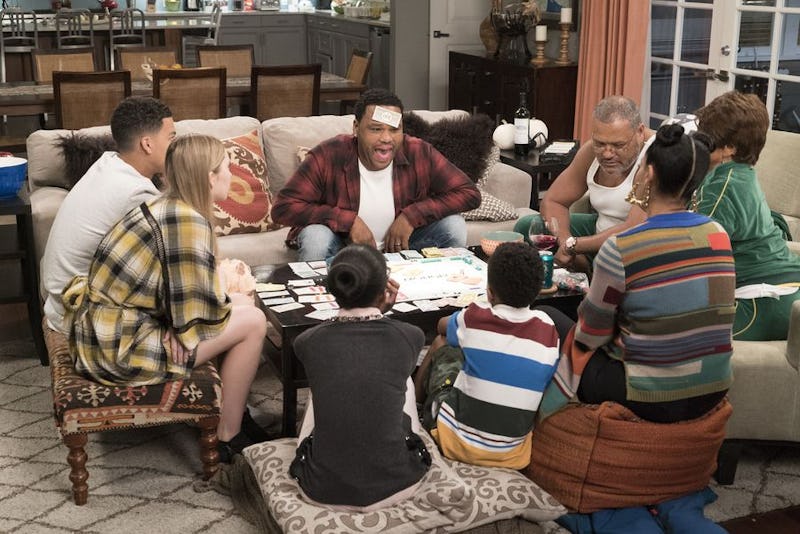 Eric McCandless/ABC
On black-ish, every family ritual has a story, from holidays to school days, and the Johnsons' game night is no exception. In the preview clip of black-ish's Oct. 23 Halloween episode "Advance to Go (Collect $200)" below, Dre's family Monopoly game becomes fraught when, according to ABC's synopsis of the episode, "competition is fierce" and "as the night progresses, alliances are formed and some are pushed to their limits." But as Dre explains in his voiceover, he considers time spent together worth the occasional brawl, and the Monopoly game he begins in this episode will, undoubtedly, end with a heartfelt expression of love between the members of the Johnson clan. They'll just have to survive it first.
Because while Dre's attempts to control his family usually lead to comedic disaster, he does have a point — it's getting harder and harder to get this family to agree on anything, as things change and the kids continue growing up. Jack and Diane have their own separate personality traits now, and Junior has fully embraced his nerdy interests. And earlier in the season, Bow and Ruby clashed over breastfeeding baby DeVante, so there's even more possible tension that could arise when the whole family sits down to play this intense game.
And, you might notice, Zoey isn't sitting around the Monopoly table with the rest of her family, likely because she's busy at college (soon to be explored in the spinoff grown-ish). In past seasons, Zoey and Dre's close relationship has been explored in the show's Halloween episodes, especially in how much the duo love to pull pranks and make fun of the more gullible members of the family (read: Junior). So, surely, part of the reason that Dre is so insistent that the entire family join together for a game of Monopoly is that he'll be missing Zoey's presence around the table every night. And Bow is struggling with Zoey's new relationship/friendship, so the idea of her kids dating at all is another transition that the family has to deal with.
Check out this exclusive preview clip of the episode:
While the episode synopsis sounds like game night will be another fun adventure for the Johnsons, black-ish always figures out a way to include real issues and social topics in its plots, and since it looks like Junior's girlfriend will be a part of the Monopoly game, she's going to have a little Johnson family trial by fire. According to ABC, "Bow makes it clear how she feels about Junior's girlfriend" in this episode. Last season, Bow thinking about Junior dating a white girl sent her on a journey of self-discovery about her biracial identity, so it's possible that she'll have a followup to that revelation when the tensions start to rise during the Monopoly game.
However, it wouldn't be too surprising to have a family game night turn awkward when Bow realizes that she actually loves Megan and how well she compliments Junior's eccentric nerdiness, too. Tracee Ellis Ross is hilarious when Bow is trying to play it cool and totally failing, and her combination of a killer instinct and a total lack of a poker face will make her role in the family game particularly fun.
But overall, the most relatable thing about black-ish, especially during the Dre-focused Halloween episodes, is that though tensions may arise because the members of the family are so different, they always wind up making up in the end. Monopoly may jeopardize Dre's ability to control how the family spends time together — especially around his favorite holiday and while missing the first kid to leave the nest — but no matter what, the Johnsons will always be a tight-knit crew.