An Insta Post Sparked A Controversial 'Fantastic Beasts' Theory About Credence's Fate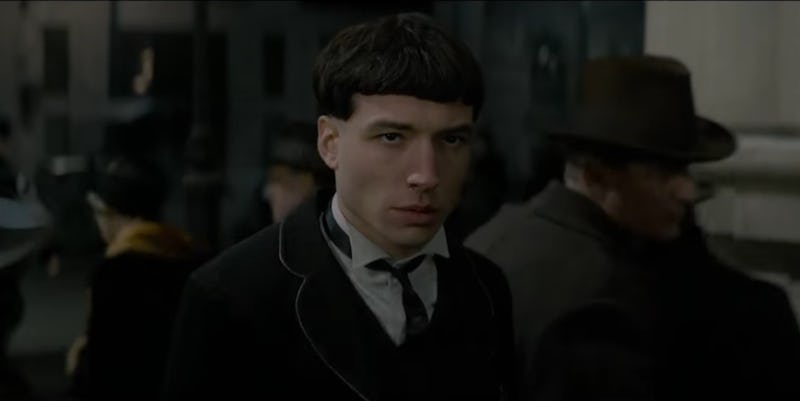 Warner Bros. Pictures
Potterheads have a long wait before Fantastic Beasts and Where to Find Them 2 hits theaters on Nov. 16, 2018, but a recent Fantastic Beasts teaser has sparked a new fan theory about Credence Barebone. We still don't have conclusive proof that he's related to Voldemort, in case you're wondering, but there's something interesting about the latest Instagram post from the film franchise's official account.
Spoiler warning: This article contains mild spoilers regarding the events of Fantastic Beasts and Where to Find Them. Proceed at your own risk.
First introduced in Fantastic Beasts and Where to Find Them, Credence Barebone — played by Ezra Miller — is the adopted, wizard son of a witch-hunting mother. Suppressing his powers for years resulted in the development of his Obscurus, an animated mass of dark energy, which would eventually erupt into a force capable of destroying a large swathe of New York City. The after-credits scene of the first Fantastic Beasts film showed Credence surviving his explosive turn as an Obscurus, and this image may give some insight into what he's been doing since the close of Newt's first American adventure.
Early buzz around Fantastic Beasts and Where to Find Them focused on the possibility that Credence was Tom Riddle, Sr., who had somehow been spirited away to the U.S. by his magic-shy mother after an attack by Merope Gaunt. Even though that fan theory has all but been debunked, it's still fun to think about the possibility of such a — I'm sorry — fantastic twist.
A Wednesday Instagram upload shows an advertisement for the launch of Newt Scamander's famous tome, Fantastic Beasts and Where to Find Them, sitting in Diagon Alley's Flourish & Blotts bookstore. Comicbook.com reports that Newt delivered his book in 1927, the year after he dealt with Credence and Gellert Grindelwald in New York City.
What fans are more concerned with than Newt's timeline, however, is the name of the Fantastic Beasts publisher atop the sign: Obscurus Books. Redditor SatyrSaturn predicts that Credence will return in a big way for Fantastic Beasts and Where to Find Them 2. Admitting that their prediction "is a bit of a stretch," SatyrSaturn writes: "My theory is that Newt will save Credence from his obscurus. Since Credence helped Mary Lou print all those flyers and pamphlets for the Second Salemers, I predict that he will go into publishing and publishes Newt's book."
What do you think? Will Credence Barebone be the publisher responsible for Fantastic Beasts and Where to Find Them? We'll have to wait until Nov. 16, 2018 to find out.