This First Edition Harry Potter Just Sold For More Than Most People Make In A Year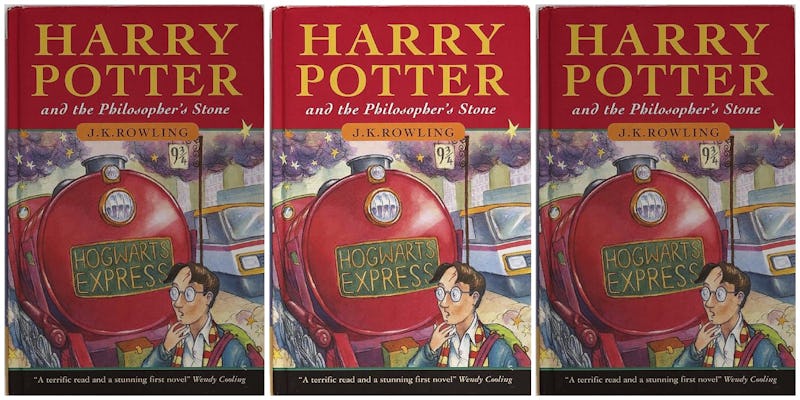 Since the first book hit stores in 1997, J.K. Rowling's Harry Potter series has made a fine habit of breaking sales records. A Harry Potter first edition just sold at auction for a record-setting price of $81,250. The final bid far exceeded the auction house's estimations and smashed the previous record of $66,000, which was set by another Harry Potter first edition.
Everything that we know about this lucrative auction makes it sound like a total fluke. For one, only 500 copies of Harry Potter and the Philosopher's Stone comprise the first edition, "and 300 [of those] were pegged for British libraries," according to the Arizona Daily Star. Somehow, the Harry Potter first edition wound up part of "a Private Collection in St. Charles, IL" before finding its way to Dallas, TX, where it was put on the block at Heritage Auctions' Rare Books Signature Auction — which also sold J.K. Rowling's writing chair — on Sep. 14.
According to the auction house's description, the first-edition copy of Philosopher's Stone sustained little wear over its 20 years in circulation, in spite of the fact that it had no dust jacket. The book also had no author or illustrator signatures, which makes its high auction price truly remarkable. Other Harry Potter books from the same collection included first editions of Chamber of Secrets, Prisoner of Azkaban, Goblet of Fire, and Half-Blood Prince, most of which were signed by the author and cover artist.
Heritage Auctions Rare Books Director James Gannon was particularly impressed by the Harry Potter first edition's auction performance:
We have sold great Harry Potter titles — not to mention chairs — in the past, but we never really paid attention to such a thing as a world record . . . This recent copy of Harry Potter and the Philosopher's Stone surpassed the earlier record of approximately $60,000 by more than 30 percent. It very well may be the highest price obtained at auction for any unsigned work of literature published in the past 50 years.
Heritage auctioned off several other first editions on Sep. 14, including The Maltese Falcon author Dashiell Hammett's first book, Red Harvest, which sold for a respectable $50,625, and J.R.R. Tolkien's The Hobbit, which drew in $28,750. First-edition sets of A.A. Milne's Winnie-the-Pooh series ($8,500) and Stephen King's Dark Tower books ($12,500) were also present.
Want to know if your Harry Potter books are worth anything? Check out these guides before you tear through your shelves.