This Forgotten Chris Pratt Scene From 'Everwood' Proves He Would Become A Heartthrob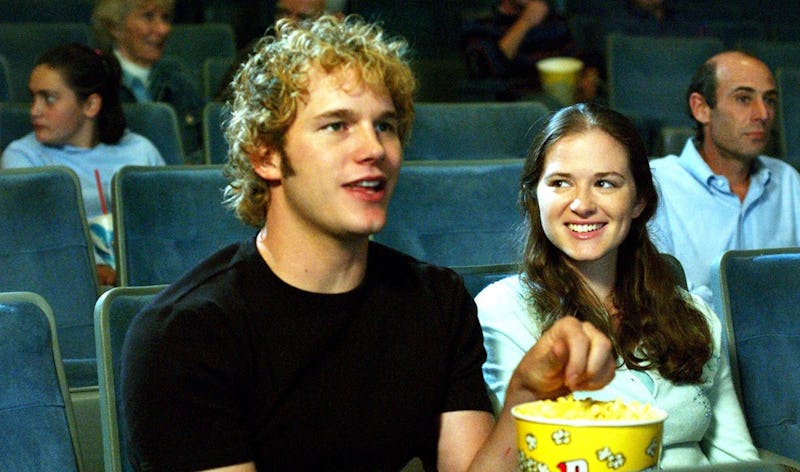 Warner Bros. Television
Long before Chris Pratt became the major Hollywood star with impossibly perfect abs that he is today, his performance as Bright Abbott in Everwood showed promise. In fact, I fell in major love with the sweet, but not overly smart, Bright as he handled small town life with humor, and acted with the best intentions. While his transformation into the new Matt Damon didn't happen overnight, it was clear early on that the actor had a lot to give. Which is why this forgotten Chris Pratt scene from Everwood shows we should have known he'd become a heartthrob even back then. Like, it was basically clear.
My Chris Pratt crush was harder back in 2005 than it is right now, and for one very important reason: Bright and Hannah's first kiss. To refresh your memories, Hannah was the best friend of Bright's sister Amy. She was played by Grey's Anatomy's Sarah Drew, who joined the show in Season 3. Hannah was endlessly sweet, a committed Christian, and had major feelings for Bright the second she met him. Unfortunately, he didn't reciprocate those feelings at first, but when he did, the fireworks were intense. Having had the whole of Season 3 to generate chemistry, when Bright and Hannah finally kissed, it was nothing short of magical.
But it wasn't just the kiss that made this particular Chris Pratt scene so adorable. The way that Pratt played the scene, nervously trying to find a way to confess his newfound feelings to Hannah, was reminiscent of the movie star we all know and love. The bumbling but charming, can't catch his breath, trying to explain himself, before grabbing and kissing her, Bright was the precursor to the movie star we know and love today. If you've lost faith in love, rewatching Pratt's Everwood performance will restore it immediately, and then some.
Plus, Pratt's early '00s look, with blond curly hair, and casual outfits, was beyond cute. There is literally nothing not to love about Bright Abbott, and that's thanks to the Star-Lord himself. Now about that Everwood reunion that needs to happen...