This Comic Book Makes It Super Easy To Understand Your Rights As A Student Protester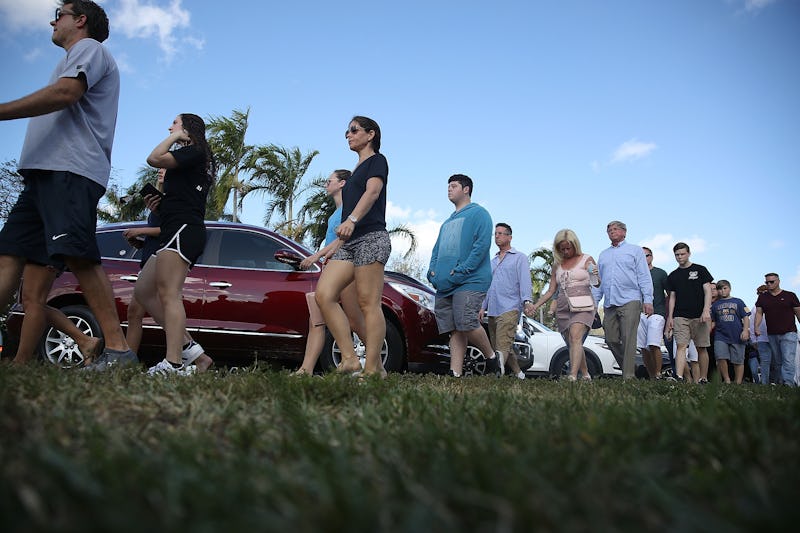 Joe Raedle/Getty Images News/Getty Images
In the wake of the mass shooting at Marjory Stoneman Douglas High School in Parkland, Fla., students across the country have begun walking out of their schools to protest the lack of gun control in the United States. This has, of course, met with some pushback, and with some schools attempting to punish students for these protests, this comic book could help protect students' rights.
Created in conjunction with the Comic Book Legal Defense Fund and the National Coalition Against Censorship, Kai Texel's Be Heard! is a free comic book that aims to protect students who choose to protest on March 14 by encouraging them to check their schools' policies beforehand. You can read an excerpt from Be Heard! below.
Why is all of this important? Because some schools may limit students' speech — regarding cursing, for instance — students should be aware of what their schools' policies are before they participate in the national school walkout.
Knowing how schools punish walkouts is also important, particularly if a student attends a school that has expressed the desire to quell walkouts. The American Civil Liberties Union notes that, although schools can punish students for walking out, they "can't... discipline students more harshly because they are walking out to express a political view or because school administrators don't support the views behind the protest." Understanding what the punishments are for non-political walkouts can help students determine whether their rights have been infringed upon in the days and weeks following a protest.
Be Heard! includes a brief primer on which forms of protest speech are protected, as well as a short list of resources student protesters may need if they run into trouble. Students are also encouraged to seek legal counsel if their schools' policies seem unnecessarily stringent or unfair.
With students around the country feeling the call to protest, even though it may hurt their college chances, universities have responded to encourage them to do what they feel is right. Brown, Dartmouth, MIT, and the University of Virginia, among other institutions, have stated publicly that a suspension due to protest will not weigh negatively against a student who applies for admission. Needville Independent School District in Texas still plans to issue three-day suspensions to students who protest during school hours.
The national school walkout takes place on March 14, the one-month anniversary of the Parkland, Fla. high school shooting. A second event, the March for Our Lives, will be held on March 24 in Washington, D.C. and elsewhere.