This Poll Shows That A Shocking Number Of Men Don't Believe The Gender Pay Gap Exists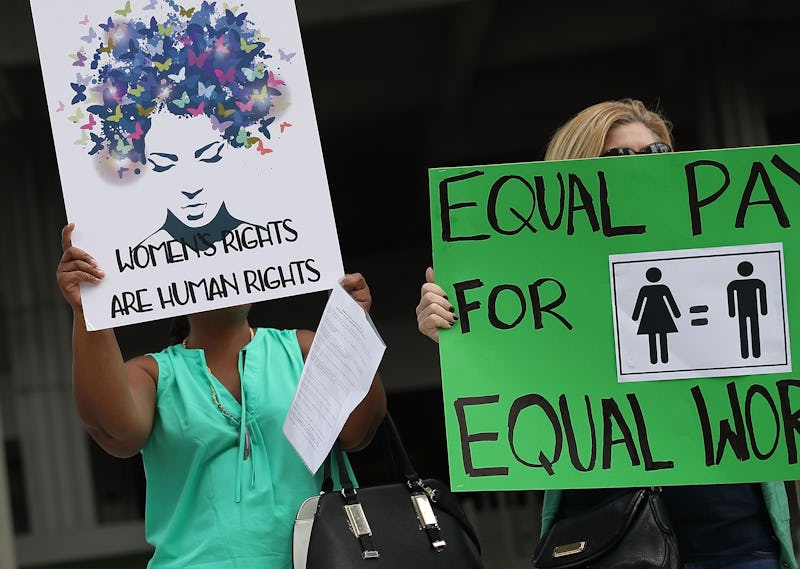 Joe Raedle/Getty Images News/Getty Images
As women continue to demand for equal pay, some men apparently don't think it's even an issue to begin with. According to TIME, a SurveyMonkey poll on the gender pay gap found that half of the men surveyed don't believe it exists. The poll, carried out for Equal Pay Day, was conducted among a pool of 8,566 American adults in March, according to the publication.
In an analysis of the study, research scientist Jillesa Gebhardt wrote that 46 percent of male respondents said that the gender pay gap is "made up." It isn't any better when it comes to more specific age groups. Gebhardt further wrote, "Fully half of male millennials think that men and women are paid equally."
The survey also found that four in 10 Americans — or 38 percent of participants — believed that gender pay gap was simply political propaganda. And 31 percent of men polled, or three in 10, believed reports about the gender pay gap were "overblown." Two in 10 men in the study responded that "reports of the pay gap ... are 'fake news.'"
Yet despite some male respondents' opinion on pay inequity, the gender pay gap is very much real. Researchers have repeatedly presented cold hard data that men and women are compensated differently for the same work, with women being paid much less money than their male counterparts.
Some of those polled expressed optimism about closing the gender pay gap. Sixty-two percent of participants said that they believed it will stop being an issue in their own lifetime. It's a contrast from the 55 percent who espoused the same view in 2018, according to SurveyMonkey.
Participants also weighed in on the kinds of solutions for fixing the gender pay gap. At 73 percent, far more than half the participants believed that corporate solutions for pay inequity were better compared to the 54 percent that believed the government ought to do something about it.
When it came to reporting pay inequality, SurveyMonkey noted that 55 percent of the polled individuals agreed with the idea of reporting tge gender pay gap to the government. Another 52 percent believed that corporations should release such reports to the general public. On top of that, 52 percent supported the practice of prohibiting employers from asking workers about their previous salary.
While reporting pay inequality to the government or public are possible solutions to creating fair and accountable workplaces, Gebhardt noted that there could be a "more grassroots" approach.
"A different, more grassroots proposal to reduce the gender pay gap is employees banding together to share information about their own salaries and compensation packages which aims to create transparency and give others leverage in salary and promotion negotiations," she wrote. You can think of it as teamwork.
Martha Gimbel, who formerly worked for the Obama administration and is now an economic research director for the Indeed Hiring Lab, proposed a similar idea in Business Insider on Tuesday. Everyone needed to step forward at an individual level and help bridge the gender pay gap, Gimbel wrote. Citizens, policymakers, and corporate leadership — everyone — ought to do their part, she said.