Here's How You Can Donate To Botham Jean's Family After He Was Killed By A Cop At Home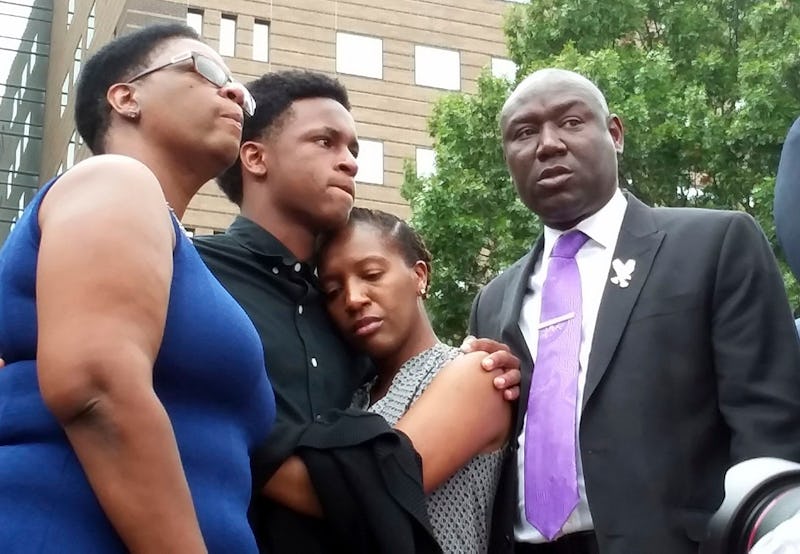 Ryan Tarinelli/AP/Shutterstock
TA Dallas police officer has been charged with manslaughter for shooting a black man dead in his own home after allegedly mistaking his apartment for her own. The district attorney is weighting the prospect of additional charges for the officer, Amber Guyger; meanwhile, this GoFundMe page for Botham Jean's family is raising money to help the Jeans deal with the tragic situation they've been put in.
"We are mourning the loss of our brother Botham Jean," the page reads. "He was a great Christian example and an inspiration to us all. We are asking for donations to cover funeral arrangements, his family's travel expenses, and anything else they may encounter. He will be missed."
As of this writing, the campaign has raised $36,125 — more than twice its original $15,000 goal. An update posted to the page says that Jean's family has given the fundraiser permission to continue raising money.
Guyger, who is white, was off-duty when she shot and killed Jean in his own apartment on Thursday night. According to the arrest warrant affidavit, she lives directly below him, and mistakenly though she'd entered her own apartment. Guyger told police that upon seeing Jean's silhouette, she thought he was a burglar, and that she "gave verbal commands" to him that he ignored. She fired two shots and killed him before realizing that she was in the wrong apartment. Jean was unarmed, and died at he hospital later that night.
Jean's family, however, disputes several crucial elements of Guyger's story.
Guyger told police that the door to Jean's apartment was "slightly ajar" when she approached it, and that only after shooting him and turning on the lights did she realize that she was in the wrong apartment.
But according to Lee Merritt, an attorney for the Jeans, witnesses heard pounding on Jean's door that night, followed by what sounded like the voice of a woman demanding that somebody open the door.
"They heard knocking down the hallway followed by a woman's voice that they believe to be officer Guyger saying, 'Let me in. Let me in,'" Merritt said at a press conference. He said that witnesses soon heard gunshots, followed by a man's voice saying, "Oh my god, why did you do that?," and said that there's no indication that Jean acted aggressively toward Guyger before she shot him.
Merritt and the Jean family have also taken issue with how authorities handled Guyger's arrest. After calling 911 from the scene, Guyger was not arrested immediately, but rather allowed to turn herself into authorities in rural Kaufman County and booked at a jail around a half hour away from the Dallas metropolitan area.
"We don't want it lost on anyone that, had this been a regular citizen, she would have never left the crime scene," Merritt said.
The Dallas Police Department was initially investigating the shooting, but has since handed the case over to the Texas Rangers. Guyger has been charged with manslaughter and was released on $300,000 bail. However, Dallas County District Attorney Faith Johnson is empaneling a grand jury to determine whether or not to press additional charges against the officer.
"The grand jury will be that entity that will make the final decision in terms of the charge or charges that will come out of this case," Johnson told reporters Monday. "We prepare to present a thorough case to the grand jury of Dallas County, so that the right decision can be made in this case."