The 'Halloweentown' Cast Reunited & They're Basically Unrecognizable Now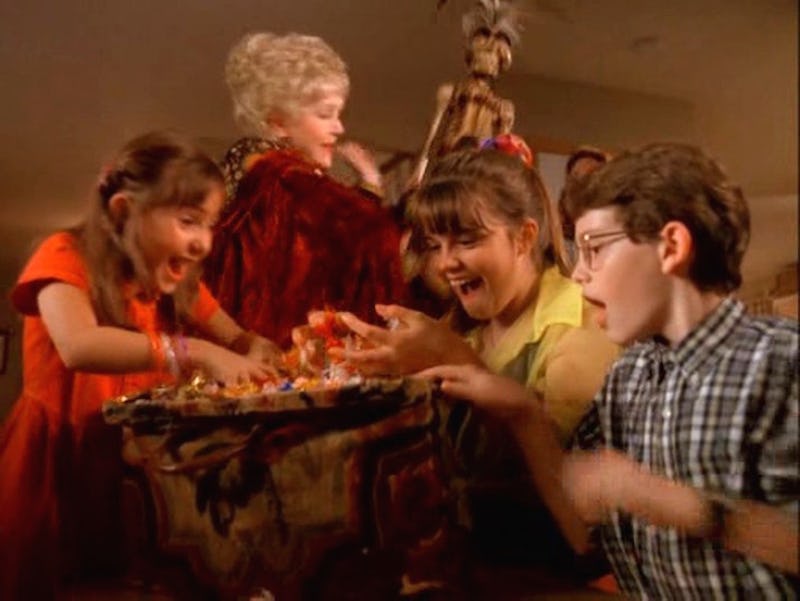 Disney Channel
'90s kids are collectively feeling the FOMO after a magical Halloweentown cast reunion photo was posted on Instagram. In fact, we got more than one piece of visual evidence of this reunion, which took place over the weekend. Not only did the original cast members come together at this particularly spooky time of year, but they celebrated the (arguably) best DCOM back where it all took place. Kimberly J. Brown (the original Marnie) and her TV family joined the Spirit of Halloweentown festival in St. Helens, Oregon, where movie was shot. Although DCOM lovers basically grew up with Marnie's TV siblings Dylan (Joey Zimmerman) and Sophie (Emily Roeske), the Halloweentown kids are so unrecognizable now that it's almost scary.
Nineteen years after the whimsical film first enchanted fans and it's like nothing has changed. Well, except for Zimmerman (who was 12 years old when the movie was shot) and Roeske (who was 7 years old), who now look completely different.
Fans knew Dylan as the pesky little brother who was often the voice of reason and Sophie as the innocent, wide-eyed, and eager witch-in-training. Now, at 31 and 26, respectively, they're all grown up, adulting and all. And they still have their big TV sis Brown (now 32), who continues to support them. Marnie was definitely the ring leader in the Piper family's troubles, but she was also a fearless rockstar who saved the day. Seeing them reunite brings back all the memories.
This weekend was the perfect celebration to honor the late Debbie Reynolds, who played their grandmother Aggie Cromwell. This was the first Spirit of Halloweentown annual festival since the star's passing in December 2016. Although Grandma Aggie would barely recognize her grown up grandkids, they're certainly doing her proud.
Someone else the kids (not that they're kids anymore) are making proud is their TV mom, Judith Hoag, who also joined in on the festivities. Gwen may have been uptight, but that doesn't prevent her from being one of the GOATs in Disney Channel mom history.
Now that these kids aren't saving Halloweentown one potion at a time, what are they up to now? Kimberly J. Brown is still busy wearing different hats. The actor runs the Etsy shop CraftilyCreative, which obviously has Halloweentown-inspired apparel. She still performs and posts videos of herself singing and recently performed for the web series Mondays on top of having her own YouTube page. She also had a multi-episode run in AMC's Low Winter Sun in 2013.
In real life, her TV brother goes by Dr. J. Paul Zimmerman. By the looks of his Instagram, he's taken up photography and is the co-creator of ZFO Entertainment, a platform dedicated to fellow sci-fi lovers. He also has tons and tons of facial hair. The pesky little brother you once knew is gone.
As for Sophie, Roeske taken her talents to a different type of performing. The former actor isn't on social media, at least not publicly. But thanks to the internet, fans can see she's now a martial arts instructor. It seems she was so committed to this passion, that, at one point, the 3rd degree black belt was ranked #1 in the country.
Meanwhile, it seems Piper family mother Judith Hoag is out living her best life, writing, producing, teaching (according to Instagram), and often posting about her travels and love of food.
One thing is certain: nearly two decades later and this cast hasn't lost its love of the Halloweentown franchise or for each other. The actors may have gone their separate ways, moved away from show business, and significantly grown out of puberty, but Halloweentown will always live on.