This Harry Potter Advent Calendar Includes 12 Pairs Of Socks & Dobby Would Be Proud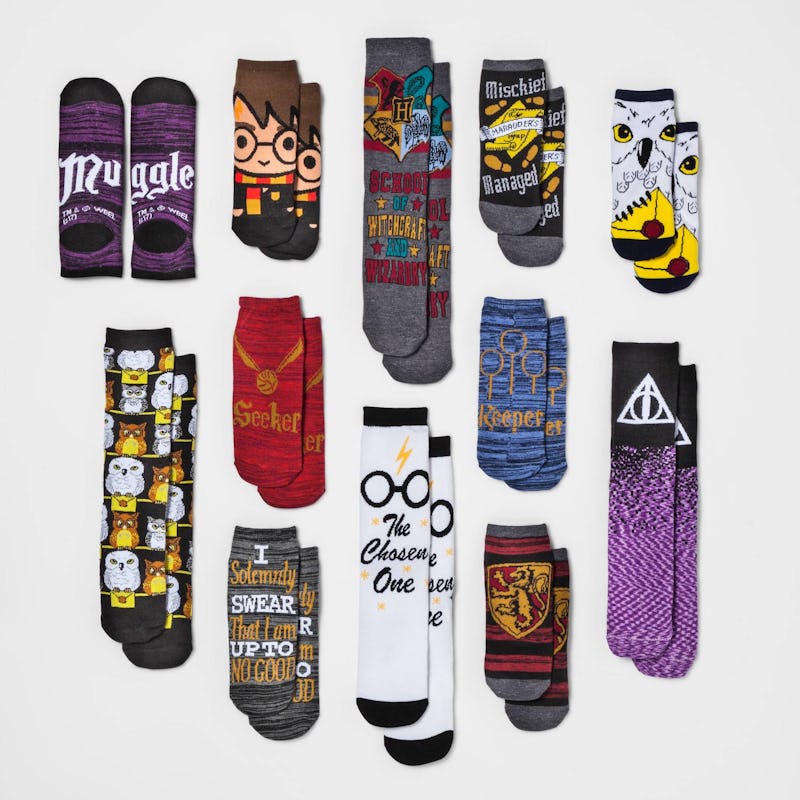 Target
Every holiday season, there are always a few hot new items — think Easy Bake Ovens, Razor Scooters, and Game Boy Colors — that are so cool, they're nearly impossible to buy in time for Christmas. At the top of this year's list is a spellbinding Harry Potter advent calendar that is so amazing, it's already sold out. Once you lay your muggle eyes on them, you're going to wish you had a Time-Turner to go back and order one for yourself.
One of Target's new and wildly popular holiday items, the Harry Potter sock-themed advent calendar helps Potterheads count down the 12 days of Christmas in bookish style. Each day, fans can open secret numbered compartments to reveal the kind of surprise that would make Doby scream: a pair of fun and decorative knit socks.
Behind beautifully designed compartment flaps are both crew and low cut socks featuring some of the most iconic imagery from the magical wizarding world of Harry Potter. Graphics include the Deathly Hallows symbol, the Marauder's Map, Harry's trusted pet Hedwig, the Golden Snitch, and the Chosen One himself. You may not ever get your Hogwarts letter IRL, but with this calendar, you can wear one in sock form instead.
With so many fantastic designs, this complete set of 12 pairs of socks makes it impossible to choose the best one. My personal favorite is a tie between the ones featuring an adorable owl pattern and the pair bearing the official crest of Hogwarts School of Witchcraft and Wizardry, but the low cut pair featuring one of the best Harry Potter quotes of all time — "I solemnly swear that I am up to no good." — is up there as well.
Cute and comfortable, these midweight knit stockings will make you feel as cozy as Christmas morning at the Burrow. They are the perfect accessory to bring holiday spirit and cheer into your bookish home, because there are few merrier children's series than J.K. Rowling's.
Although Harry Potter is not technically a holiday franchise, there is just something about both the books and the movies that put people in the Christmas spirit. Maybe it is the surplus of mouthwatering feasts, the themes of kindness and love, the magic and wonder of the story, or just simply the incredible holiday scenes readers and viewers get to experience that make the series so seasonally appropriate at Christmastime.
Whatever the reasons may be, there is another to add to the list: this festive advent calendar featuring more Harry Potter-themed socks than there are books in the series.
Harry Potter 12 Days of Socks Set, $15, In Target Stores
But I have some bad news for you: you can't get these babies in Diagon Alley. In fact, you can hardly find them anywhere.
Target is selling this spirited set on their website, but they are already sold out online. That's right, for only $15 you could have had not only have 12 adorable Potter-themed socks, but the chance to free 24 house elves. That is, if you had the foresight of Madame Trelawney and snagged some before they were all gone.
Even though Target's website is out of stock, your dreams of keeping your toes warm and your feet nerdy may not be entirely dashed: the Harry Potter advent calendar may be sold out online, but it is still available in select stores around the country. Find out if a Target near you still has a set, and apparate there before the other muggles get to them first.
Who knows, maybe if you were extra good this year, Santa just might put some Harry Potter stockings in your stocking. As you well know, magical things can happen.