Here's A Reminder That Religion Isn't The Problem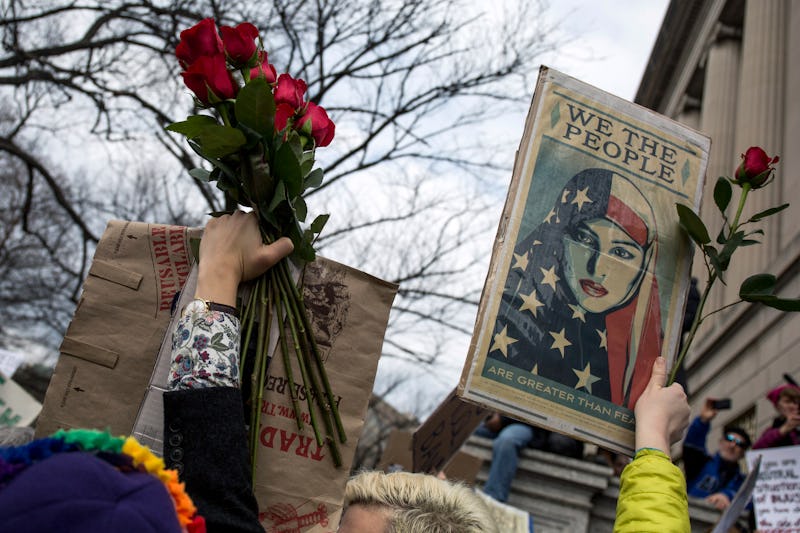 Zach Gibson/Getty Images News/Getty Images
If there's anyone who can start a conversation on the scale of President Donald Trump, it's Kim Kardashian West. Although she's normally known for posting glamorous selfies and photos of her famous family, she took to Twitter on Sunday for a very different reason. West responded to Trump's controversial immigration ban with some startling — and almost unbelievable — statistics about mortality in the U.S.
West has been notably reserved on social media since experiencing a violent robbery in France last year. On Sunday, though, she ignited a bustling conversation with just one word and an accompanying image. "Statistics," she tweeted, along with an image of nine different statistics about different causes of death in the U.S. The chart, which has been widely shared by many people on Twitter, states that Islamic jihadist terrorists kill just nine Americans each year, on average. Meanwhile, the data also states that 69 Americans are killed each year by lawnmowers and more than 11,000 Americans are killed each year by gunshots from another American.
The image has been immediately taken as a response to the president's latest immigration policies. Last week, Trump announced plans for his long-promised border wall. He also signed an executive order that temporarily bans people from seven predominantly Muslim countries from entering the U.S. As a result, Americans have taken to public places and airport terminals to protest the so-called "travel ban."
Enter, this image, which shows that Americans suffer significantly more deaths each year from armed toddlers, lawnmowers, and falling out of bed than from jihadist terrorists. A search of the sources listed at the bottom of the chart reveals that the data mostly checks out, with one interesting exception. The source for the first three statistics does not appear to take into consideration the 2015 attack in San Bernardino, California, which killed 14 people. However, this attack would probably only minimally affect the data, which is an average over 10 years.
At a time when the president's team is using "alternative facts" to explain its actions, this image importantly puts the Trump administration's policies into perspective. Of course, protecting Americans from terrorism must remain a top priority for the federal government, but it should not be prioritized in a way that compromises America's core values of diversity and freedom. A blanket ban on travelers, refugees, and immigrants does just that.
To truly protect Americans, the Trump administration could take a firm look at the most startling statistic on the list: Nearly 12,000 Americans are killed each year by another homicide, on average. Gun violence will continue to ravage the country regardless of who comes in and who doesn't.