Here's Yet Another Sign Kylie Jenner Is Trolling Us About That Pregnancy News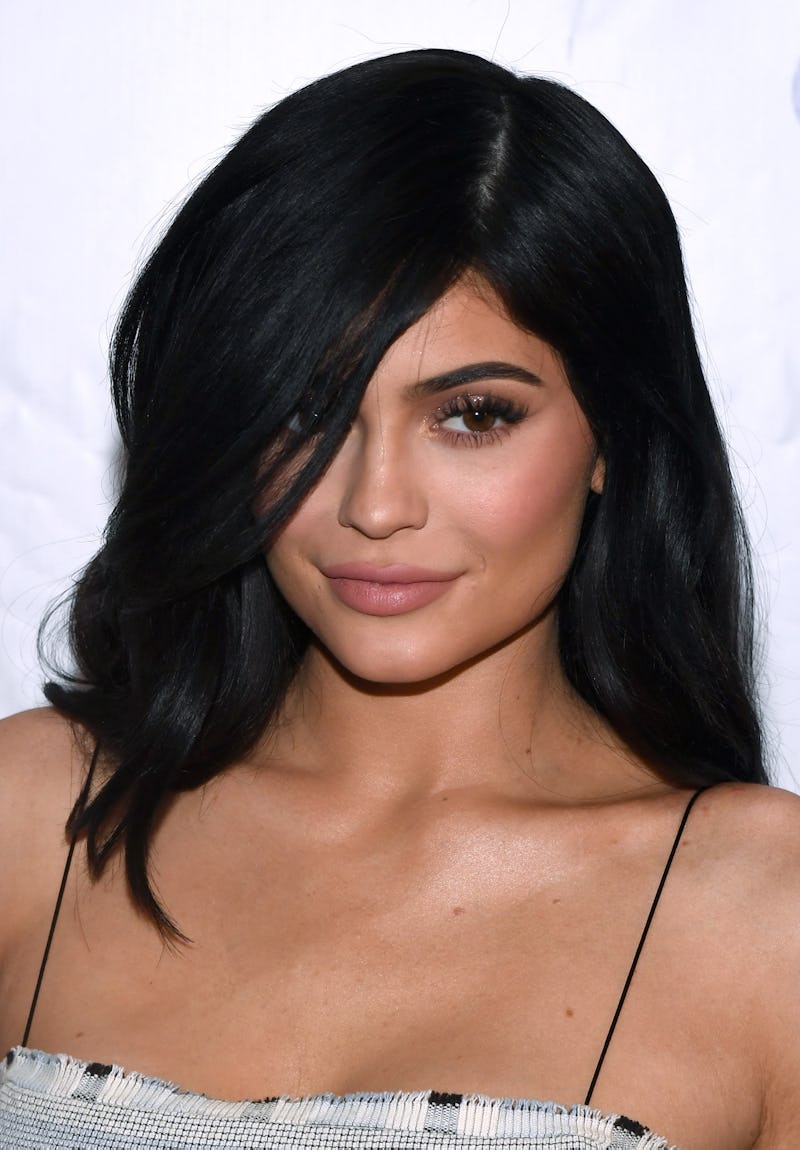 Ethan Miller/Getty Images Entertainment/Getty Images
Weeks have passed since the earliest reports that Kylie Jenner is expecting her first child hit the internet, and fans still don't have confirmation from the woman herself. And now, it seems like Jenner is teasing her fans about her reported pregnancy while she waits to make the big announcement... if she makes the an announcement at all. Over the weekend, Jenner shared a Snapchat video where the top of her belly is just barely visible, and it's like she's taunting us with her possible baby bump without actually showing it off.
In the video, Jenner's dancing to Miguel's "Sky Walker" — a song her boyfriend and the probable father of her baby, Travis Scott, is featured on — while wearing a sports bra. It looks like she's being very careful not to show off too much of her stomach. All anyone can see is the very top of her torso, and it's too hard to tell if it looks any bigger these days... like it would be if she was growing a child in there.
Is Jenner just torturing us, or is she strategically teasing her fans to build up the news and keep people talking? This seems like yet another savvy and calculating move she's making, and so far, it seems like it's working.
She's zooming in, she's zooming out, and she's showing us everything but what we're all dying to see. But instead of this video being another piece of proof that she's pregnant, it's actually proving something different: that Jenner is messing with all of us.
If you've watched Keeping Up With The Kardashians at all, you know that the entire family pays close attention to what people are saying about them. Jenner is well aware that essentially the entire internet is buzzing about whether or not she's pregnant, so she's playing all of us, and this Snapchat video is hardly the first time that's happened.
In fact, not long after the rumors began to surface did Jenner show off her stomach for the first time in an Instagram photo with BFF Jordyn Woods — but just barely. And then, she posed in a giant, oversized shirt that kept us from seeing a bump.
And then, of course, there was the time she posted a photo of three cinnamon rolls, possibly hinting that there are three buns in the oven in her family between her, Khloé, and Kim Kardashian's surrogate. She also took to Snapchat earlier this month to show off her new Kylie Shop phone cases in pink or blue and said she preferred blue, which many fans interpreted as a gender reveal — or at least a nod to the fact that she's rooting for her baby to be a boy.
All of these photos could be considered a coincidence, or she may have even posted them for reasons unrelated to a pregnancy, but it would be underestimating Jenner to think that these posts aren't 100 percent intentional. She wants her fans to believe she might be pregnant, whether she is or isn't.
After all, Jenner has to know that what she's posting is driving fans crazy, but that's the beauty of it. As crazy as it can make you trying to decode what Jenner's saying, it's also kind of fun — and for someone like Jenner whose brand has been built on the interest people take in her and in her life, this kind of attention is priceless.
Sometimes, it seems like Jenner's giving us a mystery to solve by dropping clues so we can figure out on our own if she's pregnant or not, but now, it seems more like she's teasing fans about the next big thing happening in her life. If and when Jenner decides to share the news, there's no doubt it'll be worth the wait. But for now, it certainly seems like she's having a good time keeping the world in suspense.