This 'Lilo & Stitch' Makeup Brush Set Is Actually Really Adorable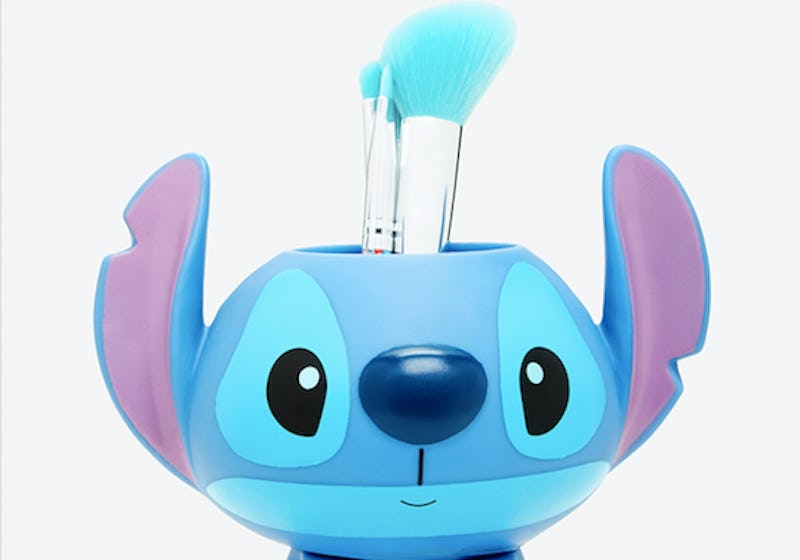 Are you looking for just a few more items to add to your beauty collection that you really, truly don't need but will bring you joy anyway? Let me introduce to the Lilo & Stitch makeup brushes set and holder of your dreams. Granted, if you have actually dreamt about this before, I'll admit I'm impressed, because this is about as specific as it gets. But on the off chance that you are, in fact, a person who is passionate about both makeup and the classic animated wonder that is Lilo & Stitch, this is for you. The quirky collection, sold by Box Lunch, includes "five deluxe makeup brushes that have a tropical print, and a figural Stitch brush holder!" AKA truly all you've ever needed in life. I mean, just look at Stitch's adorable face!
The brushes seem to mostly be focused on eyeshadow blending, with one larger brush that could be used for contouring, blush, or applying setting powder. Together, they make a cute little family — or should I say, ohana. Alright, you had to know that one was coming.
As of Feb. 2, this set is on sale for just $21.52 — an absolute steal considering what some makeup brushes go for these days. Plus, none of those expensive makeup brushes have tropical prints or come with a Stitch-shaped holder. Again: a steal.
Disney Lilo & Stitch Makeup Brush Set, $21.52, Box Lunch
It appears that the Stitch holder is even big enough to put other makeup brushes in. While none of them will be quite as cute as these, it goes without saying that most beauty lovers could do with some extra brush storage. Might as well make it whimsical while we're at it, am I right?
The entire set is coordinated to complement the blue shade of Stitch, which makes a lot of sense and is cute AF. Personally, I love these brushes almost as much as I love the fact that someone at Disney sat down one day and said, "You know what people like? Makeup. You know what else they like? Lilo & Stitch." And then this wonderfully wacky product was born! Disney is everywhere these days. And it's glorious.
The brush set also comes in this cool plastic box with a palm tree background, perfect for any Disney or Lilo & Stitch collector. Box Lunch is known for catering toward people who love Disney, Hello Kitty, and beyond. But, funnily enough, this is only one of two makeup sets on the entire site. The other being a super adorable Hello Kitty makeup bag set for $29.90.
But if you're more interested in the Lilo & Stitch aspect of things than the makeup factor, don't you worry. There are plenty of BoxLunch items for you to choose from. Take, for example, these gloriously soft-looking sweatpants with tiny Stitches all over them.
Disney Lilo & Stitch Joggers, $34.90, BoxLunch
Not into sweatpants? Well, first of all, how? And second of all, not to worry! There's other Lilo & Stitch options for you. How about curling up with a really cute, heat-activated Lilo & Stitch mug? And if you're not into coffee, you could even just use this mug as makeup brush storage as well. A whole vanity set of Stitch-themed things to keep makeup brushes in. Why not?
Disney Lilo & Stitch Mug, $11.13, Box Lunch
No matter what your preferred Lilo & Stitch-themed accessory or item is, it seems there is pretty much something for everyone. And, honestly, who can say no to buying something that will make you smile every time you look at it? Exactly.