No One Can Stop Watching Videos Of This Man Behind Trump React To His Rally Speech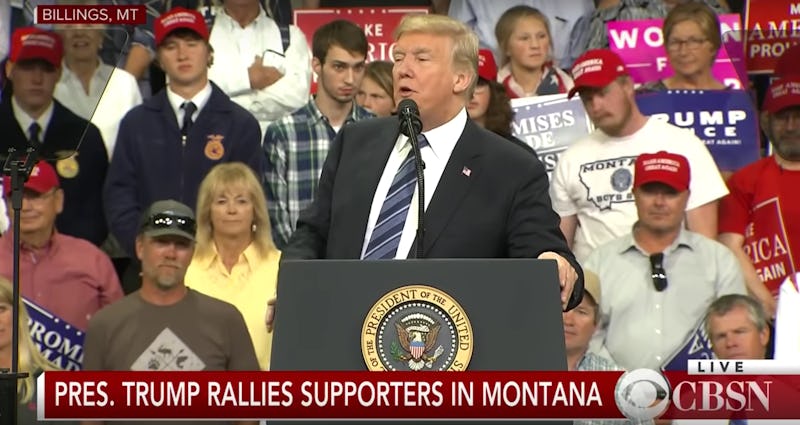 Normally, the president is the featured attraction at any campaign rally he speaks at. But as President Donald Trump spoke in Billings, Montana on Thursday, it was a man standing in the audience behind him who really captured Twitter's attention. Throughout the rally, the man reacted to Trump with disbelieving facial expressions until he was eventually booted from his prime, on-camera spot in the audience.
Business Insider's David Choi was among the first to spot the expressive facial reactions of a man standing in the audience behind the president at a rally for Montana's Republican Senate candidate Matt Rosendale. As Trump discussed everything from the Democratic Party and the 2016 presidential election to health care and the so-called deep state, a brown-haired man in a plaid button up shirt who stood just behind Trump's left shoulder cycles through a series of different facial expressions.
When others in the audience are cheering, the man appears serious and stone faced. At other times he appears to raise his eyebrows in skepticism or chortle in incredulity, or furor his brow in disbelief.
Then, roughly 49 minutes into Trump's speech, the man is removed from the audience. In video of the campaign rally, a woman can be seen approaching the man before appearing to signal for him to move off camera as she takes his spot behind the president. That woman can then be seen cheering, smiling, and nodding as the president continues his speech.
But the unidentified man with the expressive face wasn't the only person to be swapped out of the audience behind Trump during the president's speech. Less than 10 minutes after the man in the plaid shirt was replaced, two blonde women appeared and replaced the two people — a curly-haired girl in a red Make America Great Again hat and a blonde man in a Montana t-shirt — he'd initially been standing next to.
That swap also generated buzz with viewers on Twitter. "When you realize halfway through a Trump rally that the people in the bleachers need to be peppier and blonder," one Twitter user wrote in a tweet sharing a clip on the swap.
While it's unclear if the expressive man behind the president was a protester or a supporter, a member of Trump's campaign team was recently caught interfering with a photojournalist's work. A volunteer with Trump's advance team used his hand to block an Associated Press photographer from snapping a picture of a protester being identified for removal at a rally in Evansville, Indiana, last week.
And during the 2016 presidential election, a TIME photographer was slammed into a table by security after he attempted to photograph a Black Lives Matter protest that broke out at a Trump rally in Virginia in February.
As of Friday morning, however, it remained unclear if those who'd been swapped out of the crowd behind Trump were staff members or volunteers of either Rosendale or the president's campaigns. It's worth noting, however, that nobody appeared to make a fuss — at least on camera — about being pulled from the audience.