This Moment From Christine Ford's Testimony Shows The Lasting Impact Of Her Experience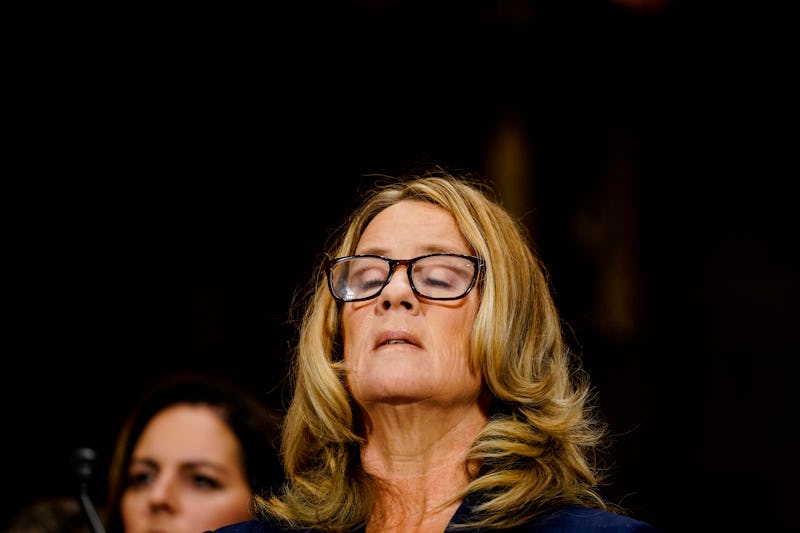 Pool/Getty Images News/Getty Images
It's natural that a hearing about an allegation of sexual assault would feature numerous sensitive, emotional moments. In Christine Blasey Ford's hearing in front of the Senate Judiciary Committee, one very difficult moment, both for Ford and probably also for numerous people watching, came when Sen. Patrick Leahy asked Ford what her strongest memory of the alleged incident was. Ford's answer was eloquent, composed, and charged with emotion.
The California professor spoke of a specific part of night that now-Supreme Court nominee Brett Kavanaugh allegedly cornered her in a bedroom with a friend of his and sexually assaulted her while they were all in high school. (Kavanaugh has denied her allegations).
"Indelible in the hippocampus is the laughter," Ford said, her voice breaking. "The uproarious laughter between the two and their having fun at my expense."
Ford then went on to describe a scene of the two boys having fun while Kavanaugh was allegedly on top of her.
"They were laughing with each other," Ford told Leahy at the hearing. "I was underneath one of them while the two laughed. Two friends having a really good time with one another."
Leahy and other Democratic senators emphasized during their lines of questioning that it was natural that Ford would have some specific and strong memories while not remembering other details at all.
"After spending decades trying to forget that awful night, it's no wonder your recollection isn't perfect," Democratic Sen. Dick Durbin told Ford during his time to question her. Research has shown that victims of trauma often don't have exact memories of the incident, because those incidents are processed differently than other events throughout a person's life.
Leahy is actually the only Democrat who was also on the Senate Judiciary Committee in 1991 when Anita Hill gave testimony about her allegations against Clarence Thomas, so this isn't his first time participating in a Supreme Court confirmation process that involves allegations of sexual misconduct.
His question about Ford's strongest memory, along with another powerful statement that he made about Ford's bravery drew a lot of strong emotional reactions from people watching the hearings.
"No matter what happens at this hearing," Leahy told Ford, "Bravery is contagious and you sharing your story is going to have a lasting positive impact to so many survivors in this country. We owe you a debt of gratitude."
Leahy's question was one of numerous questions that prompted Ford to talk about her memories, which led her to a discussion of how the brain — and her brain specifically — works.
In her testimony, Ford then brought up the laughter she remembered again, when Democratic Sen. Amy Klobuchar of Minnesota asked her what she "didn't forget" from the night of the incident.
"The stairwell, the living room, the bedroom, the bed on the right side of the room," Ford said, and then continued. "The bathroom in close proximity, the laughter, the uproarious laughter, and the multiple attempts to escape and the final ability to do so."
If you or someone you know has been sexually assaulted, call the National Sexual Assault Telephone Hotline at 800-656-HOPE (4673) or visit online.rainn.org.