This National Walkout In Support Of Kavanaugh's Accusers Sends A Powerful Message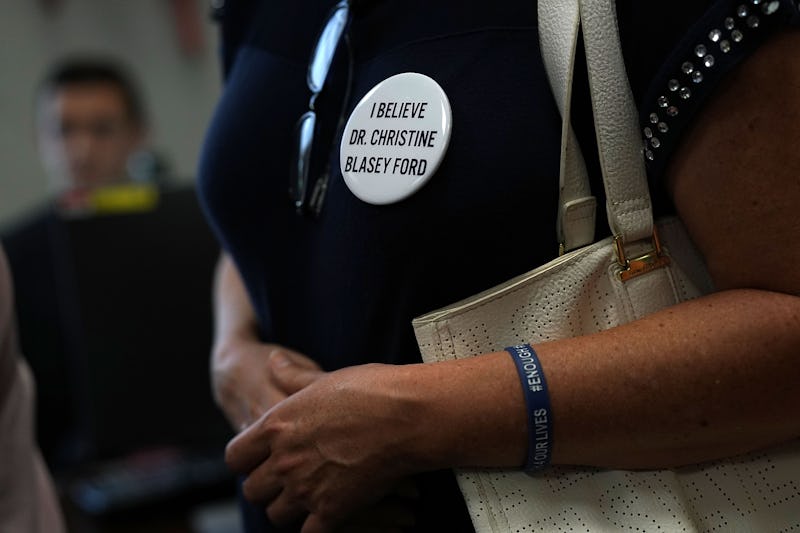 Alex Wong/Getty Images News/Getty Images
In an effort to show solidarity with Deborah Ramirez and Christine Blasey Ford, a national walkout has been scheduled on Monday by a host of progressive organizations. If you wish to lend your support to these two women, you can participate in this movement in-person or virtually.
According to the event's Facebook page, the national walkout is being hosted by 23 different organizations. The walkout is slated for 1 p.m. ET on Monday. The organizers ask that those who wish to participate to wear black and simply walk out of whatever location they are in at 1 p.m., such as work or school. If you do participate in the walkout, organizers are also asking that you post a photograph of your walkout to social media with the hashtag, #BelieveSurvivors. If you are unable to leave your location on Monday but still wish to show your support, you can post a video or picture to the event's Facebook page to help spread the word that you stand with Ford and Ramirez.
Moreover, if you are in Washington D.C., you can also head to the Senate Hart Atrium at 12:30 p.m. ET to join a host of organizations participating in the walkout. The organizations plan to leave the atrium at 1 p.m. and then head to the Supreme Court for a National Speakout.
The national walkout comes following Ford's and Ramirez's decisions to come forward with their allegations of sexual misconduct against Trump's Supreme Court nominee, Brett Kavanaugh. In July, Ford claimed in a letter to Senator Dianne Feinstein that Kavanaugh "physically and sexually assaulted" her at a party that she and Kavanaugh attended while they were both in high school in the 1980s. Kavanaugh has denied this allegation, saying in a statement (as reported by NBC News), "I categorically and unequivocally deny this allegation. I did not do this back in high school or at any time."
On Sunday, news emerged via The New Yorker that Ramirez, a Yale University classmate of Kavanaugh's, has also made a sexual misconduct claim against the nominee, one which at least two Democratic senators' offices are currently investigating. Ramirez alleged that Kavanaugh (as Ronan Farrow and Jane Mayer of The New Yorker wrote), "exposed himself at a drunken dormitory party, thrust his penis in her face, and caused her to touch it without her consent" at a party during the 1983-84 school year. Kavanaugh denied these allegations in a statement via The New Yorker, saying, "This alleged event from 35 years ago did not happen. The people who knew me then know that this did not happen, and have said so. This is a smear, plain and simple."
After Ford's allegations against Kavanaugh were made public last week, she and her family have received death threats and harassment, as The Guardian reported. The paper also noted that Ford and her family have been forced to leave their Palo Alto, California home as a result of these threats.
The walkout on Monday is designed to express support for these two women who have come forward with their allegations in spite of anticipated (and, in Ford's case, resulting) hardship and threats. The walkout also comes ahead of Ford's scheduled Senate Judiciary Committee hearing on Thursday, at which she is slated to testify regarding her allegations.
On the event's Facebook page, the walkout's organizers indicated that they want to show solidarity with Ford as she prepares to testify, especially since they believe that "Senate Republicans are doing everything they can to shame, bully, and force her to testify under their unacceptable, inappropriate conditions." This belief likely stems from Senate Republicans' refusal to comply with some of Ford's team's requests related to the hearing. Those include the request for an FBI investigation prior to the hearing and that the committee calls more witnesses to discuss the allegations.