An Ad For Rihanna's New Lingerie Line Is Going Viral For Celebrating Tummy Rolls & Stretchmarks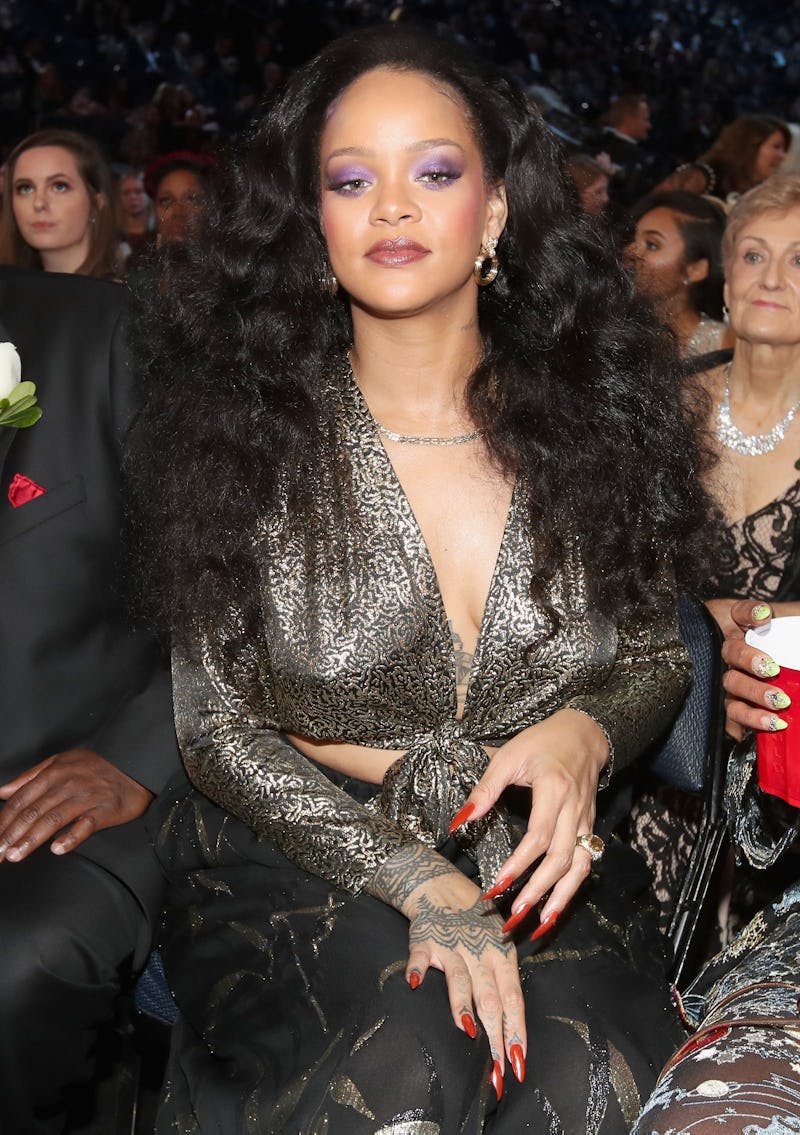 Christopher Polk/Getty Images Entertainment/Getty Images
Rihanna has been working hard these past 12 months to help us get connected with our most beautiful selves, whether that's through makeup or clothing. From launching an inclusive makeup brand to now launching an inclusive lingerie line named Savage x Fenty, the artist-turned-beauty-and-fashion-mogul is making major strides to expand the definition of the ideal beauty standard, and make more room for all different kinds of people.
While the Savage x Fenty line is new — and information is slowly being shared on what to expect for the first drop of lacy underthings — one thing that is certain is that plus size bodies will be included, celebrated, and catered to — and the newest ad proves that. Her new line runs up to a size 3X in underwear and 44 DDD in bras, and fans were wondering if they would see those bodies represented in any of the ad campaigns. As always, Rihanna came through.
The new Savage x Fenty lingerie ad celebrates stretchmarks, cellulite, and tummy rolls, zooming in on a curve model as she talks about her body in the voice over.
The caption reads, "X stands for ALL," and the camera slowly zooms over the model, Audrey Ritchie, who is washed in orange and red light, and is sitting on a couch with her back to a lit skyline. Sitting with her legs crossed in high heels and wearing nothing but lacy lingerie, she looks both powerful and comfortable at the same time.
Ritchie shares her thoughts about her body and her relationship with lingerie, sharing "I have really giant boobs. They were DDs by the time I was in eighth grade."
"I think I feel most sexy in the morning. Rolls. Stretch marks. Cellulite," Ritchie continues, underlining that there isn't just one body type that is allowed to embrace its sexuality. "Whichever gender you choose to have sex with, you should be proud and find yourself sexually."
Followers of the lingerie account were quick to voice their approval, applauding the message the brand is endorsing and pushing.
"This is what sexy looks and FEELS like. Thank you @badgalriri for making people feel their ultimate in their own skin," one person shared.
"I was wondering if Rihanna was going to continue being the baddest bitch of all time by making sure larger ladies like myself would be able to buy - and she came through like she always does," another applauded.
While there were a lot of "Victoria Secret who?" comments under the video that highlighted just how important it is to cater to people who don't fall under straight sizes, some fans pointed out that they were still left behind in the size selection.
However, there is still a chance that the size list is growing. For example, originally the brand ran up to a 44 DD, but now they added in a DDD cup size. But for many, that's still not enough.
"First time i checked, it only went up to DD, so they just added DDD, hopefully they keep getting bigger. I need a 32G," one follower shared.
"So disappointed. I was legit excited when I saw inclusive of all sizes. I think it's brilliant that back sizing is going up to 44, but what about cup sizes?" one more pointed out. "I'm 5 sizes too big for your largest size!"
Seeing how Rihanna is committed to including a vast majority of people in her collections and launches, chances are the size list will keep expanding. For now, we can only wait and see.