This Political Cartoon Is Stirring Up Major Debate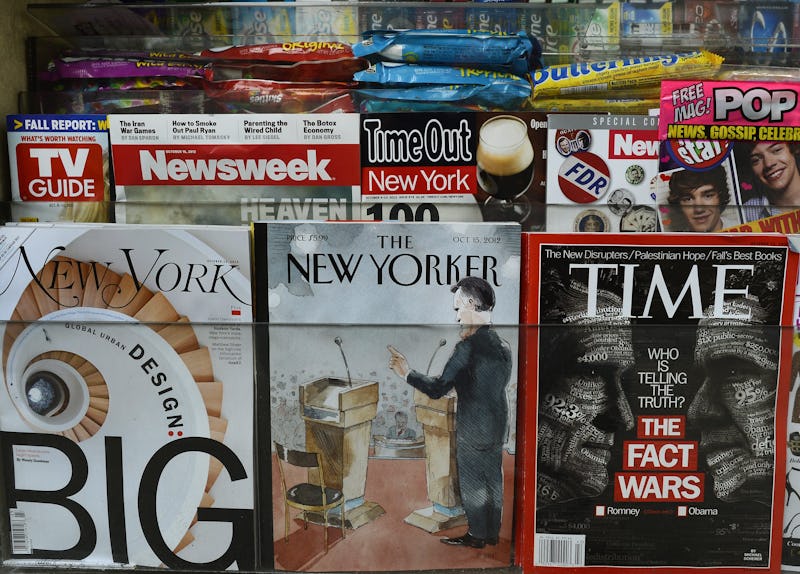 TIMOTHY A. CLARY/AFP/Getty Images
A cartoon by Will McPhail in this week's New Yorker is stirring up a significant amount of debate on social media. While some found the cartoon to be the perfect analogy for 2016's political climate, others argued it missed the mark – much like experts had throughout the presidential election. Although reactions were mixed, the New Yorker 'pilot' cartoon certainly had everybody talking.
The cartoon depicts a mustachioed man in a black shirt standing up in his seat on an airplane. "These smug pilots have lost touch with regular passengers like us. Who thinks I should fly the plane?" the man asks his fellow passengers. About a dozen passengers are depicted with their hands raised in the air in an apparent symbol of agreement.
At a glance, McPhail's cartoon seems to be commentary on an ideology that came to play a major role in the 2016 presidential election: populism. Also characterized as an anti-elite attitude, populism is a political movement mobilizing a segment of so-called "regular" people to take the control of the government out of the hands of so-called "out-of-touch" elites. With his promise to "drain the swamp," Donald Trump's campaign was largely seen as a populist insurgency. And certainly his election victory proved that anger toward the establishment factored in to how many voters cast their ballots in November.
McPhail tweeted the cartoon Monday with little commentary on its meaning. (Sometimes the less said about a political cartoon, the better.) Instead McPhail offered only a cheeky, "Hello politics, my names [sic] Will." But while McPhail may have had little to say about his latest cartoon for the New Yorker, quite a few people on Twitter had plenty to say about it. Whether it had them chuckling, rolling their eyes, or scratching their head in confusion, McPhail's latest illustration served as a catalyst for debate on American politics.
There were those who loved how the cartoon captured what modern day political discourse had become, and those who viewed it as a thinly-veiled insult to Trump supporters. "Perfectly describes 2016 logic, where expertise counts against the qualified people instead of in favour," Twitter user Kimon Froussios tweeted. "Nothing better than a New Yorker cartoon telling the plebs to shut up and let the powerful run the country," Twitter user Blup In Japan tweeted.
While one's reaction to McPhail's cartoon depend largely on whether one leans left or right, one thing is for sure – the debate over what (if any) benefits experts and political elite offer so-called regular folks will likely continue throughout Trump's presidency.