Immigrants Are Commenting On A Trump Hotels Tweet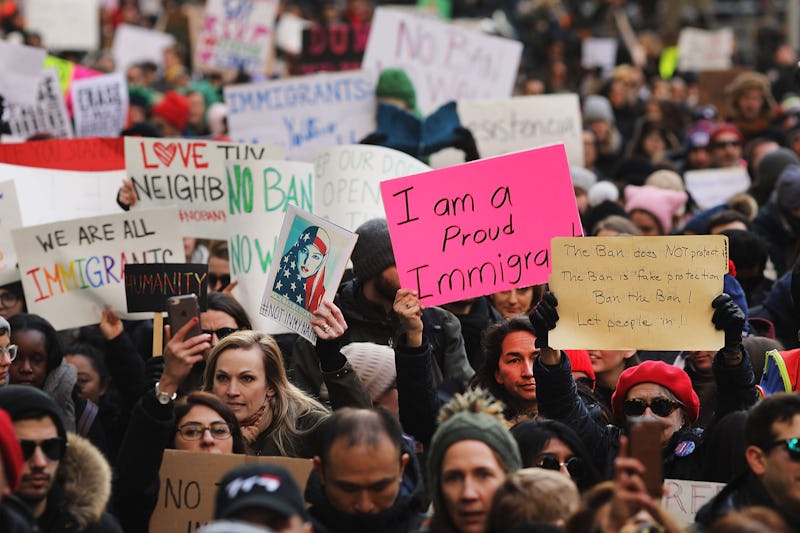 Spencer Platt/Getty Images News/Getty Images
In the wake of President Donald Trump's recent immigration orders regarding refugees and travel to Muslim-dominant countries, countless Americans have taken to the streets to peacefully protest — and are finding different impactful ways to do it every day. Among them are the immigrants replying to a Trump Hotels tweet about favorite travel memories, many of them highlighting just how fundamental and necessary immigration is on not just a cultural level, but a moral one.
The tweet, composed in October 2011, long before Trump's candidacy, poses the question: "Tell us your favorite travel memory - was it a picture, a souvenir, a sunset? We'd love to hear it!" On Saturday, the same day President Trump announced further immigration orders and protests began, Twitter users all over the country found their way to that old tweet to share their own stories of immigration to the U.S. and travel to the very countries that are named in Trump's orders, all of which highlight the damaging consequences his orders will have — be it on immigrants and refugees trying to enter the U.S., or our relations with the rest of the world at large. Here are a few of the many tweets that have been posted since.
To see more of the stories shared on Twitter, follow along on the original thread here. In the meantime, if you are looking for more ways to peacefully protest Trump's immigration orders, use this list to call your representatives (here's a script you can use!) about their stance and what they're doing to help, find the latest protest in your area, and donate to the ACLU and similar organizations fighting to help protect human rights.