There's A Livestream Fundraiser For Jacksonville Shooting Victims & You Can Tune-In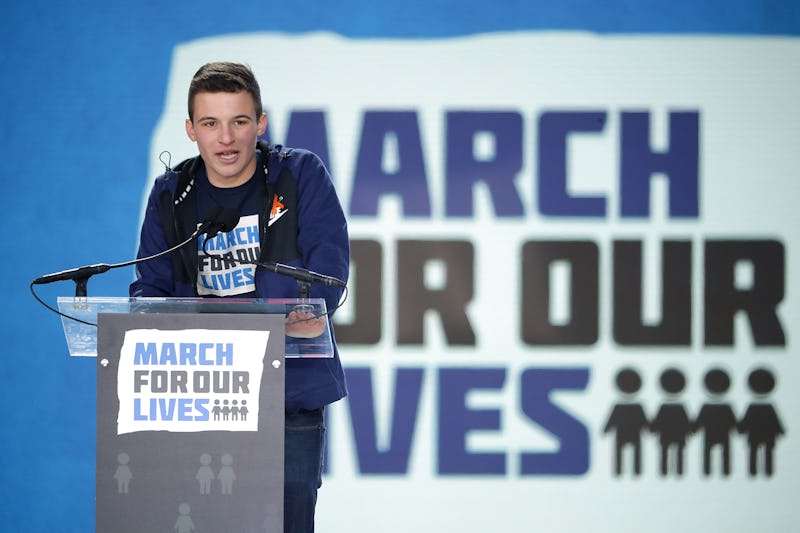 Chip Somodevilla/Getty Images News/Getty Images
After the shooting at a gaming tournament last weekend, a survivor of another Florida shooting had to do something. Calling it an "immediate reaction," one Parkland activist helped plan a livestream for Jacksonville shooting victims. A pro-gamer is also teaming up with him to put on the video game fundraiser you'll be able to watch on Labor Day.
When I saw what happened, I knew I had to do something for the families of those who were lost.
Kasky, a 17-year-old student and emergent leading voice against gun violence after the shooting at Marjory Stoneman Douglas High School, is working with Shay "Young Kiv" Kivlen, a 21-year-old professional gamer, to organize the fundraiser. Kivlen is one of the highest-ranked players of the Madden NFL video game and had left the Jacksonville tournament moments before the shooter opened fire. In the past week, Kasky has been working with Kivlen to organize this fundraiser.
The Parkland shooting survivor tells Bustle in an email that the shooting immediately prompted him into action.
"It really was an immediate reaction. When I saw what happened, I knew I had to do something for the families of those who were lost," Kasky explains. "I didn't want to get into the political debate because I saw everyone else was on that and wanted to do something different and make an impact."
The fundraiser is set for Monday at 2:30 p.m. EST, as a livestream event on Tiltify, which is the online fundraising platform of Twitch. The game will feature Kivlen and Tampa Bay Buccaneers star wide receiver Mike Evans playing Madden NFL 19, the same game that was played during the video game tournament shooting. All proceeds from the Twitch livestream will go toward the Jacksonville Fallen Gamers Fund to support the families of 22-year-old Elijah "TrueBoy" Clayton, Taylor "SpotMeplzzz" Robertson, and the other 11 victims hurt during the attack.
Electronic Arts (EA), the company behind Madden, has also established their own fund, the Jacksonville Tribute, and donated $1 million to help all victims affected by the shooting, according to an announcement from EA. Separately, the gaming community has also "come together to try and set their families as straight as possible," with more than $50,000 of a $75,000 goal raised as of Sunday evening for the slain victims' families.
Monday's esports fundraiser isn't the only one in the works though; Kasky tells Bustle that he is also working on a few other fundraisers that will include the participation of other sports teams. "The outpouring of support has been incredible," he adds via email.
Months after their own tragedy, the Parkland students' activism is still making headlines, and according to Kasky, that momentum won't slow down anytime soon. "I [try to] look at each day, each week, each month as its own mission," he writes.
Aside from donations, there are other ways to help the victims of the Jacksonville shooting. You can find those here.
Caroline Burke contributed to this report.