The Most Powerful Image From D.C.'s Women's March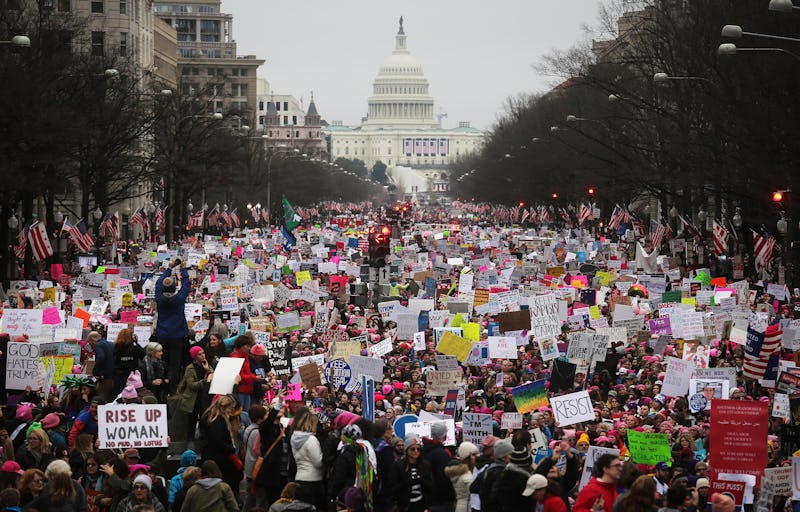 Mario Tama/Getty Images News/Getty Images
Donald Trump's official inauguration Friday left many feeling frustrated and angry — but Saturday's global Women's Marches helped renew hope in the hearts of millions of participants. In addition to the headlining march in D.C. (one of the biggest events ever held in the U.S. capital!), dozens of other marches were held across all states, and even overseas. While there were countless memorable moments and even more stunning images from the events, this powerful photograph from the Women's March on Washington truly managed to capture the essence of the remarkable day.
As you can see below, the photo gives a glimpse of just a few of the thousands of peaceful protestors that turned out in droves to march in D.C.. Among the crowd captured in this particular image, there are a number of men standing in solidarity with the women around them, and representing the many, many males that showed up at marches around the world, donning pink and waving signs in support.
But of course, the part of the image that really stands out is the young girl, wearing one of the popular pink hats that have become synonymous with the marches, and riding high on her parent's shoulders above the crowd. In her hand, she holds a plain, black-and-white sign that reads, "Women = human." It's a simple but powerful message that reinforces the theme of the day, but what's most heartwarming is seeing a girl of such a young age already learning the importance of equality and standing up for her own rights.
I myself marched in New York City, and though it was downright inspiring to see the sheer amount of people that showed up to protest, what really made my heart full was the dozens of young girls and boys who turned up and proudly held their signs high alongside their family. As all participants know, protesting can make for a long day, with crowds moving slowly and not many breaks. But these kids not only maintained their smiles — some of them even led a few chants.
It's incredibly gratifying to see these crucial values being passed on to the next generation and this photo is both a reminder of the hope the future holds and the importance of standing together in unity, despite age, race, gender, or sexual orientation. I hope we will carry that message as we march on through the next four years.