Things Are About To Get Even More Complicated For This 'Stranger Things' Love Triangle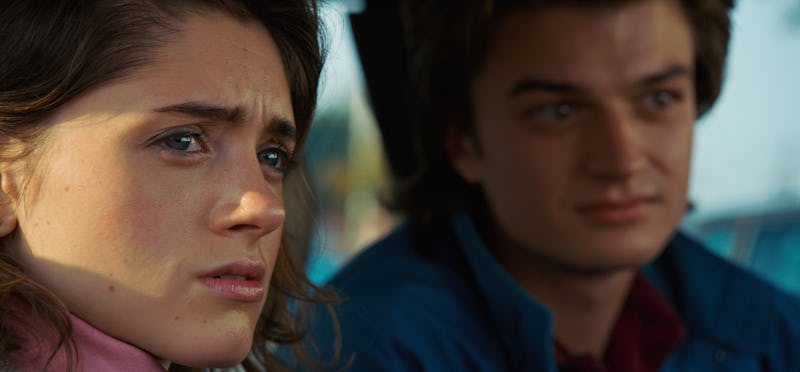 Netflix
The intense and complicated fan-favorite teenage love triangle at the center of Stranger Things is getting even — ahem — stranger. Although Nancy (Natalia Dyer) ended up with (sometimes problematic fave) jock Steve (Joe Keery) by the end of Season 1, choosing to remain friends with the awkward loner Jonathan (Charlie Heaton) who was also vying for her affection, matters of the heart aren't neat and tidy ... especially in Hawkins, where some crazy stuff is known to go down.
Nancy and Steve seemed pretty comfortable in their relationship, but they shouldn't get too comfortable. When Season 2 drops on Netflix this Friday, Jonathan might not be as out of the running as Steven thinks.
Sitting in a sunlit room high up in the Four Seasons hotel in Beverly Hills, Dyer and Keery — sitting next to each other on a cozy couch — tease that the love triangle is only going to get more complicated in the new season of the award-winning and critically-acclaimed series. Emphasis on tease.
The spoiler-phobic attitude made infamous by the show's creators, the Duffer brothers, has clearly been instilled in the stars as they refuse to ruin any surprise of the new episodes even though Season 2 debuts in less than a week. Both actors hesitate before Keery cracks a smile and says of the love triangle in Season 2, "It exists."
"What can we say?" Dyer asks, laughing nervously. "It's hard to say anything. You'll definitely see it. And you'll see how everyone is dealing with what happened in Season 1 and how it affects their relationships. You'll see how they're coping with things and how all of that is coming to the surface. It makes everything tumultuous and reactive."
Between Nancy, Steve, and Jonathan, the events of Season 1 changed them in ways that viewers didn't get to see by the time the finale ended.
"All three of them deal with what happened in a little bit of a different way," Keery teases. "There are agreements and disagreements between all three characters."
New Season 2 addition Dacre Montgomery, who plays new kid in town Billy, loves that "there are notes of Midsummer Night's Dream there, the most famous love triangle."
Of course, the teens aren't the only ones coping with everything they went through last season. The Demogorgon may have been defeated, but the damage was done. No one came out of the harrowing events of Season 1 unscathed. Some of the damage was obvious, like losing Eleven (Millie Bobby Brown) and Will (Noah Schnapp) may have brought something back with him from the Upside Down, but some is less visible as all the characters discovered the truth about what was happening in Hawkins behind closed doors.
"Everyone who has experienced what happened in Season 1 has been drawn a little bit closer to each other," Keery says. "Because they're the only people in town who know what actually happened."
And no, tragic hero Barb (Shannon Purser) has not been forgotten ... at least, not by Nancy.
"Nancy's arc this season is a continuation of last season, it was about Barb and figuring out what's going on," Dyer says. "At the beginning of this season there are some loose ends that haven't been tied so for Nancy, it's on this — I try to avoid this phrase but — 'justice for Barb' mission. She's not quite satisfied with how all of that ended."
And since Steve is never far from Nancy's side, he'll join in on that mission. "I can't say anything without giving it away but [Steve's Season 2 arc] is obviously related to Nancy," Keery teases. "So from everything that we've said, you can already pretty much figure out the first four episodes."
"The teens' stories are all very connected," Dyer adds, while Keery promises that fans will come to love the newest teen being introduced: Montgomery's Billy. The Australian actor watched Season 1 purely as a fan and couldn't believe it when he got to join the series this year. His excitement increased exponentially after skyping with the Duffer brothers and learning his arc for the new season.
"Me and my younger stepsister [played by Sadie Sink] come in from out of town and Billy's been uprooted," Montgomery says. "He's been planted in this anytown, middle America and he's not happy about it. When we first meet him, he's perceived to be this stereotypical jock bully with no background and no story, just coming in to ruffle a few feathers. And then as the season progresses it becomes more and more evident of his intentions and why he is the way he is."
Montgomery promises that "towards the end it will become more concrete as to what he is doing there" in Hawkins. But that's where the teasers end as all three actors clam up out of fear of revealing crucial information. They want the fans to experience the surprises as intended. But Keery had one final clue to share for hungry, impatient viewers.
"For fans who are really into trying to figure out what's going to happen, the best way is to just watch the trailers," he says. "There are little bits and clues in the trailers and genius things hidden in there. There's more than you think."
With only a few days left to speculate before the long-awaited Stranger Things Season 2 finally premieres, have at it. May the best detective win.