This Fan Theory About Taylor Swift Is The Only One You Need To See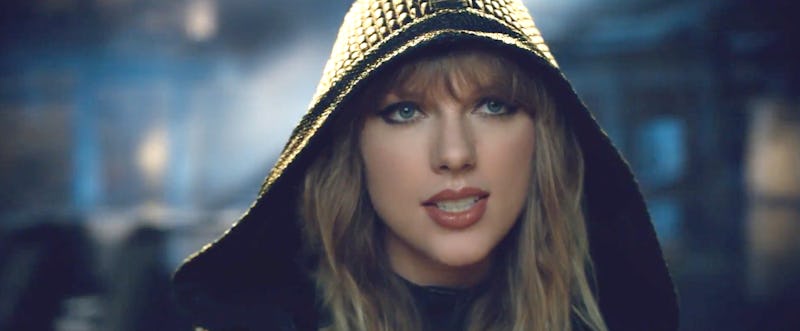 TaylorSwiftVEVO on YouTube
After her multi-year feud with Katy Perry and her high-profile one with Kanye West in 2016, Taylor Swift's name has become shorthand for drama. So, it's likely a relief that the fan theories about Swift's "...Ready For It?" video suggest that the New Taylor has set herself free from all of that. After years of the media discussing the singer in relation to other people — whether her rumored boyfriends or her enemies — it feels like a refreshing change of pace for the star to be scrutinized for herself alone. And, even more so, it's fascinating to see how Swift has actively contributed to this new image established by the video in real life by giving the media as little as possible to work with over the past year.
Tumblr user thisfightisworthwhile has published a series of posts arguing "...Ready For It?" is about Swift finding inner strength. Swift liked her theory on Tumblr, which is evidence that this fan theory is pretty spot-on. The argument describes how Caged Taylor screams the word "jailer" to Evil Taylor and tries everything to escape from the glass box, using armor, weapons, and transformations. However, "it wasn't until she discovered her own power that she was actually able to defeat herself" with nothing but her voice, which thisfightisworthwhile claims broke the glass.
The user continues, "HER VOICE FREED HER FROM THE PRISON AND SHE WALKED BACK OUT INTO THE WORLD CONFIDENT AND MAYBE A LITTLE BIT SCARED BUT A CLEAN STATE READY TO CLIMB BACK UP THAT LADDER."
Tumblr user screamingiminlovewithyou has a similar take on the video, posting a screenshot of Caged Taylor on the white horse, referencing Swift's 2008 "White Horse" lyrics and how far she's come from being a passive heroine in that song. "When it's too late for him and his white horse to come around so you gotta do it yourself," read the caption.
The love for Swift looking out for herself in the best possible way has also spread to Twitter, with user alexandergold echoing screamingiminlovewithyou's take, posting a similar shot of the video with the caption, "It's never too late for you and your white horse. You control your happiness. #ReadyForItMusicVideo."
And, if true, this feels gently revolutionary. Articles and discussions about Swift are rarely just focused on her, but usually tackle the singer in relation to someone else. Practically every new single prompts a thinkpiece to figure out which boyfriend or feud the song is about. To be fair, the singer seems to fuel the practice by dropping clues about real people in her songs, whether or not they're really about them, something BuzzFeed writer Ellie Woodward skewered with her research about the song "Style." Woodward points out that, despite the many ways Swift tried to present the track as being about rumored ex-boyfriend Harry Styles — from singing parts in an English accent to using a Styles lookalike in the video — Swift claimed the idea for the song came to her on a date three months prior to her meeting the One Direction star. As such, Woodward concludes, "The timeline of their relationship doesn't allow for the lyrics to have been written about him."
But it's not just about the words. The singer has also fueled media speculation surrounding her personal life by firing back on social media when things get complicated rather than addressing the issues in private. Nicki Minaj tried to open up a dialogue about racism in the music industry when her video for "Anaconda" got passed over by the VMAs in 2015, tweeting, "If your video celebrates women with very slim bodies, you will be nominated for vid of the year." Swift was quick to make the conversation about her, writing back in a since-deleted tweet that has been reported by Billboard, "I've done nothing but love [and] support you. It's unlike you to pit women against each other. Maybe one of the men took your slot.."
This felt typical of Old Taylor's social media habits; she often seemed to address personal topics in a public sphere, meaning her name perennially appeared in connection to another star.
But after Kim Kardashian posted the video on Snapchat that showed that, yes, Swift had approved at least part of Kanye West name-checking her in "Famous," the star seemed to reevaluate her social media habits. E! News drew attention to this in March, reporting that Swift hadn't posted "a candid photo" on Instagram since Thanksgiving. The singer deleting all of her previous Instagram posts in August seemed to hammer the point home: This was about rescuing herself by taking some time away from social media.
This meant both freedom from the media using her own words to paint her as manipulative and narcissistic and freedom from media attention in general; since she wasn't out a lot (the same E! News article was titled "Where in the World is Taylor Swift?") and wasn't active online a lot, there simply wasn't any material for the media to construct a narrative about her from.
As the video suggests via the distress Caged Taylor experiences in a glass box (presumably a metaphor for media focus), that freedom from online and offline scrutiny seems like the best gift Swift could have given herself. Though of course, in a way, the Old Taylor's still around; as Bustle writer Mary Kate McGrath has acknowledged, there are multiple hints dropped in the lyrics that the track is about the man rumored to be Swift's current boyfriend, Joe Alwyn. Which means that we could easily have been having the same curiously deadening conversation about Swift in relation to someone else. "Who is Swift dating/fighting with right now?" "Is this song about them?" Etc., etc., etc.
So, thank goodness for the video, and for this fan theory. By cutting anyone else out of the visual — boyfriend figures, feud figures — Swift is forcing us to focus on her and her alone. Instead of asking ourselves what Swift is like as a girlfriend or a friend or, heck, even as an enemy, we are forced just to see her as a person. And fans are here for it.