This Taylor Swift Lookalike Is One Of The Eeriest Celeb Doppelgängers Ever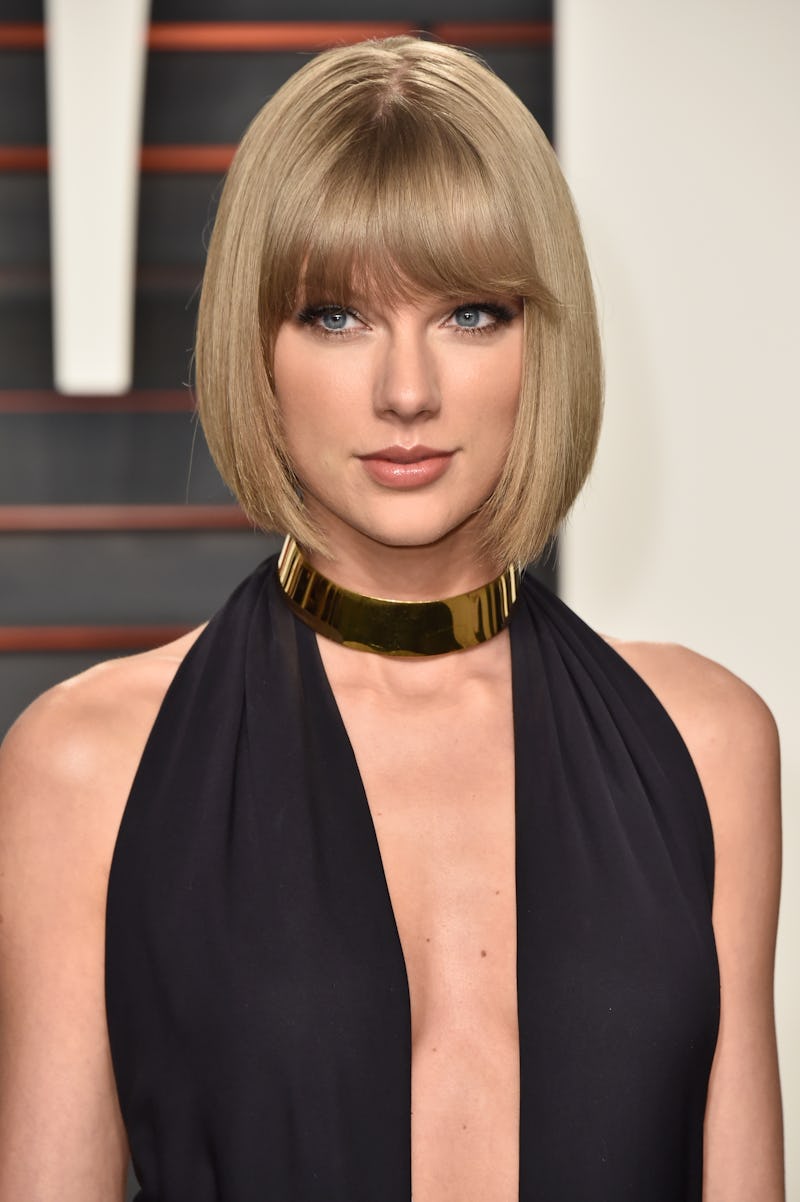 Pascal Le Segretain/Getty Images Entertainment/Getty Images
Every so often, a celebrity lookalike surfaces who makes the rest of us question everything, and now, it looks like Taylor Swift has another doppelgänger out there. Recently, fans discovered another Swift lookalike who could easily pass for the "Gorgeous" singer — especially when she's sporting red lips and Swift's signature bangs. Her name is Laura Cadman, and although she's actually a college student from England, she could also pass for Swift's twin. As it turns out, she's been a fan for a long time.
While talking to The Mirror recently, Cadman opened up about how she's loved Swift's music for a decade, and how frequently she's mistaken for her, most commonly when she attends one of her concerts. In fact, she even said that at the Manchester stop of the 1989 tour, fans flocked to her for photos, some of them even assuming she might actually be the real Swift.
And just by looking at Cadman's Instagram, it's easy to see how fans could be easily fooled by her. How much she looks like Swift in certain photos are insane, and when she's actually trying to bring out the Taylor in herself, the resemblance is even crazier.
And for Cadman, it sounds like being a Swift lookalike is a total coincidence. According to what she told the paper, being naturally tall and blonde helps — and it's actually kind of convenient when it comes to clothes and makeup, because she knows what looks good on Swift will look good on her, too. She told The Mirror,
"Nothing prompted me to have this look. I am naturally blonde, reasonably tall and reasonably slim. The rest of my 'Taylor Swift look' just consists of classic red lipstick and eyeliner, which I personally think is the most flattering makeup on me. If I'm feeling unconfident on that day, I'll always refer to one of her classic looks or if I'm particularly stuck for a special event, I love looking at her red carpet looks. Her style is very timeless and because we have a similar look, I know that whatever suits her will most likely suit me."
If only we could all have our own celebrity doppelgänger, right? It would make shopping and getting dressed in the morning so much easier.
Her lookalike status does come with a price, though. Cadman said that she often gets weird stares when she's out in public, as well as hateful comments on her Instagram posts. But much like Swift, she should just shake it off, because those haters are just jealous. Just look at this:
Cadman's also in good company when it comes to Swift's league of lookalikes. There's also Olivia Surgiss, who made headlines in 2015 after the internet discovered that she could easily be a Swift clone herself. As she and Cadman have proven, it's all in the red lipstick — and the Ray-Ban style sunglasses don't hurt, either.
And earlier this year, photos of a cat-loving Swift fan from Kansas, April Gloria, also went viral. What are the chances that all of these women are playing a trick on us all? Or at the very least that they're distantly related?
The more Swift lookalikes that crop up, the more that scene from "Look What You Made Me Do" where she was training a sea of clones to join her Squad seems like it may have been taken from her real life. Or maybe, in a world made of billions of people, a few of them are inevitably going to look alike. You pick.
Should Swift ever get too busy to fill all of her obligations, it seems like she has a growing list of back ups who can fill in for her. Might come in handy when Reputation is finally released in a couple of weeks. Just in case she needs an extra set of hands.