This Tropical Storm Florence Tracker Shows Where It's Headed And How Strong It Will Be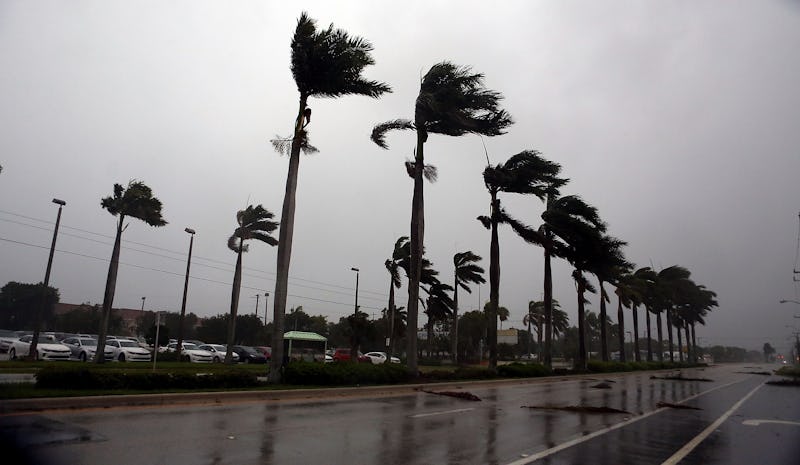 Marc Serota/Getty Images News/Getty Images
Roughly halfway through the 2018 Atlantic hurricane season, the Tropical Storm Florence trackers show a major hurricane is coming. Currently the storm is about 1,500 miles off the East Coast, but models predict the storm will become a hurricane as early as Saturday night, according to CNN.
Current simulations show the storm could reach the East Coast later in the week. "Florence has undergone a dramatic structural evolution just within the past 6 hours or so," the National Hurricane Center said in a statement.
CNN's forecasters said computer models put the storm's potential landfall somewhere between Georgia and North Carolina, but that could change. "If you live anywhere along the East Coast, you want to be paying attention, because even if you (aren't at) the main landfall point, you're still likely to have impacts," Allison Chinchar, a meteorologist for CNN, said on Saturday.
As of Saturday morning, the National Hurricane Center reported that the storm's highest sustained winds were 65 miles per hour. It's expected to develop into a major hurricane by Tuesday.
"Interests along the U.S. East Coast, particularly from North Florida through North Carolina, should closely monitor the progress of Florence, ensure they have their hurricane plan in place and follow any advice given by local officials," the National Hurricane Center said in a statement, according to The Weather Channel.
Currently, the storm is producing swells that could cause "life-threatening surf and rip current conditions" in Bermuda, according to the Center.
The storm's likely trajectory has led both North Carolina and South Carolina governors to declare a state of emergency for their respective citizens. North Carolina Gov. Roy Cooper also waived transit rules to help farmers move crops more quickly before the storm, according to The Associated Press.
"While it's still too early to know the storm's path, we know we have to be prepared. During harvest, time is of the essence. Action today can avoid losses due to Florence," Cooper said in a statement, according to the news wire.
Gov. Henry McMaster said South Carolina's state of emergency will also begin early. "It's a beautiful day outside, people playing football; the last thing on people's mind is a hurricane. Just like they got ready to play these football games today, we're asking people to get ready," McMaster said, according to The State.
McMaster stressed to local media that this was not an evacuation order. "We are preparing for the worst and of course hoping for the best. Being prepared is always the best strategy," McMaster said, according to The State.
The Tampa Bay Times reported Saturday that another depression upgraded to a tropical storm, now called Tropical Storm Helene. It's currently southeast of the Cabo Verde Islands, according the paper.
Officials are also closely monitoring tropical depression nine. It will be named Isaac if it develops into a tropical storm, according to WPLG.
The 2018 Atlantic hurricane season lasts until Nov. 30, so the possibility of other storms developing will remain after Florence and Helene.