You Could Buy A Porsche With The Money It Costs To Attend This Trump Event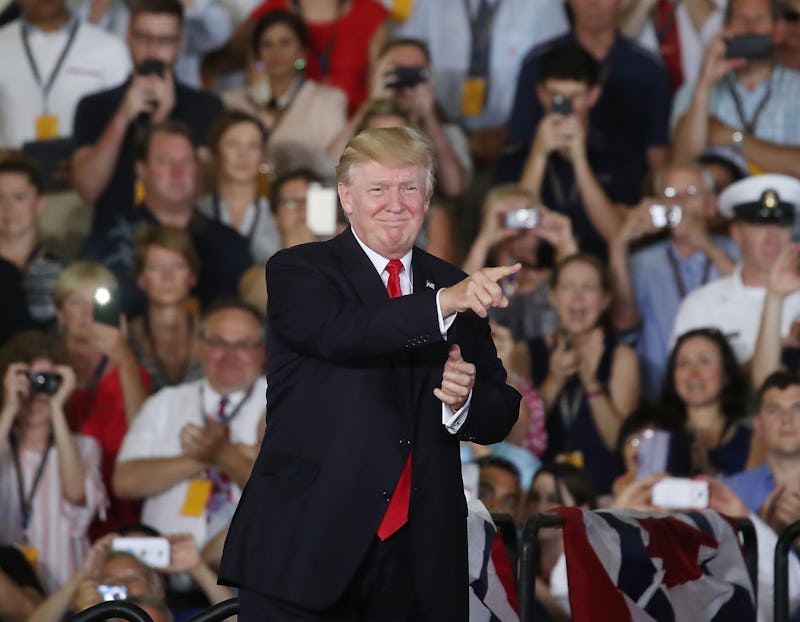 Mark Wilson/Getty Images News/Getty Images
If you've ever wondered how much it would cost to be at a private roundtable event with the president, you don't have to be curious anymore. According to The Wall Street Journal, a fundraiser for Donald Trump is charging $100,000 per person to do just that.
The fundraising event will take place on Wednesday night at the Trump International Hotel, The Wall Street Journal reported. The money raised will go to the Trump Victory, a fundraising committee for Trump's 2020 presidential campaign and the Republican National Committee. Bustle has reached out to the White House for comment.
The average American may think that $100,000 is a pretty wild amount to ask of someone for an event. But there's some good news for Trump fans who may not be as financially endowed: They also have the option of paying $70,000 for a photo with the president after the roundtable, according to The Wall Street Journal, or $35,000 for a dinner later on, where Trump will deliver a speech.
For those who pay $100,000 to for the roundtable, the paper reported that they will get access to all three options: the roundtable event, a photo with Trump, plus dinner. Still, just to understand how expensive the fee is, consider the possibility that you could buy a Porsche — "a base-model 911 Carrera" — for less than $100,000.
While $100,000 is an extravagant amount to spend in order to be around the president of the United States, this type of attendance fee is pretty normal for Trump-related events. For instance, per Bloomberg, Trump's event for celebrating the anniversary of his inauguration went even higher than the aforementioned amount. Set in January at the Mar-a-Lago resort in Florida, the attendance fee for Trump's anniversary event started at $100,000 and went up to $250,000.
The latter amount would give a couple the chance to attend a private roundtable meeting where the president would also be present. Fundamental in arranging these events are figures like Ronna Romney McDaniel, who hosted both the previously-mentioned anniversary and will do the same for this upcoming Trump Victory fundraiser.
Even prior to becoming the president of the United States, Trump held an event in Massachusetts in 2015 where people were charged $100 per head for entry. At the time, the then-Republican presidential contender insisted that it wasn't to raise funds for his campaign. According to The San Diego Union Tribune, Trump said, "This is not a fundraiser tonight, just so you understand" and that "I don't need anybody's money. I'm using my own money. I'm not using the lobbyists. I'm not using donors. I don't care. I'm really rich."
Some might even think that it's premature to start fundraising for 2020, but The Wall Street Journal reported that the Trump campaign has been remarkably busy at collecting money. Perhaps it's to cover expenditure caused by holding such events. If it helps to paint a picture, consider what the paper reported: In 2018 alone, the president's re-election campaign has spent close to $1 million at various properties he owns. And without funds from his supporters, it's hard to see how the Trump re-election campaign could run smoothly.