Watch The 'Wonder Woman' Cast Surprise Fans At A Screening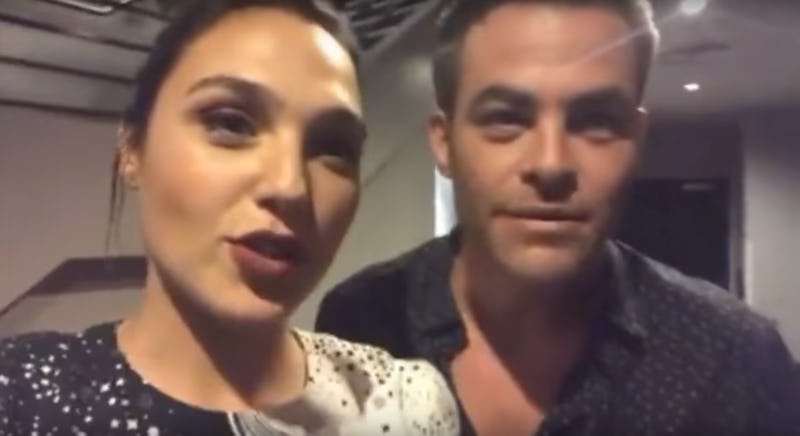 Tiago Bacelar/YouTube
It's obvious to say that love for the Wonder Woman movie only continues to grow, and part of the reason for that is the cast's attitude toward their fans. On top of showing their gratitude on social media, Gal Gadot and Chris Pine actually attended a screening of Wonder Woman — much to the surprise of the audience. Along with director Patty Jenkins, the two were incredibly excited during their secret appearance, as much as if not more so than the fans they surprised. It was a truly heartwarming moment that will make you want to see the film if you haven't already.
Gadot appears to begin filming in the lobby of the movie theater in New York, urging her fellow cast members and crew to be quiet and not spoil the surprise for the audience members inside the auditorium. When the team finally enter the screening, the audience goes wild (obviously), and everyone gets their phones out to record the sacred moment.
It's beyond perfect to see the co-stars enjoying the release of their movie so much, especially since the pair have a great rapport. Gadot and director Jenkins are also extremely close, and they demonstrate just how proud they are to have made a superhero movie with a female lead and female director. What we see on screen in the movie is amazing, but it's nice to see such a great chemistry between the cast and crew off-screen as well. And to see them paying that camaraderie forward to the fans? Perfection.
With screaming fans all around her, Gadot shouts, "This is so much fun!" The movie has become a huge success already, earning over $200 million worldwide in its first weekend alone. While the movie's feminism is questionable, particularly in terms of its lack of intersectionality and the choice to not hire a female screenwriter, Gadot and Jenkins' earning potential is an important step for women in film.
As this video evidences, the cast and crew of Wonder Woman seem like genuinely nice people who want fans to enjoy the movie they've made. And so far, it definitely seems that they do.