Tom Petty Dies At Age 66 Following Heart Attack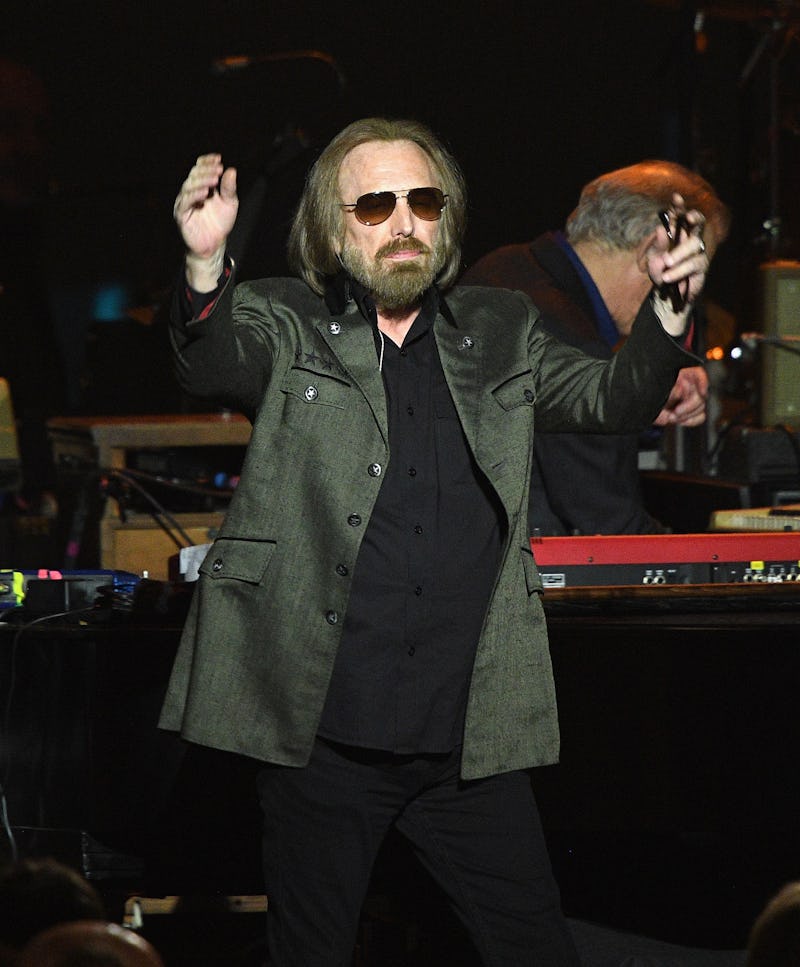 Kevork Djansezian/Getty Images Entertainment/Getty Images
The many conflicting reports made it hard to know what the truth was, but Tom Petty has died at age 66 following a heart attack, as confirmed by his manager. On Monday, TMZ reported that Petty had been rushed to the hospital after being found unconscious in his Malibu home. The singer was reported to be in critical condition; EMTs were able to get a pulse on the scene, but, according to TMZ, he was reportedly transported to the UCLA Santa Monica hospital and placed on life support. However, reports from TMZ, EW, The Hollywood Reporter, and CBS News all conflicted on what time this happened and Petty's state of health until the official announcement.
Even worse, all reports did not agree on whether or not Petty was the man who was found. The Hollywood Reporter spoke with authorities who confirmed they responded to a Malibu home "for a man who suffered a heart attack," but that they couldn't confirm that the man was Petty. THR also reported that this happened at 10 a.m. on Monday morning, in contrast to other reports that it happened at 10 p.m. Sunday night. Meanwhile, at 3:59 p.m., CBS News reported that the LAPD said Petty passed away at the age of 66, but the tweet citing the LAPD has since been deleted and the LAPD tweeted from their account that they had not confirmed this.
Throughout all of this, there was an outpouring of love, support, and concern from fans, who just wanted to know what was going on and who weren't ready to say goodbye to their icon just yet.
Fans used the lyrics of Petty's "Won't Back Down" and "Wildflowers" singles in order to express their sadness and emphasize how Petty had changed their lives. "You can stand me up at the gates of hell, but I won't back down," many tweeted, especially after initial reports of Petty's death turned out to be untrue. "You belong among the wildflowers, you belong somewhere you feel free," others tweeted, thanking Petty for all that he had given them in his songs, in his performances, in his interviews.
Over his nearly five decades-long career, Petty inspired so many. He brought entire generations together, as parents shared his music with children who responded well enough to it to have some favorite songs of their own. His family, which includes two daughters with his first wife Jane Benyo, his current wife Dana York, and a grandchild, were beloved by the artist, who once spoke of his desire to tour less so he had more time to spend with his family:
"I'm thinking it may be the last trip around the country. It's very likely we'll keep playing, but will we take on 50 shows in one tour? I don't think so. I'd be lying if I didn't say I was thinking this might be the last big one. We're all on the backside of our 60s. I have a granddaughter now I'd like to see as much as I can. I don't want to spend my life on the road. This tour will take me away for four months. With a little kid, that's a lot of time."
This quote, taken from a Rolling Stone article about Tom Petty and the Heartbreakers' 40th anniversary tour, is a great example of the kind of man that the singer was: family-oriented, self-aware, and honest. There's no real way to express the level of talent that the world lost the moment we lost Petty, but at least the legendary musician will live on in the bands that he was a part of, in the music that he created, and, most importantly, in the lives that he touched — whether he knew it or not.