Tom Petty Was Reportedly Found Unconscious In His Malibu Home — UPDATE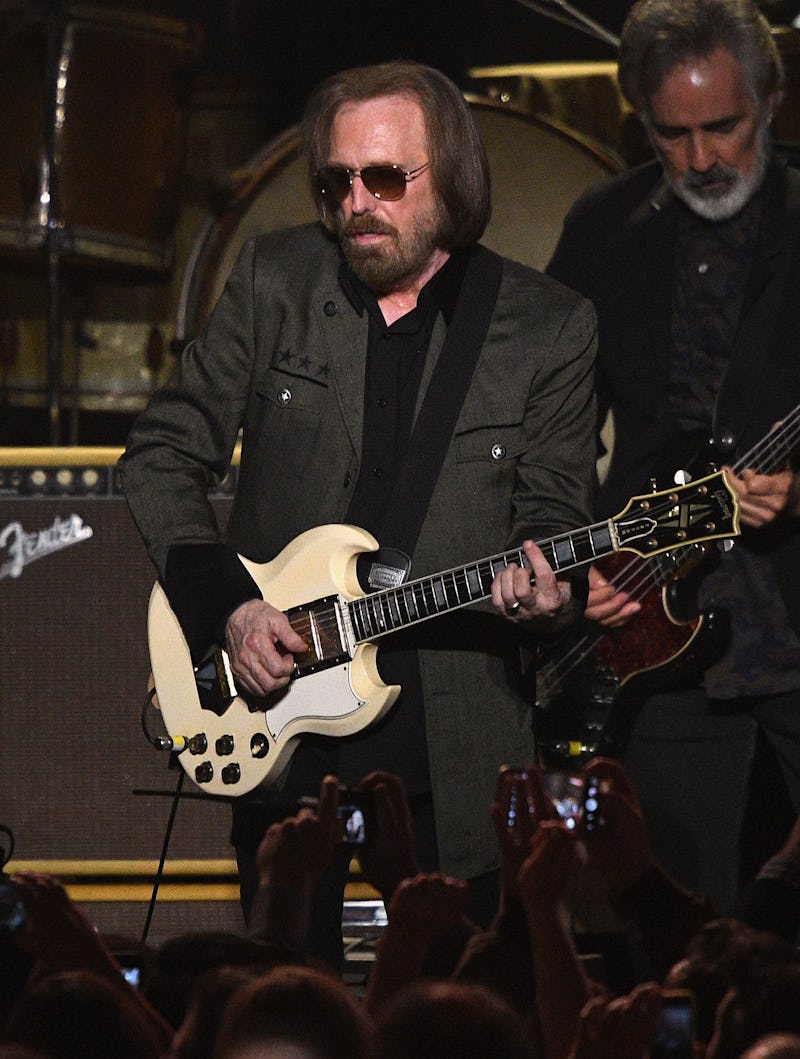 Kevork Djansezian/Getty Images Entertainment/Getty Images
Update: Late Monday night, manager Tony Dimitriades confirmed that singer Tom Petty "died peacefully at 8:40 p.m. PT surrounded by family, bandmates and friends." He said that Petty could not be revived after going into cardiac arrest in his Malibu home.
Update: At 4:55 p.m. on Oct. 2, the LAPD tweeted that they had "no information about the passing of singer Tom Petty.. Initial information was inadvertantly [sic] provided to some media sources. However, the LAPD has no investigative role in this matter. We apologize for any inconvenience in this reporting." Bustle had reached out to Petty's reps and the LAPD for confirmation, but did not receive a response by the time of publication.
Update: According to a Monday tweet from ABC News' Clayton Sandell, there is no official confirmation of Petty's death, but the Los Angeles County Sheriff's Department said Petty was transported to the hospital, but cannot confirm his condition. TMZ also reported Monday the LAPD confirmation of his death is inaccurate and the LA Sheriff's Department handled the emergency. Per TMZ, Petty is alive, but "the singer is not expected to live throughout the day, but he's still clinging to life."
Earlier: The world has to say goodbye, yet again, to another legendary musician. On Monday, Tom Petty died at the age of 66, according to CBS News who confirmed with the Los Angeles Police Department. (Bustle has reached out to Petty's reps and the LAPD, but did not receive a response at the time of publication.) People is reporting he died of cardiac arrest. However, Petty's cause of death has yet to be confirmed, and the reports about the tragedy have been conflicting so far.
TMZ first reported Monday that, per law enforcement sources, the late singer was reportedly rushed to the hospital Sunday night after being "found unconscious, not breathing, and in full cardiac arrest." According to the outlet, EMTs arrived at the "Free Fallin'" artist's Malibu home, where they were able to get a pulse. He was then reportedly transported to the UCLA Santa Monica Hospital, where TMZ reports he was placed on life support. Before his death was announced, TMZ reported that Petty arrived at the hospital with no brain activity and he was pulled off life support.
The Hollywood Reporter, however, spoke with authorities who confirmed they responded to a Malibu home, but that they did this at 10:52 a.m. on Monday morning "for a man who suffered a heart attack" and they couldn't confirm the man was Petty. THR was also told emergency responders did get a pulse back, but the man was in critical condition.
According to People, the Los Angeles County Fire Department confirmed they were dispatched to the home of an "elderly unconscious male" around the time of 10:45 p.m. Sunday night, who was then taken to a local hospital.
As much as he was known for being a solo artist, he was of course recognized for making music with his band, Tom Petty and the Heartbreakers. They initially hit it big in 1978 with their song "Breakdown". Some of their other hits include, "Mary Jane's Last Dance," "American Girl," "Don't Do Me Like That," and "Learning to Fly," among many others.
As reported by Billboard, Petty just wrapped a 40th anniversary tour with his band. Their latest show was on Sept. 22 at the Hollywood Bowl in Los Angeles. Petty spoke with Rolling Stone in December 2016 and said about their recent tour,
"I'm thinking it may be the last trip around the country. It's very likely we'll keep playing, but will we take on 50 shows in one tour? I don't think so. I'd be lying if I didn't say I was thinking this might be the last big one. We're all on the backside of our sixties. I have a granddaughter now I'd like to see as much as I can. I don't want to spend my life on the road. This tour will take me away for four months. With a little kid, that's a lot of time."
During his final show at the Bowl, Petty said to the crowd, "I want to thank you for 40 really good years." You can see him and the Heartbreakers in action at their anniversary show below.
In February, the Petty was recognized as MusiCares Person of the Year, among many other artists, including Foo Fighters, Don Henley, Norah Jones, Gary Clark Jr., Jackson Browne, the Head and the Heart, and George Strait. The ceremony took place two days before the Grammys. The special honor also gave Petty and the Heartbreakers a chance to reunite. At the event, Petty said, "I realized I've been in one of the two or three best rock bands there is."
He also told Rolling Stone in December 2016, "We're very aware that time is finite. At the end of the year we'll say, 'What do you feel like doing?' Then we'll figure out where to go next."
Sadly, Petty will never play with his fellow bandmates ever again, but there's no doubt his memory and his music will forever be remembered.