Tom Petty Might Be In Critical Condition, According To A New Report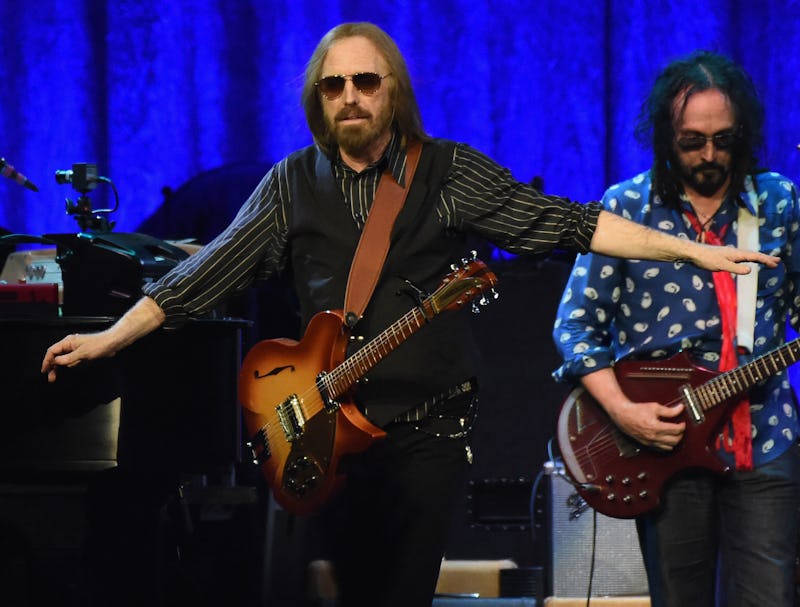 Rick Diamond/Getty Images Entertainment/Getty Images
Update: Late Monday night, manager Tony Dimitriades confirmed that singer Tom Petty "died peacefully at 8:40 p.m. PT surrounded by family, bandmates and friends." He said that Petty could not be revived after going into cardiac arrest in his Malibu home.
Earlier: Sad news: On Monday, Oct. 2, TMZ is reporting that legendary musician Tom Petty was found unconscious and in "full cardiac arrest" in his Malibu home late on Sunday, Oct. 1. Bustle reached out to Petty's reps and the LAPD for confirmation, but did not receive a response by the time of publication. According to TMZ, EMTs rushed Petty from his home to UCLA Santa Monica Hospital and he was put on life support. The website is reporting that after Petty got to the hospital he had no brain activity and a decision was made to pull life support.
Update 4:01 p.m.: CBS News reported that the Los Angeles Police Department has confirmed Tom Petty has died at the age of 66.
Update 4:42 p.m.: At this time, Petty's reported death remains unconfirmed. According to The Hollywood Reporter, the LAPD is contacting CBS about the tweet they sent out reporting the legendary singer had died earlier Monday afternoon. The tweet has been removed. TMZ is reporting that Petty is "still clinging to life."
Update 5:08 p.m.: The LAPD tweeted, "The LAPD has no information about the passing of singer Tom Petty. Initial information was inadvertantly [sic] provided to some media sources. However, the LAPD has no investigative role in this matter. We apologize for any inconvenience in this reporting."
The Hollywood Reporter writer Ryan Parker tweeted that authorities told him they responded to the Malibu home around 10:52 a.m., and that the patient was in critical condition. According to Entertainment Weekly, the Los Angeles County Fire Department confirmed to their sister site, People, that they were "dispatched to the home of an elderly unconscious male" at 10:45 p.m. on Sunday night. However, authorities would not confirm the name of the patient to either outlet. At this time, there are conflicting reports in the details, including the time of transport, as news continues to come in.
Tom Petty and the Heartbreakers just wrapped their 40th anniversary tour last week. According to the singer's official website, Petty had two more concerts coming up at the time of his reported cardiac arrest. Petty came to fame in the late '70s, when Tom Petty and the Heartbreakers released the iconic song "Breakdown." Many of Petty's songs have become a part of pop culture, including "Here Comes My Girl," "You Don't Know How It Feels," and "Free Fallin'."
In December, Petty told Rolling Stone this would likely be his last major tour. Petty told the magazine,
"I'm thinking it may be the last trip around the country. It's very likely we'll keep playing, but will we take on 50 shows in one tour? I don't think so. I'd be lying if I didn't say I was thinking this might be the last big one. We're all on the backside of our sixties. I have a granddaughter now I'd like to see as much as I can. I don't want to spend my life on the road. This tour will take me away for four months. With a little kid, that's a lot of time."
The band's reunion tour was in honor of the release of a 40th anniversary album of their greatest hits. He previously told Rolling Stone that he was planning a smaller tour to celebrate the release of a special edition of his 1994 solo album Wallflowers. In addition to his long and storied music career, Petty also made multiple appearances as himself on the It's Garry Shandling's Show and in Shandling's later series, The Larry Sanders Show. He also did voice work for The Simpsons and King of the Hill.
In 2002, Tom Petty and the Heartbreakers were inducted into the Rock and Roll Hall of Fame. The iconic singer was honored in 2003 by the Radio Music Awards with the Legend Award and in 2005 with the Billboard Century Award. He, along with the band, also won multiple MTV Music Video Awards and two Grammy Awards.
Petty is married to Dana York, and he has two children with his first wife Jane Beyo, daughters Adria and Kimberly Violette Petty. The legendary rock and roll singer is beloved by fans the world over, and they are surely sending their thoughts his way at this time.