Tomi Lahren Sent Michelle Obama A Harsh Message Over This Comment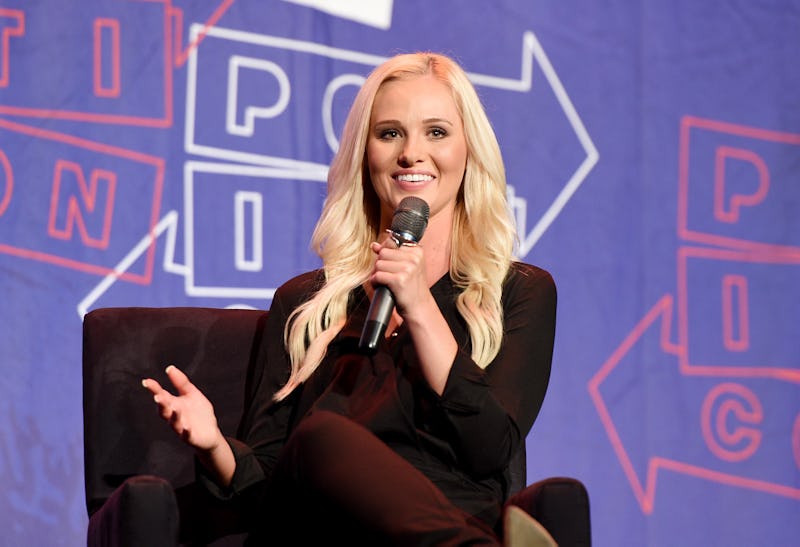 Joshua Blanchard/Getty Images Entertainment/Getty Images
Conservative commentator and Fox News host Tomi Lahren has never shied away from airing criticism of anything related to the Obama administration, and she took issue with the former first lady on Twitter on Monday morning. Lahren told Michelle Obama to "sit down" in a tweet, which was apparently in reaction to a speech Obama had given saying that the U.S. "had a great president."
"Michelle Obama said we 'had' a great president," Lahren tweeted on Monday. "By what measure? Not in economic growth. Not in border enforcement. Not in strength on the world stage. Sit down, Michelle."
This was in response to a comment that Obama gave at a campaign-style rally for When We All Vote, the nonprofit of which she is a co-chairwoman.
"Here's what we have to do. If we want qualified people that we trust, then people have to vote. Because you can't vote some of the time and then sit out," Obama said at the rally in Las Vegas, according to The Hill. "You know, we saw that happen. We experienced that. But we had a great president."
By "great president," of course, Obama was referring to her husband, Barack — and then she went on to say that the satisfaction with that president had become a problem.
"But every couple years folks sat out and said 'Well, I did my part, I voted once, I'm done, I'm out,'" Obama went on to say. "And I'm just telling you that democracy doesn't work that way."
Obama didn't specify what she meant specifically in calling Barack a "great president," but Lahren's tweet pointed out three elements that she apparently believes qualify a president for greatness. In terms of "economic growth," which she mentioned first, Barack Obama and Donald Trump actually entered office in very different situations. Barack began his term at the economy's lowest point in the previous half century, as the Brookings Institute noted, and his economic policies managed to turn that trend around within his first two years in office — and then the Obama economy saw plenty of growth, albeit in the form of a slow recovery process at first. Trump has indeed presided over a booming economy so far, as The Washington Post notes, but his predecessor definitely deserves some of the credit for that.
The next measure of greatness that Lahren noted was "border enforcement." During Obama's time in office, the number of arrests at the southern border moved steadily downward, continuing a trend that started well before Barack assumed office, according to Business Insider — and in 2010, the then-president deployed the National Guard to assist in border control. In May 2018, Bloomberg reported that Trump was deporting fewer undocumented immigrants than his predecessor had.
"Strength on the world stage," the last measure of greatness that Lahren mentioned in her tweet, is subjective and thus impossible to measure with statistics. Trump has a very different approach to foreign policy than Barack did, as Politico wrote, in addition to describing how much of Trump's foreign policy seems to be an attempt to undo Barack's achievements. Given how Lahren sees him, it's no wonder, then, that she sees Trump's efforts in this regard as "great."