Too Faced's New Glitter Peel-Off Eyeliner Is A Total Game-Changer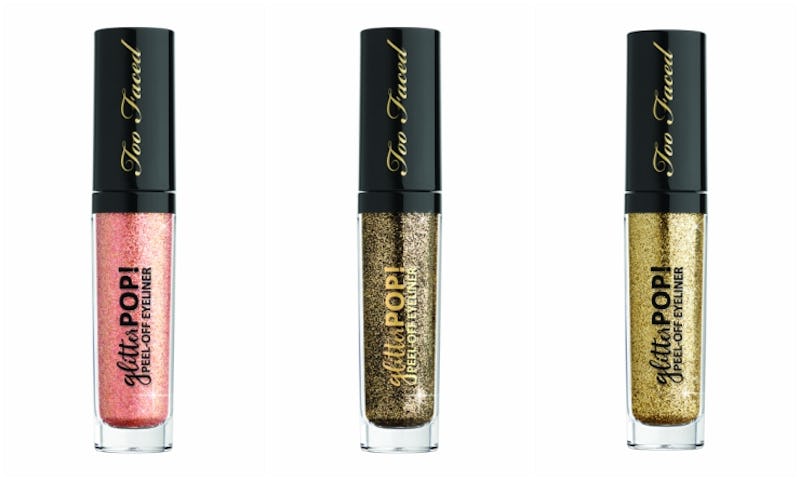 Courtesy of Too Faced
In case you thought glitter makeup was completely off limits (and stuck in the '90s), think again. Too Faced Cosmetics' latest product is not only a completely gorgeous glitter eyeliner, but it also has a few more tricks up its sleeve than you would expect. Too Faced's new Glitter Pop peel-off eyeliner is going to be a major game-changer when it comes to getting glam. Thanks to its innovative film, you can apply the eyeliner on top of your eye makeup and expect it to stay all day and all night long, without smudging.
If Too Faced's new liner seems familiar to you, you're not going crazy. Too Faced's creative director Jerrod Blandino has teased the new glitter formulas many times, but the glitter eyeliner is finally here, at last.
The Glitter Pop eyeliner won't be released until Oct. 2 and is just one part of the larger Too Faced Spring 2018 Collection. Exciting! Thankfully, the Glitter Pop's launch date is just around the corner, tiding us over until the rest of the collection is released.
Glitter Pop Peel-Off Eyeliner in Yes Way Rose, $20, Too Faced
If you've ever struggled to remove any sort of glitter makeup, you know how it's basically impossible to get it all off without leaving any remnants. With this new Glitter Pop peel-off eyeliner, glitter removal couldn't be easier. What's more, you don't have to to worry about your eyeliner smearing or smudging. You can even apply multiple shades, and it will still be easy to remove.
When removing your makeup, the Glitter Pop eyeliner will come off all in one strip without even having to wash your face. All hail this peel-off eyeliner!
If you're dying to see what the products look like, here's your first look at all eight shades. You're going to want each and every last one of them — that's how pretty they are!
The names suit each new shade of this gorgeous, glittery eyeliner. From Fairy Queen and Glitter Ghost to Hey Mr. DJ and I'm Half Mermaid, the names are just as fun as the product is.
Each one is $20 each and comes with a "goof-proof" applicator so you can easily swipe it on without worrying about extra glitter fall-out.
The applicator is small enough for you to apply a thin layer of eyeliner over your normal eyeliner, or you can wear it alone with multiple coats for an even more dramatic look.
In a December 2016 interview with WWD, Blandino said he was set on "reimagining glitter" makeup in 2018, especially a glitter eyeliner.
"I created an eyeliner that's fully glitter but will peel off like latex rubber so it doesn't get everywhere," he said. "I don't always want to do something better, I want to do it different. That's how you change the world. You don't change the world by doing it better."
The time has finally come for Blandino to reveal what he's been working on for the past two years, and fans can't wait to try it.
Here's a peek at some of the amazing shades.
I'm Half Mermaid
Glitter Pop Peel-Off Eyeliner in I'm Half Mermaid, $20, Too Faced
That blue hue!
Lucky Bitch
Glitter Pop Peel-Off Eyeliner in Lucky Bitch, $20, Too Faced
This gold could easily become an everyday staple.
Fairy Queen
Glitter Pop Peel-Off Eyeliner in Fairy Queen, $20, Too Faced
Is this a nod to millennial pink?
Yes Way Rose
Glitter Pop Peel-Off Eyeliner in Yes Way Rose, $20, Too Faced
Summer doesn't have to be the only season for rosé!
Super Fun Night
Glitter Pop Peel-Off Eyeliner in Super Fun Night, $20, Too Faced
There's a good chance you'll have a great night wearing this.