Track Palin Was Reportedly Arrested On New Domestic Violence Charges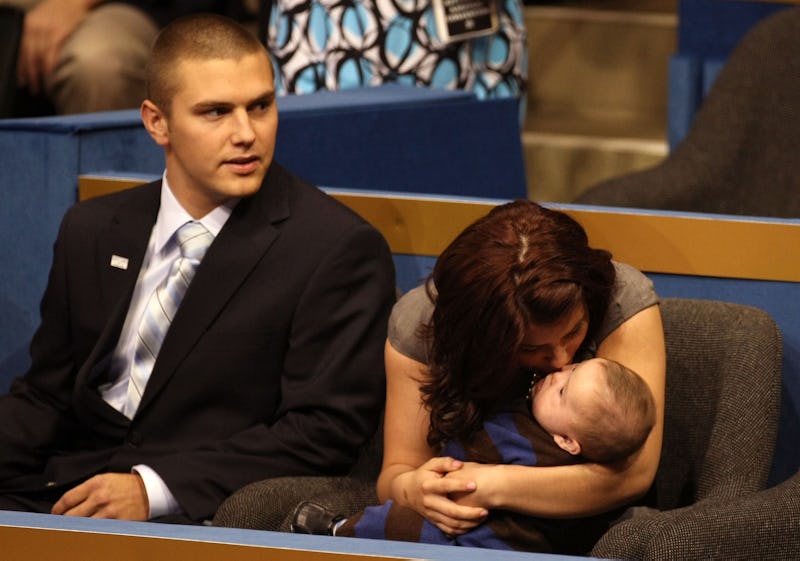 Justin Sullivan/Getty Images News/Getty Images
On Friday night, Sarah Palin's son Track Palin was arrested on domestic violence charges, according to Alaska State Troopers. He is facing four charges, according to a press release, including domestic violence, interfering with a report of domestic violence, resisting arrest, and disorderly conduct. Bustle has reached out to Track's most recent legal representation, as well as to Gov. Palin's office for comment.
Police reportedly responded to a "disturbance" at Track Palin's home in Wasilla, Alaska, shortly after 10:30 p.m. on Friday, according to an Alaska State Troopers press release. Upon responding and investigating, troopers say that they determined Palin had "assaulted an acquaintance at his residence." When the unnamed acquaintance attempted to call the police, Palin allegedly took her phone away, according to the press release.
Police also say that he resisted arrest. Palin was taken to the Mat-Su Pretrial Facility in Palmer, where he was held without bail, according to law enforcement.
Palin appeared in court on Saturday, where he was charged with all four counts. He pleaded "not guilty, for sure" according to local NBC affiliate KTUU-TV. Palin faces three Class A misdemeanors, according to KTUU, which carry up to a year in jail and a fine of up to $25,000. The remaining charge is a class B misdemeanor, which carries up to one day in jail and a $2,000 fine, per the NBC affiliate.
This is not his first arrest in recent years. In January 2016, Palin was reportedly arrested after an altercation with his then-girlfriend, according to local CBS affiliate KTVA. When police responded to that incident, which also took place in Wasilla, they described him as "uncooperative, belligerent, and evasive" in an affidavit. They also said his eyes were "bloodshot" and that there was "a strong odor of alcohol on his breath and person." Palin was ultimately arrested and charged with assault, misconduct involving a weapon, and interfering with a report of domestic violence, according to KTVA's reporting at the time.
In 2017, Palin was again arrested for domestic violence-related charges in Wasilla. That time, the alleged victim was his father. In an affidavit, former Alaska Gov. Sarah Palin is listed as the complainant, and according to police, she called authorities and said her son "was freaking out and was on some type of medication." He allegedly broke through a window and assaulted his father, per the responding officers. According to police, Track Palin called the police "peasants" when they first tried to communicate with him upon arrival at the home, and he was ultimately arrested for charges of burglary, fourth-degree assault, and criminal mischief for causing property damage, according to The Washington Post.
After the 2016 arrest, Sarah suggested that her son's behavior was the result of PTSD incurred from serving in the military.
"I guess it's kind of the elephant in the room — because my own family, going through what we're going through today with my son, a combat vet having served in a Stryker brigade fighting for you all, America, in the war zone. But my son, like so many others, they come back a bit different. They come back hardened," the former governor said at a rally at the time, according to Politico.
Sarah has not yet publicly commented on her son's Friday arrest.