Trump Apparently Cheats During Golf — According To Pros Who've Played With Him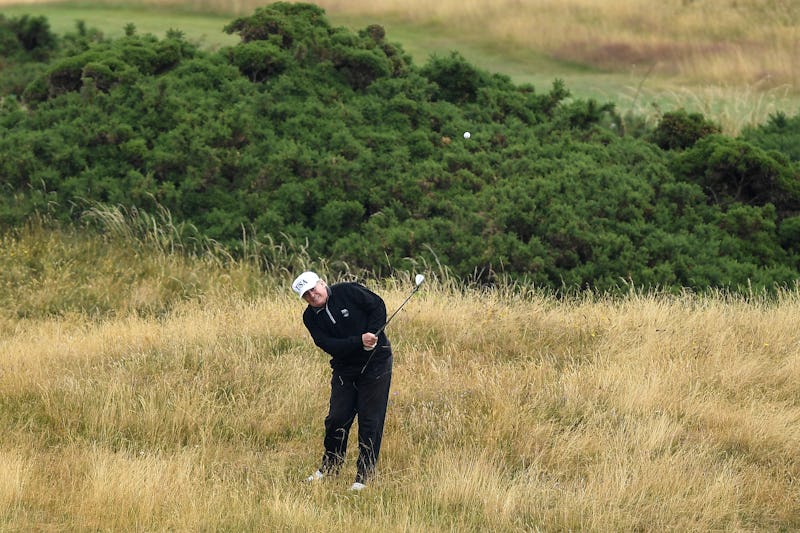 Leon Neal/Getty Images News/Getty Images
It's no secret that Donald Trump likes to golf. The president regularly spends his weekend on a golf course and has even called the game his "primary form of exercise." But in a new book from former Sports Illustrated columnist Rick Reilly, a number of professional and amateur celebrity golfers claim Trump cheats, according to The New York Post, which got an early preview of Reilly's book, Commander in Cheat: How Golf Explains Trump.
"To say 'Donald Trump cheats' is like saying 'Michael Phelps swims,'" The New York Post reported Reilly wrote in his new book. "He cheats at the highest level. He cheats when people are watching and he cheats when they aren't. He cheats whether you like it or not. He cheats because that's how he plays golf."
According to The New York Post, Reilly's book includes accounts from pro-golfers Brad Faxon and Suzann Pettersen, both of whom claim they've witnessed Trump cheat, in one form or another, during a game. Faxon alleged Trump pulled out a new ball when he thought no one was looking after hitting his original ball into a water hazard. Pettersen, meanwhile, told Reilly she thinks Trump arranges things with his caddy ahead of the game as "no matter how far into the woods he hits the ball, it's in the middle of the fairway when we get there."
Retired professional boxer Oscar De La Hoya, actor Samuel L. Jackson, and rocker Alice Cooper also reportedly alleged the president was a golf cheat. Jackson, who has previously spoken out publicly about Trump's golf game, told Reilly he and others on the green "clearly saw" Trump hit his ball into a lake while playing a round at Trump National Golf Club in Bedminster, New Jersey. Moments later, however, Trump's caddy allegedly claimed he'd found the ball, The New York Post reported.
It's worth noting that, in 2016, Trump denied Jackson's claims, tweeting, "I don't cheat at golf but @SamuelLJackson cheats — with his game he has no choice."
According to Golf Digest, Trump has claimed to be a basically self-taught player, having never consistently worked with an instructor. "I never really wanted to know a lot about my technique," he has previously told the magazine, which noted his swing was "imperfect." "I really trust instinct a lot, in golf and a lot of things."
According to Slate, Reilly also used his book to challenge the president's claim of having a 2.8 handicap. For those unfamiliar with the game, a golf handicap is a means of measuring a golfer's potential ability so that, in stroke play, players of different abilities can compete against each other on more equal terms by using their handicap to calculate a net score from the number of strokes they played, according to Golf Week. "If Trump is a 2.8, Queen Elizabeth is a pole vaulter," the online news outlet reported he wrote, noting that Jack Nicklaus, a man widely considered to be greatest golfer of all time, has a handicap of 3.4.
Reilly's book reportedly also includes a warning to any individual who might find themselves on the green with the president: "If you're playing golf with him, he's going to cheat."