Trump Apparently Told Spain It Should Build Its Own Border Wall Across The Desert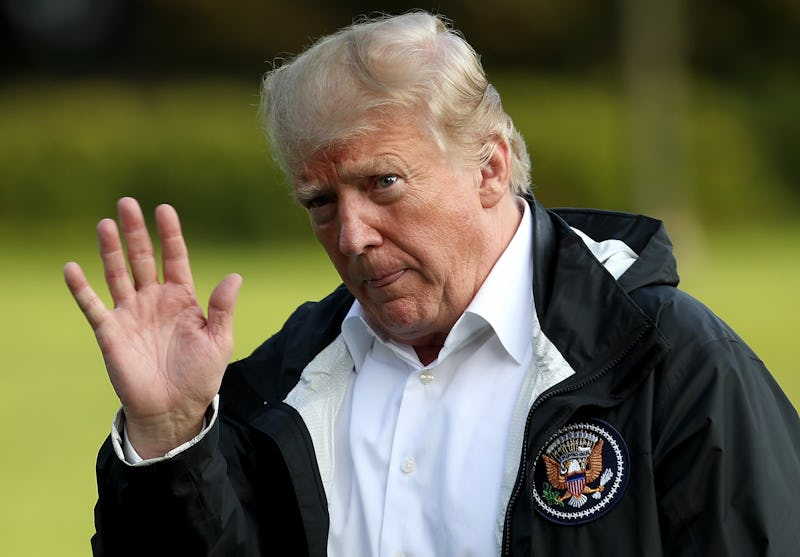 Win McNamee/Getty Images News/Getty Images
Border walls never seem to be too far from the president's mind — even if they have nothing to do with the United States. According to Josep Borrell, Spain's foreign minister, Trump told Spain a border wall across the Sahara Desert might be a good plan. What's more, Borrell claims that Trump even told the King of Spain, "The Sahara border can't be bigger than our border with Mexico." Bustle has reached out to the White House for comment.
Quick fact check: The U.S.-Mexico border is approximately 2,000 miles long. From east to west, the Sahara is just under 3,000 miles across. According to The Guardian, Borrell talked about Trump's comments at a lunch event this week. He claimed that Trump had made these comments about a border wall in the Sahara when Borell, King Felipe, and Queen Letizia of Spain visited the White House in June.
The comments apparently occurred when Trump compared the situation in northern Africa and the Mediterranean to the situation occurring along the U.S. border with Mexico. When Borrell told Trump that he disagreed with him on the idea of a border wall and argued that the issue for Spain was much larger in geographic scale, that was when Trump argued that the Sahara was no bigger than the U.S.-Mexico border.
According to New York Magazine, over 38,000 migrants have entered Spain this year, which was three times more than last year. That makes the country the most popular migrant destination for those crossing the Mediterranean. It's possible Trump suggested building the wall as a way to curb those numbers.
But that doesn't mean a border wall is in Spain's future — or that it would even make sense on a logistical level. As The Guardian notes, Spain only owns two small areas in North Africa, Ceuta and Melilla. As a result, most of the hypothetical Saharan border wall would be built on the land of other countries: Algeria, Chad, Egypt, Eritrea, Libya, Mali, Mauritania, Morocco, Niger, Sudan, and Tunisia.
What's more, Spain has never indicated any interest in creating a border wall to begin with. In fact, Borrell talked specifically about what he believed to be a "fear of immigration" when he visited the United States in June. He said, via The Washington Post, "Everybody in Europe is being affected by this virus, fears of immigration. This is not the case of Spain." He added, "This is not a matter of charity, [but of economic interest and humanitarian duty.]"
True to form, Spain has taken a very different route than the United States in regard to the question of immigration and asylum-seekers. While Trump has warned about illegal immigrants "infesting" the nation, the government of Spain has worked to welcome asylum-seekers, even accepting a boat of 629 African migrants who were turned away from Italy in June.
As for the United States' own wall with Mexico, it hasn't gotten any less complicated. Mexico has still refused to pay for it, and Senate has yet to approve the funding for it. To Hill.TV on Tuesday, Trump said, "I'm not happy at the border," adding, "I'm not happy with numerous things, not just this."