Trump Seriously Insulted The Mayor Of San Juan In A New Interview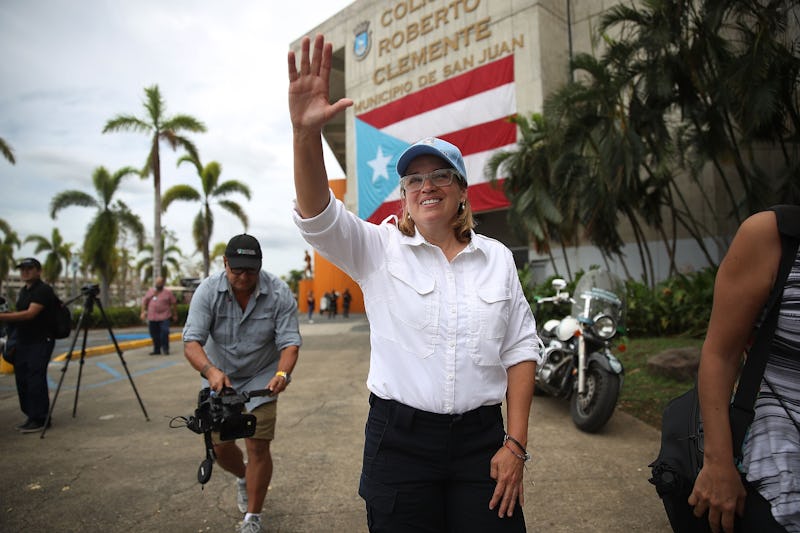 Joe Raedle/Getty Images News/Getty Images
In an interview broadcast on Monday morning with Geraldo Rivera, President Donald Trump touched on numerous topics that have been present in the news lately. Brett Kavanaugh's Supreme Court nomination came up, as did Trump's former lawyer Michael Cohen — and then finally, it was Puerto Rico's turn. In addition to addressing what he believed was unfair coverage of his handling of Hurricane Maria, Trump called Carmen Yulin Cruz "incompetent" before going on to commend Rivera for his own Puerto Rican ancestry.
Earlier in September, San Juan Mayor Carmen Yulín Cruz called Trump's understanding of the crisis that Maria caused in Puerto Rico "delusional, paranoid, and unhinged from any sense of reality." Trump had tweeted that "3000 people did not die in the two hurricanes that hit Puerto Rico" and claimed that Democrats had inflated the death toll for political gain, according to Reuters.
Speaking with Rivera on the debut of the Geraldo in Cleveland show on WTAM radio, then, Trump once again defended how he handled the devastation after the storm. "You have the mayor of San Juan who's incompetent," Trump told Rivera, according to The New York Times. "She should never be there. She's just doesn't know what she's doing, she's totally incompetent person." Trump also referred to Cruz as a "horror show" in the interview, The Times wrote.
Trump then turned to what he saw as Puerto Rico's own poor management of the hurricane recovery efforts. "You have as you know locally they did a very, very poor job. The electric was broken before the storms that got hit by two storms not one," Trump said, according to the Times. "It was a total mess, it was corrupt — couldn't be worse."
Even in the immediate aftermath of the hurricane, Trump was already blaming the slow recovery on the Puerto Rican government rather than accepting any of the responsibility for it himself. "Such poor leadership by the Mayor of San Juan and others in Puerto Rico who are not able to get their workers to help," said Trump, according to Reuters. "They want everything to be done for them when it should be a community effort."
Cruz, at that time, was living in a shelter because Hurricane Maria destroyed her home, Reuters reported. She said at the time that the city workers were doing everything that they could in a difficult situation.
In Trump's telling of the situation, though, critics unfairly blamed him for problems that were already there. "The storms hit and they said, 'Oh let's blame Trump for the electric, let's have Trump, let's have Trump fix the electric plant, which takes a long time to rebuild it, which is a big deal. Let's blame Trump for everything,'" Trump told Rivera in the interview.
Cruz and Trump have had an ongoing Twitter feud since the storm, so Trump's insults aren't exactly a new thing. In his interview with Rivera, though, Trump did make sure to express his respect for the Puerto Rican people as a group — and he even referring to Rivera's own Puerto Rican ancestry while doing so.
"I love Puerto Rican people," Trump said to Rivera, who, according to an essay he wrote for Fox News, is half Puerto Rican and half Russian Jewish. "I love you. You're half Puerto Rico. I love you."