Trump Falsely Claimed Moms & Doctors Are Executing Babies In Wisconsin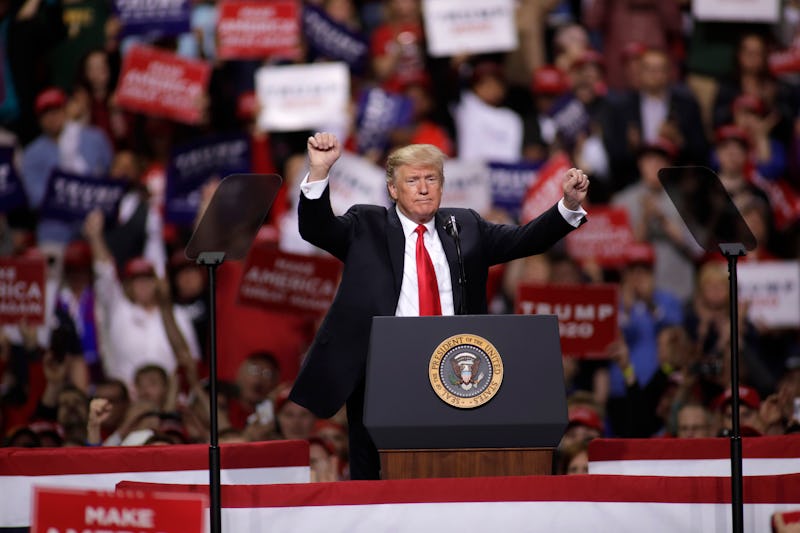 Darren Hauck/Getty Images News/Getty Images
While speaking to supporters in Green Bay on Saturday, President Donald Trump falsely claimed babies in Wisconsin were being executed after birth at the discretion of mothers and doctors. Trump's flawed depiction of Wisconsin's abortion laws came as part of an effort to criticize the state's Democratic governor. Wisconsin Gov. Tony Evers recently vowed to veto legislation that would imprison doctors who don't provide appropriate medical care to babies born alive after attempted abortions as such protections are already present in state laws.
"Your Democrat governor here in Wisconsin shockingly stated that he will veto legislation that protects Wisconsin babies born alive," CNN reported Trump said. "The baby is born, the mother meets with the doctor, they take care of the baby, they wrap the baby beautifully, and then the doctor and the mother determine whether or not they will execute the baby."
As the crowd booed, the president reiterated his erroneous depiction. "You hear late term but this is when the baby is actually born. It came out, it's there, and then that's it," the president added while making a slicing motion with his hand as if depicting a beheading. Bustle has reached out to the White House for comment.
The bill Trump referred to is Assembly Bill 179, which was introduced to the Wisconsin State Legislature earlier this month. It would require health care providers "exercise the same degree of professional skill, care, and diligence" in attempting to preserve the life of a child born alive at the time of an attempted abortion as they would "render to any other child born alive at the same gestational age." Such born alive babies must also, per the bill, be immediately transported to a hospital. Under the bill, health care professionals who fail to provide adequate would be guilty of a felony and punishable by six years in prison and/or a fine of up to $10,000. While the bill specifically states mothers may not be prosecuted, it would make the intentional death of a child born alive punishable by life in prison.
Although the bill has yet to come up for a vote in either chamber of the Wisconsin State Legislature, Gov. Evers has already said he would veto it should it ever land on his desk, citing protections and criminal penalties for such situations that already present in Wisconsin state law. "I think those protections already exist," he told The Milwaukee Journal Sentinel. "We have all sorts of issues to deal with in the state of Wisconsin and to pass a bill that is redundant seems to be not a productive use of time."
Evers, who told the paper he continues to believe that women have the right to make their own choices about their health care, said the bill "deals with a specific issue that's already been resolved." He also told the paper that he believed the Republican lawmakers behind the bill had introduced it in an effort "to create division."
According to The Milwaukee Journal Sentinel, doctors and abortion-rights advocates have expressed concern that the bill wrongly implies babies are commonly born alive as a result of abortions when in fact the scenario is extremely rare. However, this isn't the first time Trump has suggested Democrats support executing babies. In February, when the Born-Alive Abortion Survivors Protection Act failed to pass the Senate, Trump accused Senate Democrats of supporting abortions conducted after birth — something that's actually not a thing at all.
"Senate Democrats just voted against legislation to prevent the killing of newborn infant children," Trump tweeted. "The Democrat position on abortion is now so extreme that they don't mind executing babies AFTER birth...."
In response, Planned Parenthood Action noted Trump's tweet was "not remotely factual" and accused the president of lying to voters in an effort to incite fear. "There is no such thing as abortion until or after birth," the organization said in a tweeted statement. "Trump's position on abortion is so extreme that he lies to the American public to incite fear & violence against women making personal decisions & abortion providers trying to provide their patients the best care possible."
On Sunday, NARAL Pro-Choice America President Ilyse Hogue accused the president of attempting to vilify women with his latest comments. "Trump wants you to believe there are hordes of women out chomping at the bit to kill a baby they just carried in their bodies for 40 weeks," she wrote. "There are not. Don't vilify women alongside him please."