Trump Finally Responded To The Sexual Assault Allegation Against His SCOTUS Pick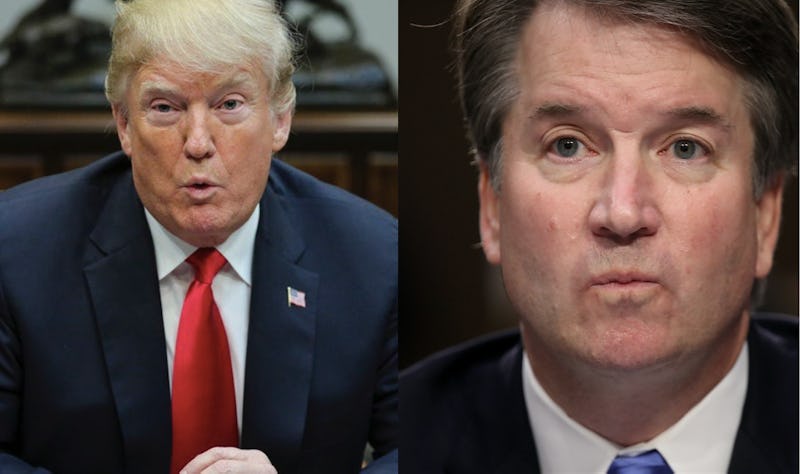 Pool; Win McNamee/Getty Images News/Getty Images
Roughly a day after anonymous sources told reporters that the White House would continue to back Brett Kavanaugh's nomination to the Supreme Court, the president has thrown his support behind the Kavanaugh. On Monday, Donald Trump defended Brett Kavanaugh after a sexual assault allegation against the federal judge became public in recent days. Kavanaugh has denied the allegation.
"Judge Kavanaugh is one of the finest people that I've ever known. He's an outstanding intellect, outstanding judge, respected by everybody. Never even had even a little blemish on his record," Trump told reporters, according to MSNBC.
This echoes Kavanaugh's own denials. "On Friday, Judge Kavanaugh 'categorically and unequivocally' denied this allegation," read a statement from the White House on Monday, according to The Washington Post. "This has not changed. Judge Kavanaugh and the White House both stand by that statement."
Trump described Kavanaugh as a "very special" person in his defense of the judge. "He is somebody very special. At the same time, we want go through a process, we make sure everything is perfect, everything is just right."
Trump also cast blame on Democratic lawmakers for the timing of the assault allegation. "I wish the Democrats could have done this a lot sooner because they had this information for many months. And they shouldn't have waited until literally the last days. They should have done it a lot sooner."
What Trump is referring to is a letter that Christine Ford, the woman who accused Kavanaugh of attempted assault while they were both in high school, sent to California Sen. Dianne Feinstein in July. Ford asked Feinstein to keep the letter confidential, which Feinstein honored.
At that time, Ford decided not to publicly attach her name to the allegation and knowledge of the allegation was kept to Feinstein's office, The New Yorker reported on Friday. Eventually, Ford decided to come forward publicly in an interview with The Washington Post, which was published on Sunday.
Trump also seemed to indicate that he wouldn't be bothered by a delay on the Judiciary Committee's vote to bring Kavanaugh's nomination to the full Senate. "If it takes a little delay it will take a little delay," he told reporters.
Trump said "everybody" should be heard. "We want to go through a full process ... and hear everybody out." He also praised Kavanaugh's intellect and references, calling him "one of the finest people that anybody's known." Trump said he expects to see Kavanaugh confirmed.
Kavanaugh and the president haven't spoken yet, Trump said, but he remains confident in his nominee. He wants the American people to be "happy" with the nomination process. A poll by Politico and Morning Consult in early September found that 37 percent of voters support Kavanaugh's confirmation, while only 29 percent surveyed said the senate shouldn't vote to confirm him.
When a reporter asked if Kavanaugh had offered to withdraw, the president called it "ridiculous" and moved onto the next question. "What a ridiculous question that is," Trump told the reporter.