Trump Reportedly Goes Around The White House Joking That Ivanka & Jared Are Democrats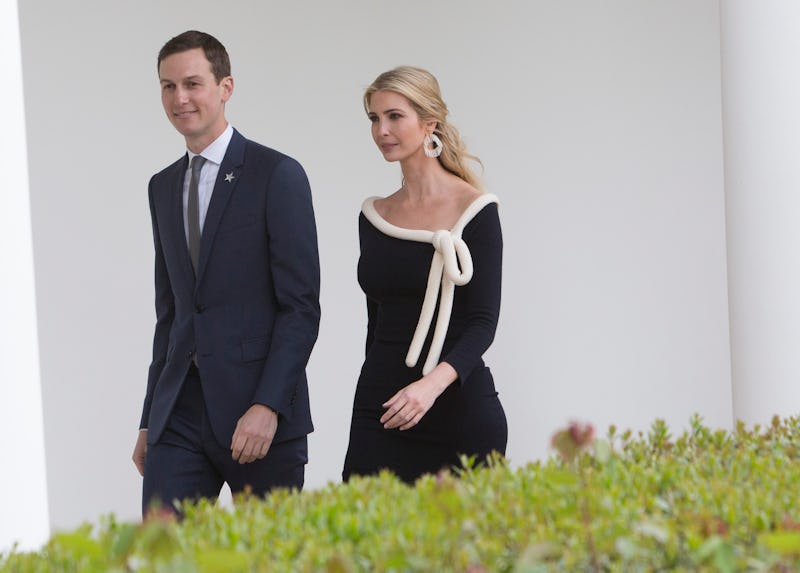 Pool/Getty Images News/Getty Images
The president's daughter and son-in-law have long been two of his closest advisors — much to the alleged chagrin of his other staffers. According to leaked excerpts from Bob Woodward's new book, Donald Trump joked that Ivanka and Jared Kushner are Democrats after Reince Priebus, his former chief of staff, complained about their constant presence in the White House.
"At times it seemed Ivanka's presence — hours a day, days in a row — was nonstop. Jared had the same squatter's rights in the West Wing," Woodward writes in Fear, according to new excerpts published in Newsweek. "They were like a posse of second-guessers, hovering, watching, interacting as family and senior advisers with the president. Ivanka planted seeds of doubt about policy and passed her father articles."
When Priebus complained about Ivanka and Kushner's presence, "regularly joked, 'They're Democrats,'" according to Woodward.
Ivanka and Kushner were, in fact, both registered Democrats before Donald ran for president. It's been reported that Ivanka has attempted to push her father's administration in a more moderate direction, though it's unclear what, if any, has come of these alleged efforts.
According to Woodward, Donald "made no real effort to curtail [Ivanka and Jared's] freelancing," and chalked up their ideologies to their New York roots.
Although Fear hasn't been released yet, White House Press Secretary Sarah Huckabee Sanders dismissed it as "nothing more than fabricated stories" in a statement on Tuesday. The book has sparked fierce condemnation from Trump loyalists, as it's chock-full of anecdotes that paint the president and his administration in an unflattering light. The book alleges that, among other things:
Defense Secretary James Mattis told associates that the president acted and had the understanding of "'a fifth- or sixth-grader;"
Chief of Staff John F. Kelly, formerly the Homeland Security Secretary, told colleagues that the president was "unhinged;"
Former economic adviser Gary Cohn "stole a letter off Trump's desk" that, had the president signed it, would have withdrawn the U.S. from a trade agreement with South Korea;
Donald compared Priebus to "a little rat" who "just scurries around;"
After giving a speech in which he issued a rare condemnation of neo-Nazis and white nationalists, Donald immediately told aides that it was "the biggest f*cking mistake I've made" and the "worst speech I've ever given"
Ivanka, after being berated by former adviser Steve Bannon for overstepping her role as a staffer, replied, "I'm not a staffer! I'll never be a staffer. I'm the first daughter."
Woodward also alleges that John Dowd, formerly one of the president's top attorneys, strenuously warned him against testifying in special counsel Robert Mueller's probe into Russian meddling in the election.
"Don't testify," Dowd allegedly told the president. "It's either that or an orange jumpsuit."
"I'll be a real good witness," Donald allegedly replied.
"You are not a good witness," Dowd allegedly said. "Mr. President, I'm afraid I just can't help you." Dowd resigned the next day.
In addition to Woodward's book, the White House has been rocked an op-ed published this week in the New York Times, in which an anonymous member of the Trump administration writes that "many of the senior officials in [Trump's] own administration" — including the author — "are working diligently from within to frustrate parts of his agenda and his worst inclinations."