Trump Jr. Posted A Ridiculously Insulting Instagram About The Kavanaugh Allegations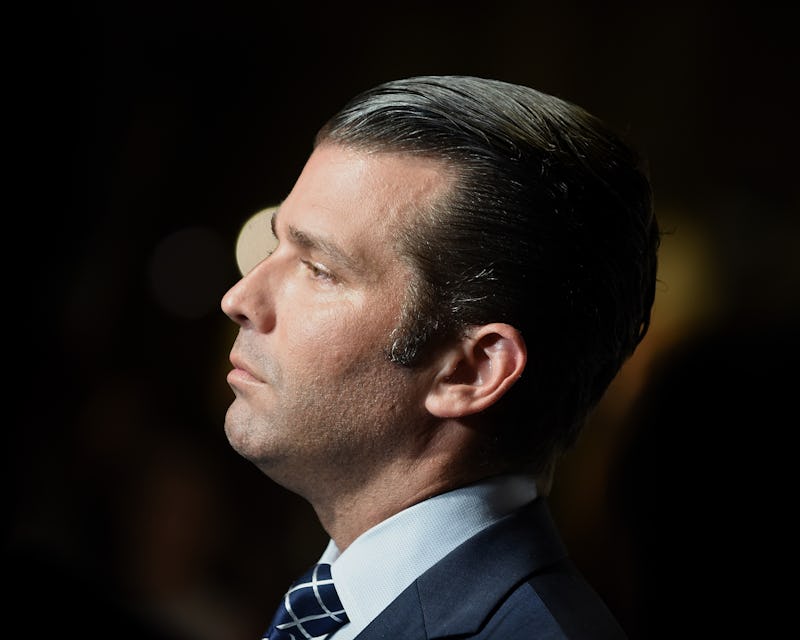 Shannon Finney/Getty Images Entertainment/Getty Images
Brett Kavanaugh's tense confirmation process took a major turn on Friday, when the New Yorker published the anonymous account of a woman accusing the Supreme Court nominee of having sexually assaulted her as a high school student (an allegation Kavanaugh quickly and categorically denied). In reaction, though, Donald Trump Jr. posted on Instagram about the Kavanaugh allegations, and his take painted the accusation as entirely a Democratic strategy to prevent Kavanaugh's confirmation.
The entire situation changed on Sunday, when the Washington Post published an interview with Christine Blasey Ford, the formerly anonymous woman who had privately accused Kavanaugh of attempted sexual assault in a letter that circulated around Congress and was passed to the FBI, as the New York Times reported. Prior to the publication of that interview, though, Trump Jr. posted what he imagined the letter to be on Instagram. In the eldest Trump son's mind, the letter was a bit more, let's say, elementary.
"Hi Cindy, will you be my girlfriend," the crayon-drawn photo of a letter read in Trump Jr.'s post. It then concluded with boxes to check either "yes" or "no," and then the words "Love, Bret" — as though a school-aged Brett Kavanaugh wouldn't have been able to spell his own first name.
"Oh boy... the Dems and their usual nonsense games really have him on the ropes now," Trump Jr. wrote as a caption along with the imagined letter. "Finestein [sic] had the letter in July and saved it for the eve of his vote... honorable as always. I believe this is a copy for full transparency."
Trump Jr. is not a political official, but his take on the issue did not go entirely unnoticed by actual members of the government. As CNN's Andrew Kaczynski noted on Twitter, Department of Housing and Urban Development official Lynne Patton publicly commented on his Instagram post.
"I didn't think this was real. The president's son posted this on Instagram yesterday," Kaczynski posted on Sunday, along with screenshots of the post and the comments below. "The '[laughing and hands up emojis]' comment at the bottom is from senior HUD official @LynnePattonHUD."
Trump Jr. has posted multiple pictures on Instagram since that version of the letter, but he has not used his Instagram to react to Ford's public claiming of her story. On Twitter, he's only posted once on the issue since the Washington Post published Ford's interview, and it was a retweet of a post from Daily Mail writer David Martosko questioning why Sen. Dianne Feinstein didn't make the existence of the letter public earlier. In doing that, Trump Jr. once again leveled his attack at Feinstein and the Democrats, avoiding any direct criticism of Ford herself.
The subtext of Trump Jr.'s line of attack, though, is that the claim of attempted sexual assault somehow shouldn't be taken seriously because of the way that Feinstein chose to bring it up. This was a step away from the Instagram post, which instead blamed Democrats for having made up a fake allegation against Kavanaugh. With Ford coming out into the open and telling the story in her own words — and with corroborating factors to back it up, according to the Post — it's now impossible to make the claim that the allegation isn't real. What remains unclear, though, is how, or if, Republican senators will choose to react to it.