Don Jr. Swam In A Swamp Full Of Gators For A Bet & He Looks Real Proud Of It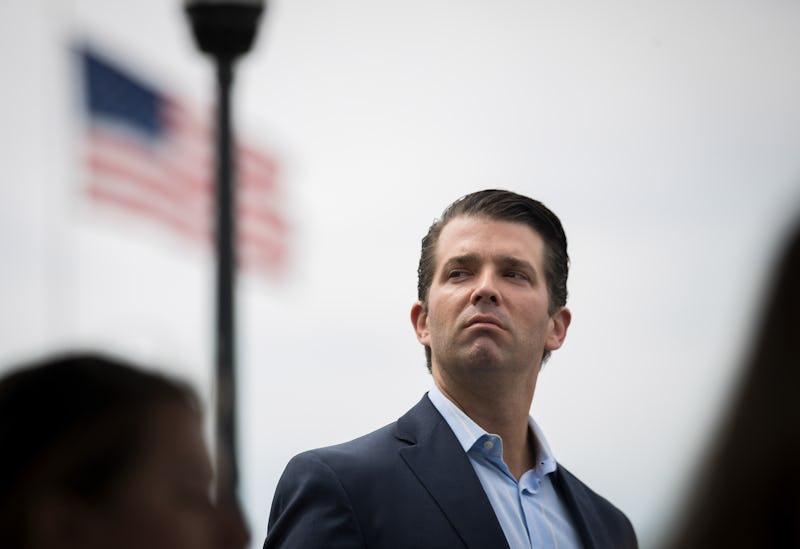 Drew Angerer/Getty Images News/Getty Images
One of the president's sons made a splash this weekend — literally. Per photos he shared on his Instagram account, Donald Trump Jr. swam in alligator-infested Louisiana swamp waters in order to win a bet.
"This is what happens when someone bets me a good sum that there's no way that the guy from New York City would swim in a gator infested swamp/bayou down in Louisiana," he captioned a photo set of himself floating in a river covered with greenery. "Easy money!!!"
The photo was geo-tagged to Broussard, Louisiana, where Baton Rouge-based newspaper The Advocate reports Trump Jr. spent the weekend alligator hunting with his girlfriend, Kimberly Guilfoyle. Guilfoyle also posted photos from the visit, and according to her caption on Instagram, the pair were in town to support Louisiana Attorney General Jeff Landry, who runs an annual alligator hunt as a fundraiser.
For her part, Guilfoyle shared photos of herself stirring alligator gumbo, and posing with roasted alligator and pig. Meanwhile, Trump Jr. addressed attendees during his visit, The Advocate reported, praising Landry for backing his father "back when it was not even popular to be supporting us."
"[Landry] was into what was going on there," Trump Jr. said of his father's 2016 presidential campaign, per The Advocate. "It's awesome to have guys like this in the state attorney general's office. So I just wanted to come down and thank him, be with you guys and have a great time this weekend."
Landry has been holding an annual alligator hunt for at least eight years, according to multiple reports. It traces back to his time as a one-term Congressman, and continued after he switched career gears and campaigned to become the state's attorney general, according to The Times Picayune.
As for Trump Jr., it's not sure who, exactly, dared him to swim in the "gator infested swamp." What is known, however, is that he is no stranger to the outdoors, and has long relished in wilderness activities. He seems to have a special affinity for hunting and fishing, in particular.
"I don't want my kids growing up to be city kids," he told The New Yorker back in 2016. "You can't stay out all night partying if you're waking up at four or five to head to the tree stand."
Indeed, his Instagram feed is saturated with photos he and his family hiking, fishing, camping, and hunting. His bio, aside from listing his professional title (executive vice president of development and acquisitions at The Trump Organization), also describes him as an "outdoorsman."
Trump Jr.'s outdoorsy interests serve, in many ways, to separate him from the rest of his high-profile family, who are more often associated with the hustle and bustle of Midtown Manhattan than they are with alligator hunting in Louisiana. But of course, Trump Jr. does help lead The Trump Organization, meaning that, in many ways, he straddles both worlds.
It's not clear whether or not Trump Jr. managed to catch any alligators over the weekend. What is clear is that Trump Jr. managed to combine two very different aspects of his life into one event — politics and hunting.