Trump Praised A Congressman Who Attacked A Reporter For Being A "Fighter"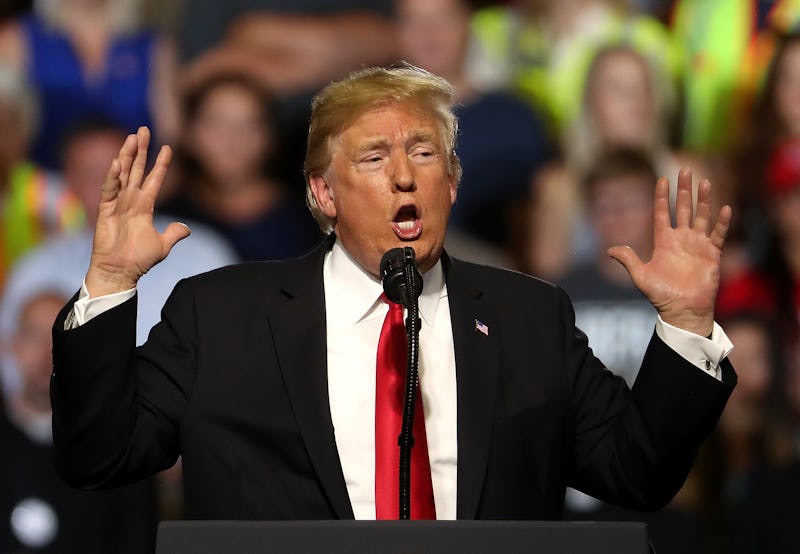 Justin Sullivan/Getty Images News/Getty Images
With oft-repeated phrases like "fake news" and "enemy of the people," the president hasn't been shy about attacking the media. But while Donald Trump's blatantly anti-media rhetoric isn't new, it appears as if he's taking it to a whole new level. While speaking at a campaign rally in Billings, Montana, on Thursday, President Trump praised Rep. Greg Gianforte, a man who assaulted a reporter while a congressional candidate last year.
Although he was in town to speak on behalf of Republican Senate candidate Matt Rosendale, Trump also praised one of Montana's GOP lawmakers: Rep. Gianforte. "I'll tell you what: This man has fought — in more ways than one — for your state," Trump told the crowd about Gianforte in Billings. "He has fought for your state. Greg Gianforte: He is a fighter and a winner." Trump also called Gianforte "a true champion."
Trump didn't go into detail about what he felt made Gianforte a "fighter." But many believe the comment was meant to be a reference to an altercation Gianforte had last year while campaigning for a seat in the House as the legislator did not serve in the military. In his speech, Trump appeared to imply that Gianforte's alleged physical attack on a member of the media had been done for constituents.
In May 2017, Gianforte allegedly slammed Ben Jacobs of The Guardian to the ground and punched him. In audio of the incident released by The Guardian, Jacobs can be heard accusing Gianforte of having "body slammed" him and breaking his glasses following sounds of a struggle.
A Fox News reporter who was present during the altercation later confirmed Jacobs' account. "Gianforte grabbed Jacobs by the neck with both hands and slammed him into the ground behind him," Fox News' Alicia Acuna wrote. "I watched in disbelief as Gianforte then began punching the reporter." According to Acuna, Jacobs had been attempting to question Gianforte about his response to the Congressional Budget Office's report on Republican's health care bill when the lawmaker allegedly became aggressive.
"To be clear, at no point did any of us who witnessed this assault see Jacobs show any form of physical aggression toward Gianforte," Acuna wrote in her description of the incident.
Although Gianforte's campaign initially denied Jacobs' account of the altercation and instead painted the reporter as the aggressor, the politician later pleaded guilty to misdemeanor assault in June 2017. According to The Chicago Tribune, Gianforte was sentenced to a $385 fine, 40 hours of community service, 20 hours of anger management classes, and a 180-day suspended jail sentence a few weeks before he was sworn in as a newly-elected member of the House.
Trump's praise of Gianforte comes a little more than a week after a man was arrested in Encino, California, for allegedly threatening violence against The Boston Globe. According to NPR, the paper claimed in court documents that the man had made repeated threatening calls to the newsroom, including one in which he called staffers "the enemy of the people" and said he would "continue to threat[en], harass, and annoy" the paper "as long as [it kept] attacking the president."
While the White House did not immediately respond to Bustle's request for comment, White House Press Secretary Sarah Huckabee Sanders has previously said that "the president does not support violence against anyone or anything."