Trump Had An Unusually Mild Response To Nike's New Colin Kaepernick Ad Campaign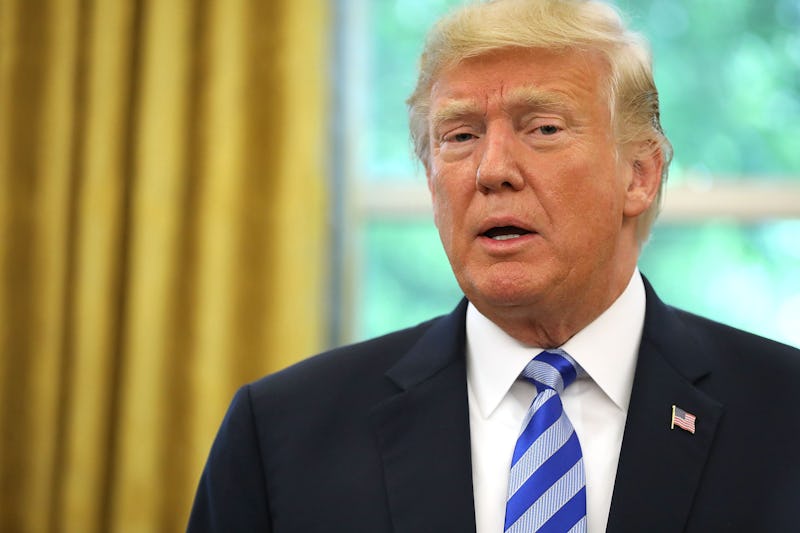 Chip Somodevilla/Getty Images News/Getty Images
For its 30th "Just Do It" anniversary, Nike chose a former NFL athlete whose reputation in the United States goes well beyond just the football field — and right into the boiling center of politics. In an interview with The Daily Caller on Tuesday, Donald Trump remarked on Nike's Colin Kaepernick ad in an unusually lukewarm manner. Although Trump called it a "terrible message," he said Nike's prerogative to choose for itself "is what this country is all about."
The president said, "I think it's a terrible message. Nike is a tenant of mine. They pay a lot of rent." On Twitter, CNBC White House correspondent Christina Wilkie noted that the Nike store at Trump Tower had closed in March. The company's New York Twitter account announced the development in spring.
Nike's decision to feature Kaepernick in its "Just Do It" campaign seems to have hit a nerve among some Americans. In 2016, Kaepernick spoke about why he refused to stand for the American national anthem, saying he was protesting police brutality. "I am not going to stand up to show pride in a flag for a country that oppresses black people, and people of color," Kaepernick said then.
"To me," the former San Francisco 49ers quarterback said, "this is bigger than football and it would be selfish on my part to look the other way. There are bodies in the street and people getting paid leave and getting away with murder."
It's an ad campaign that has left Kaepernick's fans enthralled and his critics enraged. In a photo for the ad, Kaepernick can be seen gazing directly into the camera while the following words appear on the screen: "Believe in something. Even if it means sacrificing everything."
In reaction to the advertisement, Kaepernick's critics have reportedly set their Nike products on fire or simply discarded them. But some see a contradiction in these negative reactions. Senior correspondent for ESPN's Undefeated, Jemele Hill tweeted that she laughed "at all the people who were all good with Nike when the company was accused of abusing kids in sweatshops, but are so outraged at the Colin Kaepernick campaign."
While some may not like Kaepernick's form of protest, his team back then in 2016 gave a statement which essentially read as respect for his choice to kneel. It was his right to free speech, the statement said.
Two years ago, Kaepernick's former team San Francisco 49ers issued a statement on their previous athlete's decision to not stand for the American anthem. "The national anthem is and always will be a special part of the pre-game ceremony," the official 49ers' statement said. "It is an opportunity to honor our country and reflect on the great liberties we are afforded as its citizens."
"In respecting such American principles as freedom of religion and freedom of expression," the team added, "we recognize the right of an individual to choose and participate, or not, in our celebration of the national anthem."
Whether it's Trump's tepid remarks or other people's furious reactions, it's clear that Kaepernick's political protest continues to garner attention in the United States.