Trump Said Christine Blasey Ford "Looks Like A Very Fine Woman" — VIDEO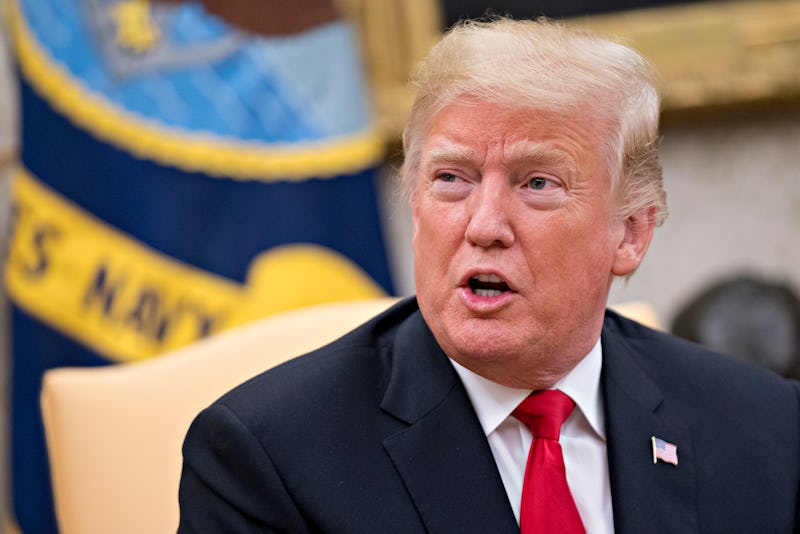 Pool/Getty Images News/Getty Images
The Senate Judiciary Committee voted to advance Judge Brett Kavanaugh's nomination to the full Senate on Friday afternoon, just one day after hearing testimony from Dr. Christine Blasey Ford, who accused the nominee of sexually assaulting her in high school. Moments after the committee voted, a reporter asked President Trump what he thought about the witness testimony, and Trump said Blasey Ford is a "fine woman."
"I thought her testimony was very compelling, and she looks like a very fine woman to me. Very fine woman, " Trump said.
The committee meeting on Friday confused senators and the American public alike. Arizona Sen. Jeff Flake, who had been considered an undecided vote on Kavanaugh's nomination, made a statement that he would not vote for Kavanaugh to be confirmed in a full Senate vote unless there was a delay to allow for an FBI investigation into the claims that have been made against the nominee.
There are three main allegations that the FBI might investigate. Ford accused Kavanaugh of attempting to rape her in high school, saying he pinned her to a bed and covered her mouth when she tried to scream. Deborah Ramirez has accused him of exposing himself to her while they were in college. Julie Swetnick alleges he was part of a group of boys in high school that would drug women's drinks to incapacitate them and then "gang rape" them. Kavanaugh has vehemently denied all of the allegations against him, saying they are an "orchestrated political hit."
Trump had been meeting with Chilean President Sebastian Pinera when he made the statement about Ford. He also reiterated his support for Kavanaugh and said that he was not looking at any potential nominees to replace him. He described Kavanaugh's testimony on the allegations as "an incredible moment in the history of our country."
"Certainly she was a very credible witness, she was very good in many respects," he added. "I don't know if this is going to continue onward or if we're going to get a vote ... but I think it will work out very well for the country."
Some people found Trump's comment of "looks like a very fine woman" to be an awkward thing to say and compared it to Sen. Orrin Hatch's comment the previous day that Ford was an "attractive" witness. Hatch's communications director said, "Hatch uses 'attractive' to describe personalities, not appearances. If you search his past quotes you'll see he's used it consistently for years for men and women he believed has compelling personalities."
The fate of Kavanaugh is now up to the entire Senate — but also in a way up to Trump. The president is the one who can call for an FBI investigation into these claims against his nominee — and Flake said he won't vote for Kavanaugh without one. This puts the confirmation into a precarious situation, as Republicans need all the votes they can get to confirm Kavanaugh. There are 51 Republicans in the Senate, and they need 51 votes to confirm him.