Trump Made It Clear He Still Supports Kavanaugh After The Latest Allegation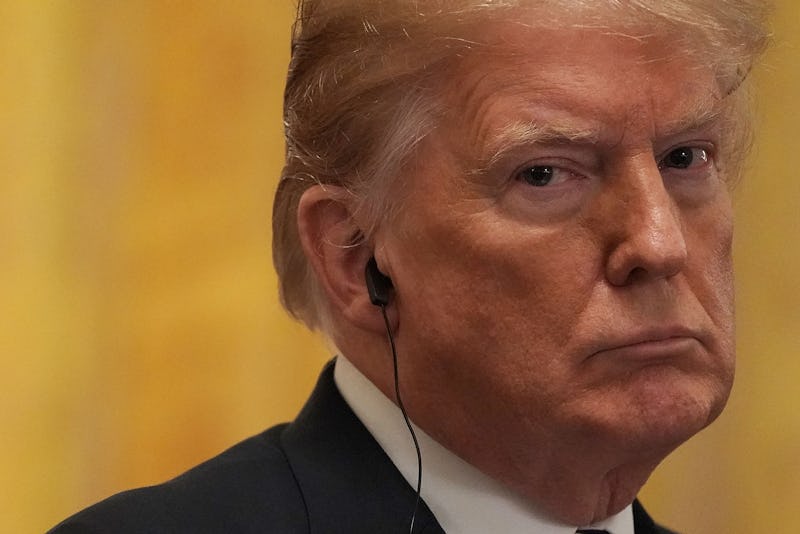 Alex Wong/Getty Images News/Getty Images
In New York to speak at the United Nations, President Donald Trump addressed Deborah Ramirez's Brett Kavanaugh allegation and said it is "totally political." Ramirez is the second woman to come forward alleging sexual misconduct by Judge Kavanaugh, saying that he exposed his penis to her while playing drinking games in a Yale dorm. Kavanaugh denies the allegations.
Trump told reporters that Kavanaugh is "outstanding" when asked about Ramirez's allegation. "I am with him all the way," Trump said, according to the AP.
Kavanaugh released a statement after The New Yorker broke the allegations Sunday night. "This alleged event from 35 years ago did not happen," Kavanaugh said in the statement. "The people who knew me then know that this did not happen, and have said so. This is a smear, plain and simple. I look forward to testifying on Thursday about the truth, and defending my good name — and the reputation for character and integrity I have spent a lifetime building — against these last-minute allegations."
Kavanaugh is set to testify on Thursday in the hearing to address the first accusation leveled at him by Dr. Christine Blasey Ford, who says that he tried to take off her clothes and swimsuit while pinning her to a bed and covering her mouth at a high school party. Kavanaugh denied that allegation, too.
Ramirez, like Ford, was at first reluctant to make the charge publicly. But The New Yorker says she is now confident in her version of events and would like an investigation — just like Ford. "I would think an F.B.I. investigation would be warranted," Ramirez told The New Yorker.
As for the alleged event itself, Ramirez told the magazine that she was shaken by the events. Students, she said, taunted her and told her to "kiss it." She didn't but says she touched it accidentally as she pushed Kavanaugh away. "I wasn't going to touch a penis until I was married," Ramirez told The New Yorker. "I was embarrassed and ashamed and humiliated."
Ramirez's allegations were corroborated in the magazine report by some who heard about the party at the time. One classmate at Yale told The New Yorker that he remembered hearing about it and he offered many of the details without being asked. "I've known this all along," he said. "It's been on my mind all these years when his name came up. It was a big deal."
The White House also put out its own response to Ramirez's allegations. White House spokesperson Kerri Kupec said:
This 35-year-old, uncorroborated claim is the latest in a coordinated smear campaign by the Democrats designed to tear down a good man. This claim is denied by all who were said to be present and is wholly inconsistent with what many women and men who knew Judge Kavanaugh at the time in college say. The White House stands firmly behind Judge Kavanaugh.
The current plans to hear from Ford and Kavanaugh on Thursday after days of negotiating between her lawyers and the Republicans on the Senate Judiciary Committee. How Ramirez's allegations will affect the process remain to be seen, but Ramirez told The New Yorker that she hopes it supports Ford's testimony.
As for Ramirez's allegations, her lawyer maintained that an FBI investigation would be the most appropriate way to "relay the information to the committee." Ramirez herself hopes that the committee considers her claim. "At least look at it," she told The New Yorker. "At least check it out."
From the preliminary reports, it sounds as though Democrats certainly will.