Trump Admitted That Allegations Against Him Affect Whether Or Not He Believes Women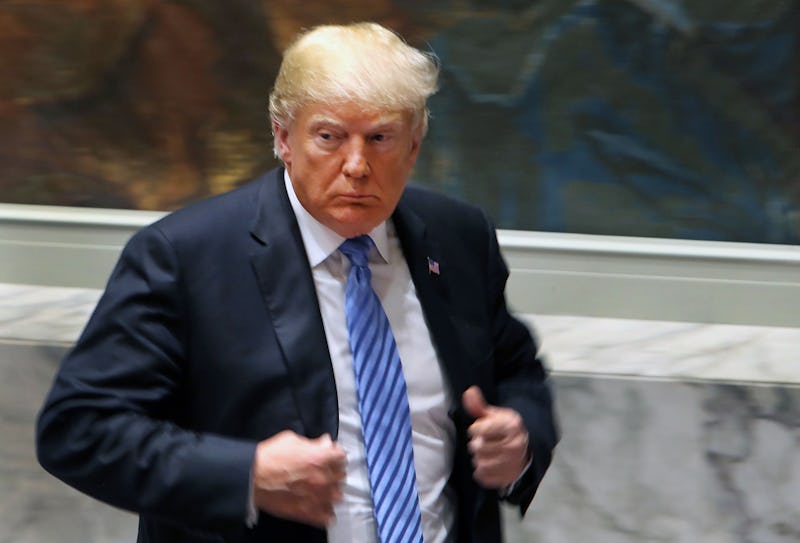 Spencer Platt/Getty Images News/Getty Images
Less than a day before Supreme Court nominee Brett Kavanaugh is scheduled to participate in a hearing regarding one of the sexual assault allegations against him (which he has denied), the president participated in a press conference which partially addressed the matter. Speaking to reporters, President Donald Trump said "false" sexual assault allegations made against him have impacted how he has viewed the accusations against Kavanaugh.
The president was responding to a question from a reporter about whether or not sexual misconduct allegations made against him had colored how he has responded to the accusations against Kavanaugh. "It does impact my opinion because, you know why, I've had a lot of false charges made against me," the president said. Bustle has reached out to the White House for comment.
He alleged that "four or five" women made false allegations against him when he was running for president. He also contended that those women were paid to fabricate their claims.
"People want fame. They want money. When I see it, I view it differently," Trump said. "It's happened to me many times. I've had many false charges."
Trump has been accused of sexual assault by at least 17 different women, and he has repeatedly denied all allegations against him, describing his accusers as "liars." The White House has also repeatedly maintained that all of the allegations are false.
The press conference grew tense when Trump was asked about the allegations against Kavanaugh, though he maintained his stance that the judge was being smeared by Democrats. During the conference, he described the allegations as a "big, fat con job," and alleged that Democratic lawmakers were laughing behind closed doors at the turmoil the accusations have caused.
"So I think when you really look at it all, it's not going to change any of the Democrats' — they're obstructionists," the president said. "They're actually con artists, because they know how quality this man is, and they have destroyed a man's reputation."
Though Trump maintained that the allegations were pieced together as part of a Democrat-backed ploy to disrupt the Supreme Court confirmation proceedings, he also said several times over that he looked forward to hearing one of Kavanaugh's accusers speak at a scheduled hearing tomorrow. The hearing is intended to address one allegation against Kavanaugh, and will feature both Kavanaugh and Christine Blasey Ford, the first woman to publicly accuse him.
Ford alleges that Kavanaugh sexually assaulted her while the two were teenagers. Kavanaugh has summarily denied this allegation. ("This is a completely false allegation. I have never done anything like what the accuser describes — to her or to anyone," Kavanaugh said in a statement.)
"They're giving the women a major chance to speak. Now it's possible I'll hear that and say 'hey, I'm changing my mind.' Hey, that's possible," Trump said during the press conference.
The president did not clarify what it would take to sway his opinion. He did say that he was hoping to make room in his schedule to watch the much-anticipated hearing and that he was "going to see what happens tomorrow." "I'm going to see what's said," he said. "It's possible they will be convincing."