Trump Talked About How "Sad" Jeff Sessions Makes Him In This Seriously Harsh Interview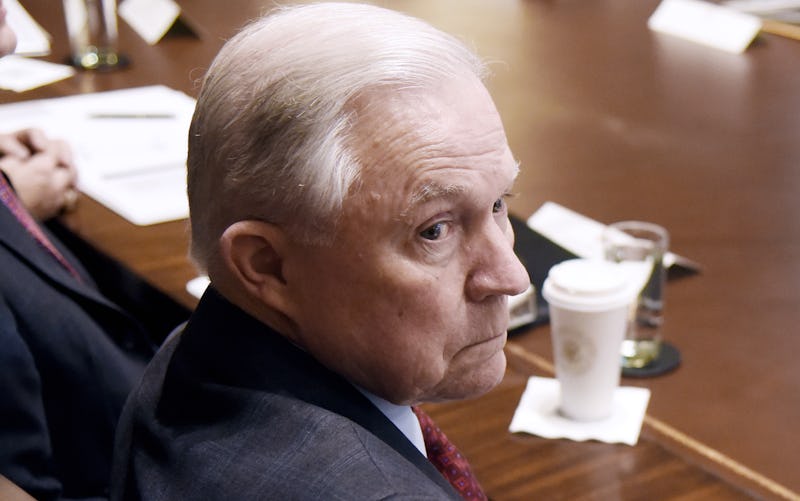 Pool/Getty Images News/Getty Images
President Donald Trump has had an antagonistic relationship with his attorney general pretty much since he entered office. Sometimes, though, he goes above and beyond when publicly insulting the Justice Department official. On Tuesday, Trump gave particularly harsh interview about Jeff Sessions to Hill.TV, saying that the official makes him "so sad."
"I don't have an attorney general. It's very sad," Trump said on Tuesday. "I'm so sad over Jeff Sessions because he came to me. He was the first senator that endorsed me. And he wanted to be attorney general, and I didn't see it."
Trump is referring to the moment in February 2016 when he received perhaps his most high-profile endorsement to date from Sessions, the first senator to back him. He joked at the time that getting the support made him "mainstream." Sessions helped advise Trump on policy during the campaign, according to Vox, and the then-candidate spoke warmly of him, calling Sessions a "fantastic person."
But their falling out was swift once Sessions was confirmed as the administration's attorney general. Trump has never forgiven Sessions for recusing himself from the Russia investigation in March 2017. He brought up the issue again in his Hill.TV interview on Tuesday, saying that it was "very unfair what he did."
"It turned out he didn't have to recuse himself," he said. "It's very sad what happened."
Trump also criticized Sessions' performance in his early 2017 confirmation hearings, which he called "a rough time for" the then-senator. "He went through the nominating process and he did very poorly. I mean, he was mixed up and confused," Trump said. "He was giving very confusing answers. Answers that should have been easily answered."
The president also acknowledged the possibility that he might fire Sessions. "We'll see what happens. A lot of people have asked me to do that." He demurred further: "We'll see how it goes with Jeff. I'm very disappointed in Jeff. Very disappointed."
Trump has been threatening to fire Sessions for a little over a year and publicly lambasting him for much longer. Some pundits have wondered whether the president's criticism might encourage Sessions to resign of his own accord, as he reportedly threatened to do immediately after getting yelled at by Trump for recusing himself when the Special Counsel investigation began 2017, according to The New York Times. CNN analyst Chris Cillizza has wondered whether the president is trying to "shame Sessions out of office," but the outlet also reports that many administration sources say he plans to stick around.
If Trump does ultimately fire Sessions, succession will automatically pass to Deputy Attorney General Rod Rosenstein until the president can nominate and confirm a permanent replacement. Because that replacement wouldn't yet have been recused from the Russia probe, it could look suspicious for Trump. That person could conceivably impede or even end the investigation, according to CNN.
Because of this, many Trump aides have encouraged him not to get rid of Sessions — or at least to wait to do so. His lawyer, Rudy Giuliani, told The Washington Post last month, "If there is any action taken, the president agrees with us that it shouldn't be taken until after the investigation is concluded."
Sen. Lindsey Graham (R-South Carolina) told reporters last month that he would support the president's decision to find a new attorney general and proposed a different timeline: waiting until the midterm elections are over.
"The President's entitled to having an attorney general he has faith in, somebody that is qualified for the job, and I think there will come a time sooner rather than later where it will be time to have a new face and a fresh voice at the Department of Justice," Graham said. "After the election, I think there will be some serious discussions about a new Attorney General."