Trump Sent This Congresswoman A Birthday Letter And Got One Major Detail Wrong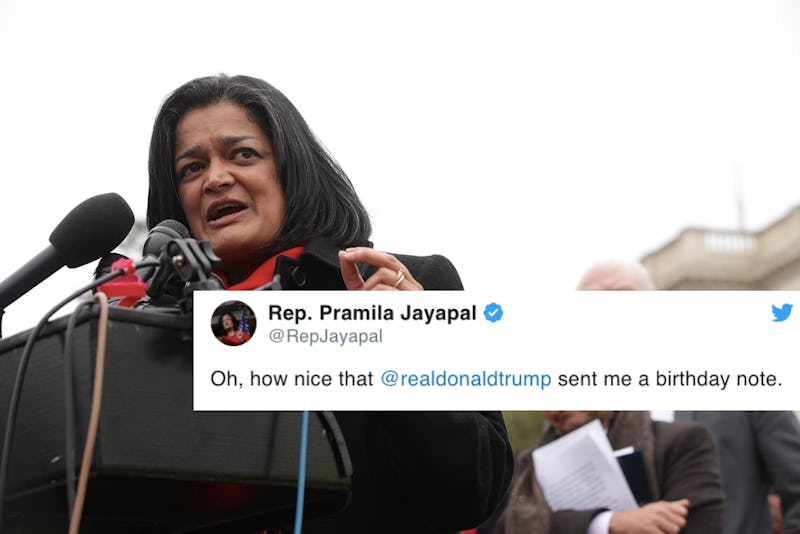 Alex Wong/Getty Images News/Getty Images
On Thursday, Rep. Pramila Jayapal posted a birthday note that was sent to her by President Trump, in which he incorrectly referred to her as a man. In response, Jayapal told Trump that her birthday wish is for Republicans to lose control of Congress in the midterms and undo the "horrible policies" that the White House has implemented — and chided Trump for misgendering her in the letter.
Bustle has reached out to Jayapal and the White House for comment.
"Dear Congressman Jayapal," Trump erroneously wrote in his letter. "Happy Birthday! I am glad to join your family, friends, and colleagues in celebrating this special occasion. Melania and I send our best wishes for your year ahead."
"Oh, how nice that @realdonaldtrump sent me a birthday note," Jayapal wrote on Twitter with a picture of Trump's letter attached. "My birthday wish is for Democrats to take back Congress and address the #CultureofCorruption and horrible policies hurting Americans pouring out of the White House."
"P.S.," she added. "It's CongressWOMAN Jayapal."
Jayapal was elected in 2016 and is the first Indian woman to serve in the House of Representatives. During her short time in Congress, she's earned a reputation for pushing back forcefully when condescended to by Republican congressmen — something that's happened more than once since she was sworn in.
In 2017, Republican Rep. Don Young of Alaska called Jayapal a "young lady" who "doesn't know a damn thing what [sic] she's talking about." Jayapal promptly responded on Twitter, telling women of color to "stand strong" when demeaned.
"A message to women of color out there:stand strong," Jayapal wrote. "Refuse to be patronized or minimized. Let the small guys out there be intimated by you."
The same year, California Republican Darrell Issa called Jayapal "the young lady from Washington" and accused her of displaying "naïveté" on immigration. Issa is 63 and Jayapal — who was born in India and raised in Indonesia and Singapore — is 52.
"Thank goodness we have so many men in Congress to mansplain our naiveté," Jayapal wrote on Twitter. "Here's to you, @DarrellIssa."
"I thought, 'What century am I in, that people can actually say these things to me?'" Jayapal later told Politico. She added that she'd determined to fight the "culture of diminishment around women in this Chamber."
Jayapal staunchly opposes Trump and his presidency, and has taken action against both on many occasions. Along with several other Democratic lawmakers, she boycotted Trump's 2018 State of the Union address, saying that she was taking a stand against "all the racism and hatred coming out of this White House." She also refused to attend his inauguration.
In addition, Jayapal was arrested in June when she joined hundreds of activists outside of Capitol Hill to protest Trump's family separation policies. Over 500 women were arrested at that demonstration, Jayapal later revealed on Twitter.
"I'm proud to have been arrested with them to put myself in the camp of the people who believe the United States of America is better, and as a member of Congress, I refuse to let this president, and this administration, do what they are doing to children, to parents, to asylum seekers, in my name," she said in a video message. "I'm going to continue to do everything I can to fight."