Trump Spelled Obama's Name Wrong In A Now-Deleted Tweet Praising Himself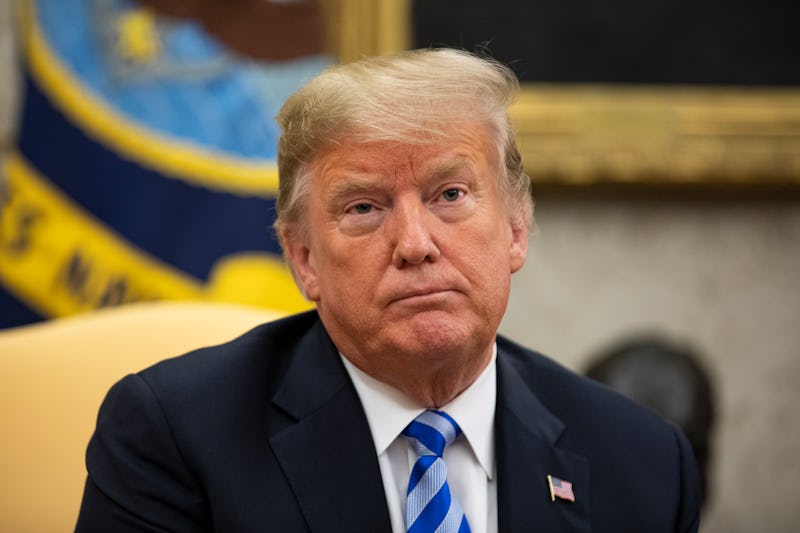 Pool/Getty Images News/Getty Images
President Donald Trump isn't exactly known for his spelling prowess on Twitter. While many of those mistakes end up preserved in the Twitter record forever, others are just too egregious to stay. In an error that fell into the latter category on Sunday morning, Trump misspelled Obama's name in a tweet and then quickly deleted it — but not before the Twitterverse had noticed and preserved it.
"Barrack Obama talked a lot about hope, but Donald Trump delivered the American Dream," Trump wrote in the now-deleted Sunday morning tweet, quoting former Utah Rep. Jason Chaffetz. "All the economic indicators, what's happening overseas, Donald Trump has proven to be far more successful than Barrack Obama. President Trump is delivering the American Dream."
Soon afterwards, Trump replaced that tweet with one using the same Chaffetz quote, but with the correct spelling of his predecessor's first name.
This is far from the first time that Trump has misspelled a word that seems like it should be a no-brainer for him. In May, he spelled the first lady's name as "Melanie," in a tweet that was welcoming her home from the hospital where she had been for a minor kidney surgery. This tweet was also quickly deleted and replaced with one where Melania's husband spelled her name correctly.
There was also the infamous "covfefe" incident, in which Trump wrote a tweet that cut off after the mysterious word "covfefe" and left it up for an entire night. Before he had even taken office, Trump spelled "unprecedented" as "unpresidented," leading many on Twitter to wonder if the error was actually a Freudian slip. Trump even misspelled "collusion" once, which Dictionary.com's Twitter account then used as an opportunity to troll him. In fact, Trump's particular spelling and grammar means that even his aides who sometimes write tweets for him pepper them with mistakes here and there, the Boston Globe reported in May 2018.
The latest "Barrack" tweet, though, is notable because of Trump's longstanding fixation on the former president. After all, Trump's career in politics really began when he started the birther conspiracy, falsely alleging that Obama was an illegitimate president because he wasn't born in the U.S.
"Maybe Trump couldn't find Obama's birth certificate all those years because he couldn't spell his name," Lawfare editor-in-chief and Brookings senior fellow Benjamin Wittes wrote on Twitter, in response to the misspelling.
Trump still often focuses on Obama, both in speeches and in his policy goals. Many of his steps as president have directly rolled back Obama achievements, as the Washington Post reported. However, Obama just stepped out onto the campaign trail for the midterms, and his first speech in Illinois featured some very strong words directed at the current president. Trump responded dismissively, as the New York Times reported, saying "I'm sorry, I watched it, but I fell asleep. I found he's very good, very good for sleeping."
However, this latest tweet — in either form — suggests that he's still eager to prove that he's better than Obama, regardless of his claims about the former president's speech.