The Flight 93 Memorial Really Inspired Trump — But Not For The Reason You'd Think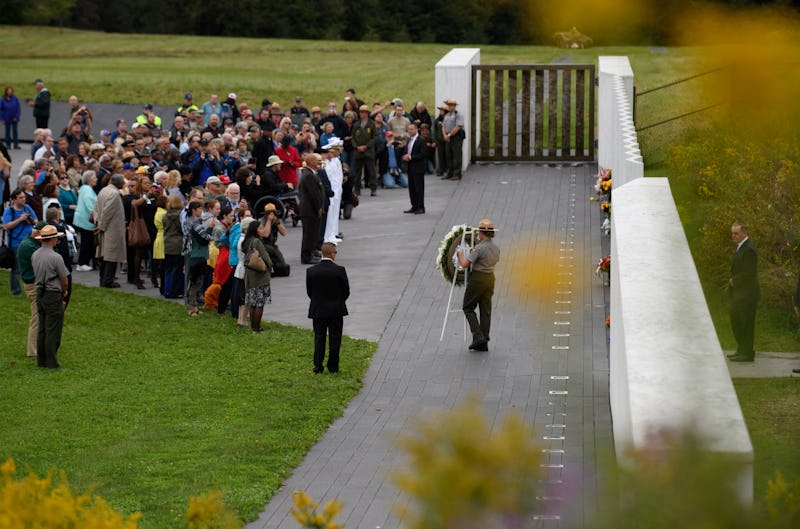 Jeff Swensen/Getty Images News/Getty Images
During an Oval Office interview on Tuesday, Donald Trump suggested Flight 93 Memorial's "gorgeous wall" inspired him to move forward with plans for the wall he has been working to create along the U.S.-Mexico border. In a conversation with Hill.TV, Trump praised the memorial, which is comprised of a series of walls in Shanksville, Pennsylvania, and said his administration is pushing "very hard" to get the border wall approved in the Senate. The president also pointed out that he believed he could build the border wall "in a year," if the plan is ever approved.
Trump visited the Flight 93 Memorial Site earlier in September to commemorate the 17th anniversary of the 9/11 attacks. Of the experience, he said to Hill.TV,
So, we are building the wall, I could build it — you know what I do best is build — I could build the whole thing in a year, but um, there was a picture that was sort of great. I wish I had it. I had a picture of where I was this weekend. They built this gorgeous wall where the plane went down in Pennsylvania. Shanksville. And I was there. I made the speech. And it's sort of beautiful, what they did is incredible. They have a series of walls, I'm saying, "It's like perfect."
Trump didn't explicitly clarify whether he intends for the border wall to literally look like the Flight 93 Memorial, or whether he simply wants it to have a similar aesthetic. But the border wall wasn't the only thing he talked about in the interview: he also had some pretty disparaging remarks to say about his Attorney General, Jeff Sessions.
Trump said,
I'm so sad over Jeff Sessions because he came to me. He was the first senator that endorsed me. And he wanted to be attorney general, and I didn't see it. But he came very strongly he really wanted to be. And, I let him be...And then he went through the nominating process and he did very poorly... Answers that should have been easily answered. And that was a rough time for him, and he won by one vote, I believe. You know he won by just one vote.
Then, referencing Sessions' decision to recuse himself from the Russia investigation, Trump compared Sessions to the border wall situation, saying, "In the meantime, I don't have an attorney general. It's very sad. I'm not happy at the border, I'm not happy with numerous things, not just this."
As for the 2018 midterm elections coming up in November, Trump seemed to be extremely optimistic about Republicans' chances. That's despite the fact that, according to two new polls Vox reported on, Democrats are currently favored to take back the House.
Still, Trump said, "I think we're going to do much better than anyone thinks because the economy is so good, and people do like the job I'm doing." He added, "I think I've done more than any president in history."